Topics in this edition of the PHR Mailbag include Ottawa's slow start, Philadelphia's defensive concerns, Boston's trade deadline approach, comments on several young centers, David Quinn's future with the Rangers, plus Pittsburgh's defense situation and their quiet start to the season.  If your question doesn't appear here, check back in last weekend's mailbag.
JDGoat: Who is on the hotter seat right now, D.J. Smith or Pierre Dorion?
Can I choose neither of them?  What has played out in Ottawa so far this season can't be considered all that surprising.  Yes, Matt Murray's struggles early on were a bit odd which contributed to them getting run out of the rink a few too many times but he has been better since then and the Sens have been more competitive the last couple of weeks.
Heading into this season, everyone knew there were going to be growing pains.  There are six teams in the North Division that have win-now aspirations with Ottawa being the one with an eye on the future.  The divisional reshuffling didn't do them any favors, that's for sure.  Dorion has been able to get this far in his rebuilding plan so there's not much point in changing course now.  Smith has been the head coach for less than 100 games with a roster that isn't up to par with that of the top teams in the division.  That's hardly enough time to assess whether he's really the right fit for the job.
It's not all doom and gloom for the Senators though.  I think they can be one of the more under-the-radar teams in the second half of the season as their many youngsters settle in and start getting adjusted to day-to-day NHL life.  I expect they'll win more than many expect down the stretch.  That will be a better measuring stick for Smith's coaching ability and how Dorion's long-term plan is coming along.
DarkSide830: What's Philly's best solution to their defense issues?
Short of dragging Matt Niskanen away from his ice fishing in retirement, you mean?  When everyone is healthy, I'd try to limit the number of games that Erik Gustafsson and Shayne Gostisbehere play.  They're both capable offensive weapons but neither are particularly adept in their own end.  You can get away with one in but if both are, they run the risk of some defensive issues (against the upside of a bit more production).
I don't think there is much they necessarily can do.  Travis Sanheim and Philippe Myers are still pretty young and there are going to be growing pains.  Even Ivan Provorov's 24, the same age as Myers.  There's still some defensive development that's going to come when the core of the back end is as young as it is.  They basically have to ride it out.
What will help is that Sean Couturier's back.  He's not a defenseman but any time you add a Selke winner to your lineup, good things are going to happen.  Couturier knows the defensive coverages and knows where to be but perhaps more importantly, where others should be and he can call that out on the ice.  There's a lot of value in that.  Philadelphia undoubtedly missed his offensive production while he was out but he'll be a huge difference-maker defensively as well which will give the Flyers a big boost.
VonBrewski: Much to my surprise, the Bruins have done well out of the gate. So, I have two questions. Can they trade John Moore to free up cap space? And who do they target at the trade deadline? Thank you for what you do.
You're not going to like the answer to the first question.  No, they can't move Moore to free up cap space.  He's best utilized as a sixth or seventh option.  In this marketplace, that's someone making $1MM or so, not $2.75MM for this year plus two more.  That's just too much money for a depth player and even if they retained half of the contract, they're not going to find many takers.  Could they move him for another similarly-priced underachiever?  There's a slightly higher chance of that happening but the likeliest scenario is he sticks around.
As for who they target at the deadline, that's hard to call at this point considering how few teams are out of the playoff picture at this point.  There's Ottawa, Detroit, and, well, that's about it.  Every other team is within five points of a playoff spot so right now, we don't know who most of the sellers will be.
In terms of what I'd be expecting GM Don Sweeney to look for, I'd still have a proven left defenseman at the top of the list.  They're getting good results from Jakub Zboril and Jeremy Lauzon which lessens the short-term need but if you're a team with eyes on a long playoff run, can you have two near-rookies in big roles?  I'm sure they'd feel more confident with a more proven option.  Beyond that, there's still a need for secondary scoring help despite the fact they've tried to address it so many times already.
One element that really works in Boston's favor is the salary cap.  Many contenders are right up against it while they are pegged to be nearly $3MM under it.  Come trade deadline time, that's worth roughly $13MM in full-season cap hits which would give them a huge boost in terms of being able to actually afford a big-ticket acquisition without having to offset money somehow.  Lots can change and injuries can cut into that in a hurry but the benefit to not adding much in the offseason is that they'll have the ability to make some in-season pickups without much difficulty.
The Duke: What are your short- and long-term thoughts regarding PLD, Kotkaniemi, Necas and Ingram/Nashville's goaltending?
Pierre-Luc Dubois – I don't think this was the preferred destination he had in mind when he wanted out but I like the fit with Winnipeg.  He was pushed into the 1C role by default in Columbus but would have been better served with a more proven option in front of him to help him develop.  He'll get that benefit now with Mark Scheifele ahead of him on the depth chart.  It may not be great for his short-term numbers but in the long run, he'll be better prepared for his next chance at being the top center.  I don't expect that opportunity will be with the Jets though.
Jesperi Kotkaniemi – The exploits of his linemate in Tyler Toffoli have helped keep the spotlight off of him in what has been a fairly quiet start to the season with just a goal and six assists in 14 games.  He has progressed a bit from last season's disaster which Montreal has to be content with although they quietly were likely hoping for a bigger leap on the offensive front.  He's still one of the youngest players in the league despite this being his third season (he's still only 20) so there is plenty of development to go.  I'm not overly confident that he can become Montreal's top center of the future which they were hoping for when they drafted him third overall in 2018 but with the acquisition and emergence of Nick Suzuki, there's at least a bit less pressure on Kotkaniemi.  If Suzuki eventually becomes that 1C and Kotkaniemi falls in behind him, the Canadiens should be in good shape.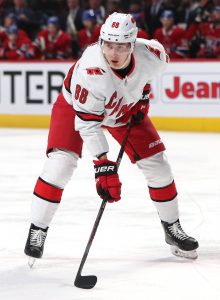 Martin Necas – He has slowly and steadily progressed so Carolina has to be pleased with what they're getting from him early on with his ice time up around 18 minutes per game.  A player four years removed from being a first-round pick being in the top six is a more than acceptable development timeline.  I do, however, wonder about his long-term position.  He was supposed to be a key center of the future but things have changed since then.  Sebastian Aho has adapted perfectly to playing down the middle, Jordan Staal is still around, and they added Vincent Trocheck at the trade deadline.  While the latter came at a price tag that was too good to pass up on, there's an opportunity cost in that it takes away reps at center for Necas.  I'd like to see them find a way to move him to center at times this season, even if it means dropping him down to the third line as, from a long-term development standpoint, they'd be better off if he's at least comfortable at center in the NHL.
Connor Ingram – While not having him as their insurance policy hurts (he's in the NHL/NHLPA Player Assistance Program), I don't think it changes much in the short-term.  Pekka Rinne and Juuse Saros were going to be the tandem one way or the other this season.  Long term, Yaroslav Askarov is the starter of the future and that still hasn't changed.  I suspect they were hoping Ingram could be the backup next year and that could still happen – these program entries don't come with defined absence times so it is possible that he's back at some point this season.  If not, it pushes them to ask Rinne to stick around for another year or they turn to free agency for a veteran replacement.
MZ311: If NYR ends up firing Quinn (big mistake if they do), who do you see as the long-term successor?
First, I don't expect David Quinn to be let go.  While the acquisition of Artemi Panarin and the late-season playoff push have raised expectations, this is still not a team that's quite ready to contend just yet.  There are still plenty of young players going through the ups and downs of developing at the NHL level.  That's not necessarily a coaching flaw but a reality that most young players face, even the higher-end prospects.  I believe John Davidson and Jeff Gorton are patient enough to recognize that and if they are, there's little reason to make a coaching change.
But for the sake of the question, let's say they do.  Is a veteran like Mike Babcock or Bruce Boudreau a good fit for a team that's still developing a lot of youngsters?  Probably not.  Gerard Gallant is still out there but even he's a coach that probably benefits from a more veteran-laden team.  None have particularly long shelf lives either and the Rangers will want someone for longer than that instead of a quick fix.  I believe Kris Knoblauch, their coach at AHL Hartford, is their preferred eventual replacement for Quinn but this is only his second season and neither of them are full campaigns.  With Knoblauch not being ready though, it's hard to see Quinn being let go anytime soon.
@AJ21PSU: What D-men are available on the cheap that the Penguins can target?
There are two different layers of cheap to peel through here.  Pittsburgh's cap situation isn't pretty in terms of available space.  While they had a little bit of wiggle room heading in, injuries have effectively wiped that out.  They're basically in a dollar in, dollar out situation and considering their current end-of-roster blueliners are making the minimum, that's basically about what they can spend here.  That doesn't give them much to work with.
Herein lies the problem.  With so many teams at or just below the salary cap, low-salaried depth players are way more important now than they have been in past years.  An NHL-caliber seventh defenseman making close to the league minimum could be an expendable luxury some years but this season, it's basically a necessity to have.  With extra restrictions due to quarantine, teams aren't willingly giving up those players for a mid-round draft pick in 2022 (since they're low on 2021 picks already) or a minor-leaguer as they might in other years.  Pittsburgh might be able to get a veteran on an AHL team but that's just another Kevin Czuczman-type player.
But that's not a fun answer so let's look at a few names.  We know they've shown interest in Montreal's Victor Mete and Mete's agent has gone public with a trade request.  However, the Canadiens are one of the many teams limited by the last paragraph so it's hard to see them moving him this early in the season though I wonder about the trade deadline there.  Gabriel Carlsson is an intriguing young option on waivers today and could be a possibility for Pittsburgh to claim.
I'll throw one name out there that may be of some intrigue and that's Winnipeg's Sami Niku.  He was available during the offseason and he's cheap at $725K for this year and next.  With Tucker Poolman returning, he's back to being fourth on the right side of the depth chart so I wonder if he may still be deemed expendable.  Logan Stanley has held his own and Ville Heinola has been around on the taxi squad with Dylan Samberg.  Beyond him, I don't expect much movement on the defense market for a while, not until it's closer to the trade deadline where teams may be more willing to retain salary and there's less owing to players to make it easier to facilitate a trade.
One More JAGR: With all of Pittsburgh's problems and the departure of GMJR as well as the players lack of spark, does this make the problem a Coach Sullivan issue?
Let's get this out of the way first.  Of the many GM candidates they considered, about the only one that would have the clout to come in and make a move is the one they ultimately hired in Ron Hextall but comments from him and new team president Brian Burke suggest there's no coaching change coming.
Pittsburgh is a team that's a bit fragile.  When everything is going well, they can still be a dominant team but there isn't a lot of margin for error.  Some of that is coaching but some of that is their cap situation as well as the quality of their injury replacements who haven't been the greatest.
Let's look at the defense.  There are teams that don't use 11 defensemen in an entire season but Pittsburgh had to go that deep in three weeks.  It doesn't matter who's coaching or what the cap situation is, no team is going to thrive having to go that deep in their depth chart.  Some of the struggles between the pipes can be explained away by the state of their back end.
Sure, a lack of motivation can be laid at the feet of the coaching staff but I'd like to see what they can do with a full roster for more than a game or two.  Between that and new leadership in place, that should be enough to start to turn things around.  As slow of a start as they've had, they're still in a playoff spot as of today which isn't that bad of a situation to be in.
Photo courtesy of USA Today Sports Images.