We've now made it past the holiday season but there is still plenty to be thankful. Like the last few years, PHR will take a look at what teams are thankful for but this year comes with a bit of a change. Normally teams would have an idea of where their season was heading, coming up on the one-quarter mark with mountains of statistics to analyze. Instead, in this unprecedented year, things are just getting underway. We'll still take a look at what each group is excited about and what they could hope for with the calendar having now flipped to 2021.
What are the Senators most thankful for?
Their very promising young core.
There has been pain – plenty of it – in recent years but the rewards are coming.  Brady Tkachuk and Tim Stutzle give them two top wingers to build around while Josh Norris is a key piece down the middle.  Thomas Chabot is already a star on the back end while they have several prospects that are a little further away.  Is there a true superstar among the bunch?  They're hopeful Stutzle can get there but even not, there is enough high-quality prospect talent to do some damage.  If they're able to spread out their arrival to the NHL over a few years, it will help them be able to afford to keep their core in place as well.
Who are the Senators most thankful for?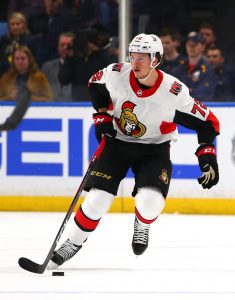 A franchise center and a franchise defenseman are hard to come by.  Ottawa doesn't have the former just yet but they do have the latter in Chabot.  The 18th-overall pick in 2015 took a couple of years to get to the NHL but since then, he has taken off.  There is still room for growth and as their prospect core graduates to Ottawa and upgrades their back end, it can only be good for Chabot.
He's also the first player out of their new young core to sign a long-term deal.  Instead of taking a bridge contract, he made a max-term eight-year commitment back in 2019 for an $8MM AAV.  He has been a fixture on their back end since 2017 and will be through 2028 at least.  On the franchise building scorecard, the number one defender spot can be checked off for a long time.
What would the Senators be even more thankful for?
A return to form for Colin White.
Two seasons ago, it appeared as if he was going to be part of that young core up front to build around.  He was coming off of a 41-point effort in 2018-19 and signed a six-year, $28.5MM contract that summer, buying up his remaining RFA years plus two years of UFA eligibility.  Even if he wasn't their future number one center, he was on his way to being a good second-liner.
Last year, however, he struggled considerably and it has been even worse this season as he has already been scratched twice.  All of a sudden, his contract looks like a considerable overpay.  With their self-imposed financial limitations, they can't afford to have long-term contracts that they're not getting any sort of return on.  If White can first work his way back into the lineup and then back into a role of some significance, it would at least allow them to get some value out of this deal and make trading him a somewhat-viable option.
What should be on the Senators' wish list?
As things stand, Ottawa at least on paper looks to be a team that's probably going to be selling again.  They have several expiring contracts that they've absorbed in recent trades including Derek Stepan, Erik Gudbranson, and Artem Anisimov (acquired back in 2019).  If they wind up going that route, adding more picks and prospects to an already-deep cupboard will be on GM Pierre Dorion's wish list.  Not every prospect pans out and there will come a time where some will need to be moved for win-now players (similar to what they did with the Matt Murray acquisition).  They're close to being at a spot where they can transition out of the rebuild but while they're still in it, they may as well keep adding young assets.
Photo courtesy of USA Today Sports Images.