With just over a week before the start of the regular season, there are still a few free agent names waiting for a new contract. Among the defensemen still unsigned is Ben Hutton, who is only 27, has averaged 20 minutes a night through his nearly 350-game NHL career, and has experience on both the penalty kill and powerplay. After not receiving a qualifying offer in 2019, Hutton earned just $1.5MM last season on a one-year contract with the Los Angeles Kings and now finds himself searching for a job once again.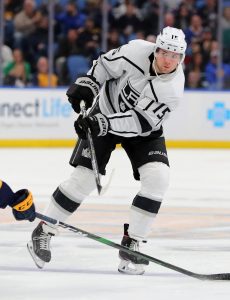 Elliotte Friedman of Sportsnet reports that the search may not last much longer, with the Boston Bruins and New Jersey Devils both showing interest.
There's no one claiming that Hutton can slide in on the top pairing of a real contender, but there's also no reason he should be out of work after five full-time seasons. The 6'2″ defenseman can do a little bit of everything and would still be a valuable depth piece, especially in a condensed season. Injuries and illnesses have the power to decimate NHL rosters this year, leaving teams scrambling for fill-ins with any real experience. A player like Hutton on a bargain deal should be an easy contract to sign, though he still sits without any drying ink.
The Bruins specifically have been criticized lately for their defensive depth, especially the left-handed variety after allowing Torey Krug and Zdeno Chara to leave in free agency. Though there is a ton of young potential on that side, everyone will be taking on more responsibility and more pressure to perform. The Devils meanwhile have a lot more experience on that side after acquiring names like Ryan Murray and Dmitry Kulikov, but neither player is what you would call durable. Added depth could make sense for them too.
There figures to be more than just those two teams, however, and perhaps Hutton's camp is waiting for an injury or two to spring up around the league before making a decision. Of course, the presence of Sami Vatanen on the open market could also be complicating things, as he likely is still drawing much of the attention as an option to play higher in the lineup.
Photo courtesy of USA Today Sports Images