With the start of on-ice workouts at training camp beginning on Monday, the Blackhawks now have their full team under contract.  The team announced that they've re-signed center Dylan Strome to a two-year, $6MM contract.  GM Stan Bowman released the following statement about the deal:
We believe Dylan is ready to take the next step in his career and build off the strides he has made in his first two years in Chicago.  He has great offensive instincts and brings creativity and skill to our team. We are thrilled he is now signed and able to join us tomorrow for the start of training camp.
The 23-year-old indeed finds himself in a situation to take the next step forward.  With Jonathan Toews (illness) out indefinitely and Kirby Dach (wrist) out four-to-five months following a fractured wrist sustained in a preliminary game at the World Juniors, Strome is basically a near-lock to begin in Chicago's top-six forward group, if not their top line.  That should have him in line for a sizable jump in playing time from the 15:56 per game he had last season.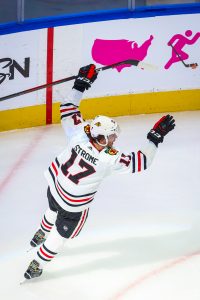 While he's coming off of a quieter year, Strome has certainly shown flashes of offensive upside with the Blackhawks.  Following his acquisition from Arizona in November of 2018, he had 17 goals and 34 assists in just 58 games, a level of production that would certainly warrant a spot inside the top six.  Things didn't go as well last season though as he managed just 12 goals and 26 assists in 58 games before the pandemic hit while chipping in with two goals and an assist in nine postseason contests.  Nevertheless, he was still able to more than triple the AAV from his previous contract despite not having salary arbitration eligibility.
CapFriendly reports that the deal will pay him $2.4MM this season and $3.6MM next season.  That means that his qualifying offer alone will guarantee a raise on his next contract in 2022 as it will check in at $3.6MM; in this case, both elements of the qualifying offer calculation (the preceding season salary or 120% of the AAV) come up to the same number.
Although the rash of injuries (which includes Alexander Nylander) has certainly eliminated some optimism heading into the upcoming season, there will still be a lot at stake for Strome.  The third-overall pick in 2015 now has the opportunity to establish himself as a core piece for the Blackhawks and if that happens, they'll get good bang for their buck on this contract.  Chicago now finds themselves with around $1.3MM in cap room as things stand, an amount that could be boosted if they opt to place Dach and Nylander on LTIR to start the season.
Photo courtesy of USA Today Sports Images.