Navigating the salary cap is one of the more important tasks for any GM.  Teams that can avert total cap chaos by walking the tightrope of inking players to deals that match their value (or compensate for future value without breaking the bank) remain successful.  Those that don't see struggles and front office changes.
PHR will look at every NHL team and give a thorough look at their cap situation heading into the 2020-21 season.  This will focus more on players who are regulars on the roster versus those who may find themselves shuttling between the AHL and NHL.  All cap figures are courtesy of CapFriendly.
Nashville Predators
Current Cap Hit: $74,057,810 (under the $81.5MM Upper Limit)
Entry-Level Contracts
D Dante Fabbro (one year, $925K)
F Eeli Tolvanen (one year, $894K)
Potential Bonuses
Tolvanen: $2.85MM
Fabbro: $850K
Tolvanen has received quite a bit of press over the past two years after posted 19 goals and 36 points in the KHL as an 18-year-old. However, now 21, Tolvanen might be ready for the NHL despite struggling since coming over to North America. The 2017 first-round pick struggled in his first year in the AHL, but looked better in his second year there. However, he was on loan with his old KHL team so far this season and hasn't been as dominant as that 18-year-old season. So, the question is, will he be ready to take the next step into the NHL lineup? That's a legitimate possibility or he could find himself on the taxi squad, easing into the league.
Fabbro was also highly-touted coming into last season after spending three years at Boston University. While he held onto the team's fourth defenseman, he still issues acclimating himself to the NHL. The blueliner scored just five goals and 11 points in 64 games, while averaging 19:01 of ice time. He should continue to improve as the team's fourth defenseman this year.
One Year Remaining, Non-Entry-Level
G Pekka Rinne ($5MM, UFA)
G Juuse Saros ($1.5MM, RFA)
F Mikael Granlund ($3.75MM, UFA)
F Erik Haula ($1.75MM, UFA)
F Brad Richardson ($1MM, UFA)
D Jarred Tinordi ($700K, UFA)
While the team is quite balanced in terms of contracts, it does have to figure out its goaltending situation next season. Rinne, who has been the team's star netminder for years, will be 39 years old at the start of the 2021-22 season and could be done. His 2019-20 season wasn't particularly impressive with a .895 save percentage in 36 games. Saros does look ready to take the No. 1 spot. The 25-year-old was much more impressive with a .914 save percentage in 40 appearances and should continue to take the bulk of the starts this coming season. Saros should get quite the pay raise for next year, while Rinne's status is a question mark. Is he ready to retire or could he bounce back and hold on for a few more years?
With forward depth being a big need this season, the Predators brought back Granlund despite his struggles since being acquired from Minnesota at the trade deadline in 2019. He didn't fare well in his short tenure with the team after the trade and while posting 17 goals last year, Granlund wasn't the dominant forward that the team thought they traded for when they sent young Kevin Fiala off. With Fiala having an impressive season in Minnesota last year, the team has to hope they can get Granlund back to his 20-goal scoring ways. The team also brought in Haula to help out as a middle-six center. The injury-prone forward had one dominant season in Vegas, but since then is now on his third team, hoping to find his game.
Two Years Remaining
F Filip Forsberg ($6MM, UFA)
D Mattias Ekholm ($3.75MM, UFA)
F Rocco Grimaldi ($2MM, UFA)
F Calle Jarnkrok ($2MM, UFA)
D Mark Borowiecki ($2MM, UFA)
F Nick Cousins ($1.5MM, UFA)
F Matt Benning ($1MM, UFA)
F Yakov Trenin ($750K, RFA)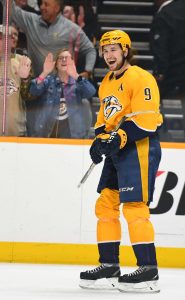 Many people believe that when Forsberg signed his six-year, $36MM contract back in 2016, that they had a superstar winger on their hands. He was coming off his first 30-goal season, scoring 33 goals and then followed that up with 31 goals the next year. However, those numbers have declined steadily the last few years although minor injuries have been part of that decline. Forsberg scored just 21 goals last season in 63 games and needs to find his game over the next two years if he wants to re-establish himself as one of the top wingers in the game, which at the moment, he isn't.
Ekholm, on the other hand, continues to be one of the best deals for the next two years. The blueliner averaged more than 23 minutes of ATOI for the fourth straight years and has been a solid impact player for the team, even if his plus/minus dropped into the negative for the first time in years. He could be in line for a big extension similar to what Ellis received recently.
Jarnkrok continues to put up decent middle-six numbers after scoring 15 goals last season. He has two years left on the six-year, $12MM pact he signed in 2016. The Predators have quite a few depth players on two-year deals as well, including Grimaldi, Trenin and newly signed Cousins as well as defensemen Borowiecki and Benning. The hope is this depth should help solidify the team's bottom-six, which struggled last season.
Three Years Remaining
None
Four Or More Years Remaining
D Roman Josi ($9.06MM through 2027-28)
F Ryan Johansen ($8MM through 2024-25)
F Matt Duchene ($8MM through 2025-26)
D Ryan Ellis ($6.25MM through 2026-27)
F Viktor Arvidsson ($4.25MM through 2023-24)
F Colton Sissons ($2.86MM through 2025-26)
The Predators have a number of players locked up for quite a while. Perhaps the contract that stands out the most is Josi. The blueliner won the Norris Trophy last year, vindicating the contract he signed after he posted 16 goals and a team-leading 65 points last season. While it's never good for a defenseman to lead the team in scoring, Josi proved to dominate and gives the Predators a solid base (along with Ellis) for the next few years. Ellis, who in the second year of an eight-year, $50MM contract, also put up solid numbers last year.
The real question comes down to Nashville's top two centers. Johansen and Duchene each make $8MM per season and are locked up long-term, but neither had the season the team wanted last year. After posting 14 goals and 64 points last season, Johansen saw quite a decline in his play. While he still managed to scored 14 goals, his assist numbers dropped as he managed just 22 assists, his worst performance since 2012-13. Duchene wasn't much better after signing a long-term deal last offseason. After scoring 31 goals and 60 points between Ottawa and Columbus in 2018-19, Duchene put up just 13 goals and 42 points in his first year in Nashville. Both players will need bounce-back seasons or those contracts will begin to look disastrous.
The problem with Nashville is their once-vaunted first line really struggled last year, including Johansen, Forsberg and Arvidsson. The 27-year-old Arvidsson also couldn't put up good numbers last year. Despite scoring 94 goals in his three previous years in Nashville, Arvidsson scored just 15 goals with 28 total points — numbers he needs to improve on.
Buyouts
F Kyle Turris ($2MM through 2027-28)
D Steven Santini ($42K in 2020-21; $275K in 2021-22)
Retained Salary Transactions
None
Still To Sign
F Luke Kunin (RFA)
The team acquired Kunin in the offseason for veteran center Nick Bonino. The 23-year-old has struggled with injuries in the past, but did manage to appear in 63 games last year and showed promise in Minnesota, scoring 15 goals and 31 points and looks like he could take those numbers to another level, especially if he can get top-six minutes in Nashville, which looks possible, if Nashville can get him signed.
Best Value: Arvidsson
Worst Value: Johansen
Looking Ahead
It wasn't that long ago that the Nashville Predators were considered one of the top teams in the league with a solid young core and two years later, the team seems to have lost that outlook. The team has underperformed the last couple of years. The team hopes that they have added the much-needed depth on both the bottom-six and the defense to keep the team near the top of the standings. While the contracts are relatively well balanced, there are very few contracts that will be coming off the books in the coming years as players like Forsberg, Saros and Ekholm will likely need new contracts that could create some issues down the road.
Photo courtesy of USA Today Sports Images.