The Minnesota Wild have taken care of some pressing business, locking up a key member of their roster for the next several years. Jonas Brodin has signed a seven-year extension with the team that will carry an average annual value of $6MM. Since he still has one year left on his current deal, Brodin will now be under contract through the 2027-28 season. The full salary breakdown is as follows (via Pierre LeBrun of The Athletic):
2021-22: $4.0MM
2022-23: $5.0MM
2023-24: $8.0MM
2024-25: $8.0MM
2025-26: $7.5MM
2026-27: $5.5MM
2027-28: $4.0MM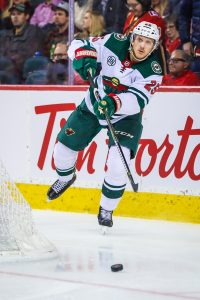 First and foremost, this locks up one of the best pure defenders in the league for the better part of a decade at a reasonable cap hit. But that won't stop the speculation machine from exploding in coming weeks and months, given that Minnesota now has four defensemen scheduled to earn at least $6MM in the 2021-22 season. The quartet of Brodin, Jared Spurgeon, Ryan Suter and Mathew Dumba will combine for a cap hit of more than $27.1MM that season, though obviously things can change rapidly before then.
For now, this is just a move from GM Bill Guerin to retain the services of an exceptional defenseman in Brodin. The 27-year-old had 28 points this season in 69 games but made his money on the other side of the puck, constantly shutting down the opponent's best forwards and logging big minutes on the penalty kill. He finished the year with an average ice time of 21:33 and led the team with 112 blocked shots. His 23 even-strength assists actually put him second on the entire roster, behind only Ryan Suter's 24.
There's little doubt that the Wild believe Brodin to be a key part of the future, but this extension does bring up countless questions about the future of Dumba, who now seems likely to depart in one fashion or another. Not only are the cap implications of four players earning that much difficult to deal with, but the Seattle Kraken expansion draft is also right around the corner. Both Spurgeon and Suter have no-movement clauses in their contracts meaning they have to be protected (unless they decide to waive those clauses for the draft) and you are only allowed to protect three defensemen in the regular format. The Wild could potentially choose the eight-skater protection route if they wanted to include all four star defensemen, but that would leave several names at risk upfront. (UPDATE: Pierre LeBrun of The Athletic reports that Brodin's contract also includes a no-movement clause that kicks in immediately, meaning he will also require automatic protection in the expansion process.)
Dumba's name has been in the rumor mill for years and has just three years left on his current deal. The youngest of the four, he also could potentially represent the easiest name to trade off the back end should the Wild decide to go in that direction.
For Brodin, he now will tie several other players for the 26th highest cap hit among defensemen in 2021-22 and could have even more responsibility heaped upon him as the years go on.
Photo courtesy of USA Today Sports Images