We've now made it past Thanksgiving and the holiday season is right around the corner. Like the last few years, PHR will take a look at what teams are thankful for but this year comes with a bit of a change. Normally teams would have an idea of where their season was heading, coming up on the one-quarter mark with mountains of statistics to analyze. Instead, in this unprecedented year, the season hasn't even begun. We'll still take a look at what each group is excited about and what they could hope for once the calendar turns to 2021.
What are the Panthers most thankful for?
The Pittsburgh Penguins front office.
Getting Patric Hornqvist is nice, but the real magic this offseason for Florida was ridding themselves of Mike Matheson's contract without having to really sweeten the pot. The team moved Matheson and his huge contract up to Pittsburgh after his play had fallen off a cliff, meaning their salary commitments past the 2022-23 season now lie only with Aaron Ekblad and Sergei Bobrovsky. Sure, Matheson might somehow turn his career around, but he is still set to carry a cap hit of $4.875MM through the 2025-26 season, one of the worst anchors in the league at the moment. Even at his best, that deal provides no room for excess value, meaning it's deadly for a team like the Panthers who are still trying to push into a contention window.
Who are the Panthers most thankful for?
GM Bill Zito.
So far, so good for the new general manager, who has rid the books of some unhealthy cap and landed a few nice short-term bargains over the last few months. Alexander Wennberg agreed to sign a one-year deal in Florida while the team also landed Markus Nutivaara for almost nothing in a trade with his old team. There is certainly a lot more work to be done, but Zito appears to be turning things in the right direction.
The next big test for the executive will come quickly, as after this season Aleksander Barkov is eligible for an extension. With his bargain deal coming to an end after the 2021-22 season, leaving him an unrestricted free agent, Zito has to get to work on a new contract as soon as possible. The face of the franchise, Barkov will still be only 26 when he could potentially hit the market and a target for every team in the league.
What would the Panthers be even more thankful for?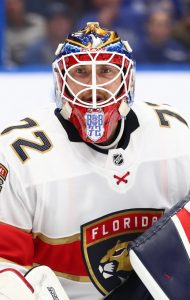 The return of Bobrovsky.
There is not a single thing that could help the Panthers more than a return to form for Bobrovsky, who posted just a .900 in 50 appearances last season. That's completely unacceptable for a goaltender making $10MM per season, even if the defense in front of him was not up to snuff. That defense should be improved (somewhat), so the excuses will start to run out for the 32-year-old superstar this season if he can't get back to at least acceptable levels. One of only 22 goaltenders to ever win the Vezina Trophy more than once, Bobrovsky only has himself to blame if that save percentage doesn't rebound.
If it does though and Bobrovsky can get anywhere close to the .931 that won him the award in 2017, the Panthers would suddenly become a real contender in the new makeshift divisions. Sure, they still have to deal with their state rival in the Tampa Bay Lightning, but perhaps getting away from the other top Atlantic Division teams for a few months will do them some good.
What should be on the Panthers' holiday wish list?
Goal scoring.
Wennberg is a fine player to bring in as a reclamation project, and Hornqvist will likely improve their net-front powerplay presence, but it's hard to really expect either player to fill the shoes of Mike Hoffman and Evgenii Dadonov. The team's two top goal scorers in 2019-20 became unrestricted free agents and though Hoffman hasn't actually signed yet, Dadonov inked a deal in Ottawa already. Pulling ~60 goals out of the lineup all at once can be devastating and the Panthers will need to find them elsewhere if they want to compete. Remember the team also traded away Vincent Trocheck at the deadline, removing another one of their best offensive weapons.
Perhaps they can still look outside the organization for a mercenary or two, but the offensive development may have to come from internal sources. There will be more than enough opportunity for a young player like Owen Tippett to show he can fill that goal-scoring role, but nothing is guaranteed at this point. Henrik Borgstrom, another top Panthers prospect, doesn't even have a contract for the upcoming season yet and is currently in Finland playing with HIFK (or, waiting for the Liiga season to resume, more accurately). If the team doesn't add firepower and doesn't get a return to form from Bobrovsky, it could be a long season even with the additions on defense.
Photo courtesy of USA Today Sports Images