We've now made it past Thanksgiving and the holiday season is right around the corner. Like the last few years, PHR will take a look at what teams are thankful for but this year comes with a bit of a change. Normally teams would have an idea of where their season was heading, coming up on the one-quarter mark with mountains of statistics to analyze. Instead, in this unprecedented year, the season hasn't even begun. We'll still take a look at what each group is excited about and what they could hope for once the calendar turns to 2021.
What are the Avalanche most thankful for?
The trade market.
Colorado has its fair share of homegrown talent on the roster, but it's hard to overlook the work that GM Joe Sakic has done the last few years to upgrade the organization through trade. It really started on that fateful November day in 2017 when he finally sent one of the most celebrated players in Avalanche history, Matt Duchene, to the Ottawa Senators. In return, Sakic acquired (among other things) Samuel Girard, who is now a leader of the team's defensive group, Shane Bowers, who looks ready to compete for an NHL roster spot, and a pick that turned into Bowen Byram who is currently starring at Team Canada's World Junior camp.
That laid the foundation of what was to come, but Sakic has also landed Ryan Graves, Philipp Grubauer, Andre Burakovsky, Nazem Kadri, and now two others, Brandon Saad and Devon Toews. It's hard to know how Saad and Toews will work out, but if it's like any of his other deals, don't bet on a bust.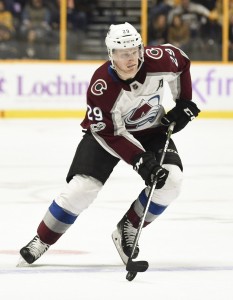 Who are the Avalanche most thankful for?
Yes, it's easy to point to one of the best players in the world and say he's the reason for the team's success, but MacKinnon is the reason everything works in Colorado. You can't go out and acquire a $5MM Saad, or extend Burkakovsky at $4.9MM if MacKinnon is making what he's worth. That $6.3MM per-year contract gets a lot of press for being undervalued, but maybe not enough is written about how it allows the Avalanche to build the rest of the roster.
MacKinnon will get a huge raise after the 2022-23 season and he deserves it. But for the next three years, the Avalanche can overpay elsewhere to give this roster the best chance of winning.
What would the Avalanche be even more thankful for?
Healthy playoff goaltending.
You only get so many kicks at the can with a core this talented and the team watched one slip through their fingers this summer when Michael Hutchinson was forced into the net. It's not even that Hutchinson was bad, he posted a .910 save percentage in four appearances, but when it came down to it he couldn't outduel Anton Khudobin in game seven of the second round.
Grubauer and Pavel Francouz should be a good enough tandem to get the team deep into the postseason, but if an opportunity presents itself for an upgrade, or they fail again this season, you can bet Sakic won't hesitate to make a change. Colorado has an excellent prospect in Justus Annunen, but he doesn't appear to be anywhere near ready to lead the team to a Stanley Cup. That chance to overpay elsewhere while MacKinnon is still cheap? Here's a spot that might benefit.
What should be on the Avalanche holiday wish list?
A new contract for the captain.
As much as MacKinnon's play drives the team on the ice, Landeskog is still the leader for the Avalanche. It seems like so long ago that the Swedish forward became the youngest captain in NHL history (a record that has since been broken by Connor McDavid), earning the "C" at the tender age of 19. Since then he has been a consistent presence for the team through ups and (way, way) downs, eventually reaching a new career mark with 75 points in 2018-19 (just 73 games).
He'll need a raise on the $5.57MM cap hit that expires after this season, but it's hard to imagine Landeskog playing anywhere else. Perhaps by handing him a deal a few years longer than most feel comfortable with the Avalanche will be able to keep the cap hit down, but at some point before the start of free agency an extension should be expected.
Photo courtesy of USA Today Sports Images