Navigating the salary cap is one of the more important tasks for any GM.  Teams that can avert total cap chaos by walking the tightrope of inking players to deals that match their value (or compensate for future value without breaking the bank) remain successful.  Those that don't see struggles and front office changes.
PHR will look at every NHL team and give a thorough look at their cap situation heading into the 2020-21 season.  This will focus more on players who are regulars on the roster versus those who may find themselves shuttling between the AHL and NHL.  All cap figures are courtesy of CapFriendly.
Los Angeles Kings
Current Cap Hit: $67,879,285 (under the $81.5MM Upper Limit)
Entry-Level Contracts
D Michael Anderson (two years, $925K)
F Quinton Byfield (three years, $925K)
F Blake Lizotte (one year, $925K)
F Gabriel Vilardi (two years, $894K)
Potential Bonuses:
Anderson: $850K
Byfield: $2.65MM
Lizotte: $850K
Vilardi: $850K
Total: $5.2MM
It has been a tough couple of years for Vilardi who has had lingering back issues to contend with.  Fortunately, he was able to make it up to the Kings in the weeks before the pandemic shut things down and he did pretty well in a limited role.  He'll have a shot at a regular spot down the middle next season although he'll be battling Byfield, the second-overall pick last month, for playing time.  He still has junior eligibility but with the OHL season not starting until February, it's likely that he'll break camp with the Kings.  Lizotte was a regular in the bottom six a year ago and assuming he can build off that performance, he should be able to garner at least a small raise next offseason.
As for Anderson, he's like Vilardi in that he was able to get a brief look with Los Angeles before the pandemic hit and it was probably enough to earn him a spot as GM Rob Blake didn't change up too much on his back end.  A full season should have him in line for a modest raise but given that his cumulative experience will be less than a regular 82-game campaign, it wouldn't be surprising to see the team try to get him to take a bit less than his qualifying offer while giving him a one-way pact.  Tobias Bjornfot (three years, $894K) broke camp with the Kings a year ago and could potentially do so again but it's hard to imagine them burning the first year of his entry-level deal at this time.
One Year Remaining, Non-Entry-Level
F Michael Amadio ($700K, RFA)
F Alex Iafallo ($2.425MM, UFA)
F Trevor Moore ($775K, RFA)
D Matt Roy ($700K, RFA)
Iafallo has very quietly become one of the better undrafted college free agent signings in recent years.  He has worked his way up to a top-six spot and very quietly finished second on the team in scoring last season.  This current UFA market hasn't been the kindest to wingers but a similar showing from him next season should help generate plenty of interest which should secure him a nice raise with some security.  Moore was brought in from Toronto near the trade deadline and was relatively productive in limited action.  The first step is simply locking down a regular spot which is something that hasn't happened yet and if he can do that, he'll be well-positioned for at least a small raise although his arbitration eligibility may hurt him more than help him.  Amadio locked down a regular role last season and should be poised to build on that in 2020-21 which should comfortably move him out of league minimum territory.
Roy gave the Kings 18 minutes a night while being their best blueliner from a possession perspective.  A repeat performance could give him a strong enough platform to at least triple his current salary.  Any time a team can get a capable blueliner for the minimum, they're thrilled.
Two Years Remaining
F Dustin Brown ($5.875MM, UFA)
F Jeff Carter ($5.273MM, UFA)
F Martin Frk ($725K, UFA)
F Adrian Kempe ($2MM, RFA)
D Olli Maatta ($3.333MM, UFA)*
D Kurtis MacDermid ($875K, UFA)
G Calvin Petersen ($858K, UFA)
*- Chicago is retaining an addition $750K of Maatta's cap hit and salary
There are times where Brown has lived up to his price tag and others where it hasn't been close.  He currently falls between the two as someone that's paid to be a top-six winger and produces like a third-liner.  He'll nearly be 38 when his next contract starts and he'll be hard-pressed to come close to that AAV.  Carter is another player that's on the downswing and it could very well be his last deal.  If not, he'll be going year to year, potentially with some performance incentives.  Kempe is defensively strong while his offensive production has been consistently inconsistent.  This bridge deal makes a lot of sense for both sides and it will be his ability (or lack thereof) to improve at the offensive end that determines whether he's a core piece of the future that can command a long-term deal or someone that has to take a lot of short-term pacts.  Frk was a strong scorer with AHL Ontario last season and did well enough to earn a two-year, one-way deal for his troubles although he could also be a candidate to be waived if other prospects show that they're ready.
Maatta was brought in as a salary dump from the Blackhawks but he could very well be in line for a large role next season.  Still just 26, his contract could certainly be looked at more favorably if he can handle the increased ice time.  On the other hand, further struggles could lead to a 50% pay cut or more two years from now.  MacDermid is probably best suited to be a seventh option at this point and players in that situation are typically either retained at that price point or replaced by someone else at a similar rate.
Petersen has more than held his own in his first two partial seasons with the Kings although it is just a 19-game sample size.  As things stand, he is potentially their starter of the future and that could have him well-positioned for a significant jump into the multi-million range if all goes well.
Three Years Remaining
F Austin Wagner ($1.133MM, RFA)
G Jonathan Quick ($5.9MM, UFA)
Wagner has a slightly higher price tag than a lot of fourth liners have had to take this offseason but there is still some upside (he's only 23) and it's not as if Los Angeles is short on cap space.  It's a deal that looks a little expensive now but if he progresses a bit at the offensive end, it could be a bargain by the end.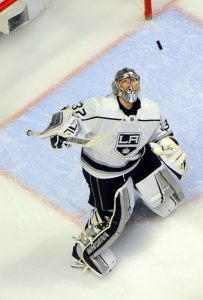 Quick has been a fixture between the pipes in Los Angeles for more than a decade.  However, his performance tapered off considerably two years ago and only improved a little bit last season.  Part of that is the team in front of him – the Kings are no longer contenders as they were before – but at 34, age is starting to creep up to him.  He remains the starter and that price tag isn't overly high for someone in that range as it's only a bit above the median among starters but they haven't received much bang for that buck lately.  As Petersen contends for more playing time, that's not likely to change although Los Angeles will be better for it in the long run if he can ascend to that number one role and push Quick into playing less.
Four Or More Years Remaining
D Drew Doughty ($11MM through 2026-27)
F Anze Kopitar ($10MM through 2023-24)
D Sean Walker ($2.65MM through 2023-24)
Aside from 2017-18, Kopitar hasn't reached the point per game mark (though he came close a few times before) but not many would call his contract a substantial overpayment.  He's still producing like a front liner (though now at the lower end of that scale) and is a strong defensive and faceoff presence.  It's a big contract but he's still logging huge minutes; Kopitar has averaged more than 20 minutes a night in all but one of his 14-year career so they're still getting a reasonable return on their investment.
The same can't be said for Doughty whose first year of his then record-setting extension did not go particularly well.  His output has dipped the last couple of seasons from his 60-point campaign and he hasn't been able to drag their back end to respectability.  That's a lot to ask of one player but when he makes more than all the other defensemen combined, they need more than what he provided last season.  With seven years left, Doughty will have plenty of time to provide that.  Walker only has 109 career games under his belt which made the contract he signed a bit surprising.  However, he played a top-four role most nights for them last season and even if he simply stays in that role, that's a contract that's well below the market rate for a number four blueliner.
Buyouts
D Dion Phaneuf ($4.0625MM in 2020-21, $1.0625MM in 2021-22 and 2022-23)
Contract Terminations
F Ilya Kovalchuk ($6.25MM in 2020-21)
F Mike Richards ($700K in 2020-21; charges range from $400K per season to $900K through 2031-32)
Retained Salary Transactions
None
Still To Sign
None
Looking Ahead
Considering that the Kings have $12MM in dead money on the books this season, the fact they're still more than $12MM under the cap is noteworthy.  Blake has plenty of cap space to try to improve his roster and while they're clearly still in rebuilding mode, if they can utilize their room to take on a bad contract with a sizable incentive, they'd be wise to do so.
The 2022 offseason is the one to watch for.  Only five players are signed past that point so there is plenty of cap and roster flexibility to work with.  Many teams are still going to be capped out that year so Los Angeles is extremely well-positioned to take advantage.  By then, their top prospects (including Alex Turcotte who could push for NHL action at some point next season) should be ready to take on a bigger part of the scoring load, allowing Blake to supplement them with a new veteran core to try to lead them back to playoff contention.  Brighter and bigger-spending days are ahead.
Photo courtesy of USA Today Sports Images.