Lost in the shuffle on the marathon second day of the draft is that Wednesday also represented the deadline for qualifying offers to be tendered.  The flattening of the salary cap increased the concerns about salary arbitration which has certainly affected the quality of players that are now set to hit the open market on Friday.  As these players will not be a part of our annual Top-50 UFA Rankings, here's a rundown of ten notables to keep tabs on over the coming days, listed in alphabetical order.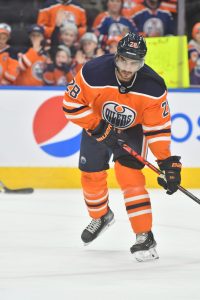 Andreas Athanasiou (Edmonton)
Back at the trade deadline, the Oilers dealt a pair of second-round picks and Sam Gagner to secure the speedster, one that GM Ken Holland had plenty of familiarity with from his own days with Detroit.  While the winger was having a tough season, he's only a year removed from a 30-goal campaign.  In a normal salary cap world, his $3MM qualifier would have been tough to swallow but still would have happened.  Instead, he hits the open market with Edmonton not getting much return for those two fairly high picks while becoming an intriguing bounce-back target for some teams.  He won't get paid like a 30-goal scorer but as a third-liner with upside, he'll land one of the bigger contracts out of this group of players if not the biggest.
Matt Benning (Edmonton)
There was a time that the Oilers hoped that Benning could step into a role on their second pairing but it didn't come to fruition.  However, he has been a serviceable third-pairing player over the past few years but a cap-strapped Oilers team couldn't justify qualifying him at $1.95MM.  Given that he's a right-handed shot in a market that doesn't have a lot of them, he should have interest from a few teams.
Nick Cousins (Vegas)
On the surface, a $1MM qualifying offer to a player who had 25 points in 65 games and got into 17 postseason contests doesn't seem too pricey.  But this is a case where the potential for a higher award through arbitration is a risk that Vegas didn't want to take with Cousins.  It's the second-straight year that the 27-year-old was non-tendered for this reason after Arizona did the same thing a year ago.  A versatile depth player, he should be able to land somewhere for around the same contract as he played on this past season.
Anthony Duclair (Ottawa)
Despite finding an opportunity to play a bigger role than he had at any other point in his career, it seems as if Duclair may have overplayed his hand in contract talks.  After scoring 23 goals this season, he opted to represent himself in contract negotiations against the recommendation of GM Pierre Dorion who indicated that a sizable raise was offered before getting to this point.  Still just 25, Duclair becomes a very interesting addition to the open market but having bounced around the league already (he has played for five different teams in six NHL seasons), it's hard to tell how strong his market may be.
Vinnie Hinostroza (Arizona)
A year ago, it looked like the 26-year-old was set to be a useful part of Arizona's long-term plans.  He was coming off of a career-best 16-23-39 stat line and was pushing for a spot in their top six.  Things went sideways this year though as he potted just five goals in 68 games which made a $1.5MM qualifier untenable.  Hinostroza could fit on a third line for some teams and should have a fair bit of interest.
Dominik Kahun (Buffalo)
This was one of the more surprising non-tenders of the group.  Although Kahun has just two years of NHL experience, he's arbitration-eligible since he's 25.  He followed up a 37-point rookie campaign with 31 points this pandemic-shortened season (including four in six games with Buffalo after being acquired in a deadline day deal from Pittsburgh) while he also missed time with a concussion and a knee injury.  With his point per game average, he played at a 45-point full-season pace.  Buffalo GM Kevyn Adams has indicated they are interested in retaining the winger but if he makes it to the open market, he should be one of the most sought-after players from this list.
Mark Jankowski (Calgary)
While he had shown progress in his development over his first two full NHL seasons, things went off the rails in 2019-20.  Jankowski scored just five times in 56 games and while he wouldn't have been able to get much more than his $1.75MM qualifier in arbitration, that was still too high of a price tag for Calgary's liking.  Still just 26, Jankowski now heads to an open market that isn't exactly loaded in available centers so while a pay cut is likely, he should have no issues finding a new team.
Dominik Simon (Pittsburgh)
A natural center, Simon has spent the majority of his time with Pittsburgh on the wing, playing on all four lines along the way.  While not a gifted point producer, he has surpassed 20 points in each of the last two seasons while posting above-average possession numbers.  Owed a qualifier of less than $800K, the fear of arbitration sealed Simon's fate on a cap-strapped Penguins squad.
Troy Stecher (Vancouver)
In 2018-19, Stecher looked to be on the verge of securing a spot in Vancouver's top four after averaging nearly 20 minutes a night and chipping in with 23 points.  But the return of a healthy Chris Tanev and the addition of Tyler Myers helped push the 26-year-old onto the third pairing and a much lower ATOI than usual.  A $2.325MM qualifier is a bit high for someone in that role but there should be a few teams that see him as a potential fourth or fifth option which makes him a notable addition to the UFA market.
Lucas Wallmark (Florida)
One of the notable parts of the Vincent Trocheck deal, Wallmark was coming off of a league-minimum salary which means this non-tender was solely arbitration related.  The 25-year-old only has two full NHL seasons under his belt, putting up 25 and 23 points in each while posting a faceoff percentage that's a bit above the 50% mark each time.  There is still some upside with Wallmark and with a weak market down the middle, he'll have no trouble generating interest.
While these players (among the others that were non-tendered) can become unrestricted free agents on Friday, some teams will still be negotiating with their players to try to get them at a lower salary than either their qualifying offer or their expected arbitration salary.  Usually, a handful wind up re-signing so at least for some of these players, their fates may not be completely sealed yet.
Photo courtesy of USA Today Sports Images.