The Rangers have taken care of another one of their pending restricted free agents, announcing via Twitter that they've re-signed defenseman Anthony DeAngelo.  While terms of the deal weren't officially disclosed, Pierre LeBrun of TSN and The Athletic reports (Twitter link) that it's a two-year deal with a $4.8MM AAV.  The blueliner had filed for salary arbitration last weekend but won't need the hearing now.
The 24-year-old had to settle for just a one-year, $925K contract last September as DeAngelo didn't have arbitration rights and the Rangers were right up against the Upper Limit of the salary cap.  While that certainly was a tough one for him coming off of a 30-point season, he made the most of it in 2019-20.  DeAngelo had a breakout season that saw him post 15 goals and 38 assists in 68 games, good enough to tie him for fourth in NHL scoring among blueliners with Canucks rookie Quinn Hughes.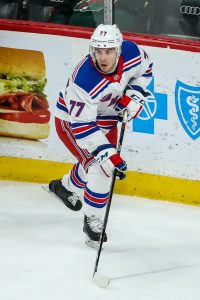 This deal will effectively serve as a second bridge contract, albeit one that's a lot more expensive than it would have been had they been able to afford to give DeAngelo a multi-year deal last offseason.  He gets a significant raise but the risk is limited with just a two-year term.  It also leaves him one year shy of being eligible for unrestricted free agency so the two sides will be in this situation again in 2022 where there will be a longer track record to work off of when pondering a possible long-term deal.
With that in mind, it's worth noting that PuckPedia reports (Twitter link) that the deal is slightly backloaded as many have been in recent weeks with 2020-21's salary being $4.3MM and 2021-22's salary at $5.3MM.  Under the new CBA rules which says the qualifying offer will be the lower of 120% of the AAV or the final year salary, DeAngelo's qualifying offer in 2022 will be $5.3MM.
Meanwhile, New York still has some work to do this offseason, even after re-signing Alexandar Georgiev earlier today.  Ryan Strome and Brendan Lemieux both have arbitration dates in early November and while they will still have some cap space left after signing both of them, their exceptionally high potential performance bonus total (over $10MM) does limit their ability to spend; teams can only use the bonus cushion up to 7.5% of the cap (just over $6.1MM).  Anything over that is deducted from their allowable spending so GM Jeff Gorton won't be able to spend right to the cap.
Photo courtesy of USA Today Sports Images.