While the Sabres were able to avoid one looming arbitration hearing earlier today when they re-signed Sam Reinhart, they have one on the horizon with goaltender Linus Ullmark.  If they're unable to reach an agreement before Monday's hearing, they'll be forced to await the ruling of the arbitrator as mid-hearing settlements can't be reached this time.  Here's a closer look at his case.
Filings
Team: $1.8MM
Player: $4.1MM
Midpoint: $2.95MM
The Numbers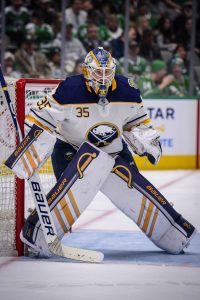 Ullmark has only been an NHL regular for two years now and both of those were spent in basic platoon situations with veteran Carter Hutton.  Hutton has made 78 starts in that span with Ullmark checking in at 68 but the latter has had the slightly better numbers.  The fact that Ullmark hasn't been able to stake his claim to a bigger share of the workload certainly doesn't help his arbitration case as it takes away the ability to use mid-tier starters as comparable contracts.  Further restricting his options is his limited NHL experience overall; while he has played in parts of five straight NHL seasons, he hasn't yet reached 100 games played.
On the flip side, what will help his cause is that Ullmark did improve his numbers considerably last season from his performance in 2018-19.  His save percentage went up by ten points, his GAA went down by 42 points, and his win percentage of 50% was also an improvement and even stands out on a team that only won 43% of his games.  By no means was this a dominant platform year but Ullmark's improvement will look favorable in the eyes of an arbitrator and helps when looking through comparable contracts.
2019-20 Stats: 34 GP (34 starts), 17-14-3 record, 2.69 GAA, .915 SV%, 1 SO
Career Stats: 97 GP (92 starts), 41-41-10 record, 2.81 GAA, .911 SV%, 3 SO
Potential Comparables
Comparable contracts are restricted to those signed within restricted free agency which means UFA deals and entry-level pacts are ineligible to be used.  The contracts below fit within those parameters.  Player salaries (or current-year equivalents) also fall within the parameters of the submitted numbers by both sides.
Alexandar Georgiev (Rangers): Let's look at one signed in recent weeks as a starting point.  While this is a post-ELC deal (Ullmark is three seasons past that point), his numbers this season are relatively comparable to Ullmark's as are his career totals.  On top of that, he subjectively appears to fall within the same category as Ullmark – a young goalie with some perceived upside but whose overall performance seems to fall just below that of a starting netminder.
Contract (2020): Two years, $2.425MM AAV, 2.98 CH%
Platform Stats: 34 GP (32 starts), 17-14-2 record, 3.04 GAA, .910 SV%, 2 SO
Career Stats: 77 GP (71 starts), 35-31-7 record, 3.00 GAA, .913 SV%, 4 SO
Joonas Korpisalo (Blue Jackets): Korpisalo's playoff performance skews things a bit more in his favor but the regular season numbers are much closer.  His injury paved the way for Elvis Merzlikins to take a big chunk of playing time for himself and as a result, his 2019-20 numbers are quite similar to Ullmark's and again, he's a netminder that has yet to establish himself as a full-fledged starter and it's worth noting as well that Korpisalo signed this deal in the same spot as Ullmark is, one year from UFA eligibility.
Contract (2020): Two years, $2.8MM AAV, 3.44 CH%
Platform Stats: 37 GP (35 starts), 19-12-5 record, 2.60 GAA, .911 SV%, 2 SO
Career Stats: 127 GP (116 starts), 60-43-14 record, 2.80 GAA, .908 SV%, 3 SO
Michal Neuvirth (Capitals) – Given the narrow window to try to work with (possible future starters with mixed results and around 100 career GP), let's go back in time a little bit.  There was a time where Washington hoped that Neuvirth could be a starter of the future.  His platform year for this contract came in the lockout-shortened season so some extrapolation is necessary.  This likely represents the high end of what Ullmark could stand to realistically receive.
Contract (2013): Two years, $2.4MM AAV, 3.73 CH%
Current-Year Equivalent: $3.04MM
Platform Stats: 13 GP (12 starts), 4-5-2 record, 2.74 GAA, .910 SV%, 0 SO
Career Stats: 121 GP (105 starts), 55-35-11 record, 2.66 GAA, .909 SV%, 7 SO
David Rittich (Flames) – Let's now look at someone who had even less of a track record than Ullmark.  When Rittich signed this deal, he had basically two years under his belt, one as a backup and one as the strong-side platoon starter.  His platform numbers are slightly better than Ullmark's but Ullmark's longer track record could help offset that.  Like Korpisalo, this is another deal in the one year from UFA category.
Contract (2019): Two years, $2.75MM AAV, 3.37 CH%
Current-Year Equivalent: $2.75MM (since the Upper Limit remains unchanged)
Platform Stats: 45 GP (42 starts), 27-9-5 record, 2.61 GAA, .911 SV%, 1 SO
Career Stats: 67 GP (58 starts), 35-15-8 record, 2.70 GAA, .909 SV%, 1 SO
Projection
Going through the list, it starts to become clear where Ullmark's realistic settling spot is.  A one-year contract should check in a little higher than Georgiev's but below that of Rittich's or Korpisalo's.  (Ullmark's camp will likely try to argue Neuvirth but the more recent deals are the better comparables.)  If it goes to a hearing, the arbitrator is limited to a one-year award as Ullmark is only one year away from UFA eligibility.  That one-year award should check in around $2.55MM.  If they settle before the hearing and do a two-year contract to avoid having him and Hutton expire at the same time, the AAV should check in closer to $2.7MM, just below Korpisalo and Rittich.  Either way, it should come in below the midpoint of their two filings.
Photo courtesy of USA Today Sports Images.