Following a quiet season, Wild defenseman Mathew Dumba's name was already coming up in trade speculation.  One of him or Jonas Brodin seemed to be candidates to be moved with Ryan Suter and Jared Spurgeon already locked up long-term.  Brodin's chances of being dealt dropped considerably today following the announcement of a seven-year, $42MM extension that now puts them in a situation of having four blueliners making at least $6MM for 2021-22.  That's a lot of defensive spending and it's not likely a long-term recipe for success.
GM Bill Guerin is certainly aware of this.  Michael Russo of The Athletic reports (subscription required) that Minnesota is receiving plenty of calls on Dumba's availability but also that the 26-year-old was being actively shopped prior to Brodin's contract getting done.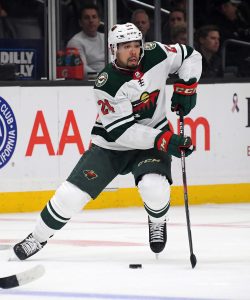 Two seasons ago, it looked as if Dumba had turned the corner offensively after putting up 14 goals and 36 assists while playing in every game.  He was on pace to beat those numbers in 2018-19 with 12 goals and 10 helpers in just 32 contests before suffering a ruptured pectoral muscle in a fight which ended his season prematurely.  The good news this season is that Dumba was able to play in all 69 games before the pandemic hit but the bad news is that he managed just six goals and 24 points, numbers that were well below his expectations.
Nevertheless, there should still be a sizable market for the most recent King Clancy Trophy winner.  He is signed through 2022-23 at a $6MM price tag, a rate that is manageable for someone that has logged at least 22:30 per game over each of the last three seasons and his past offensive prowess.  On top of that, the fact that he's a right-shot player (which is often in high demand and short supply) should help Minnesota receive a strong return for him if he indeed winds up being on the move.
Guerin hasn't hidden the fact that the Wild are in dire need of an impact player down the middle.  Even with the recent acquisition of Nick Bjugstad, their depth at center is weak.  Veteran Eric Staal is entering the final year of his contract as is checker Joel Eriksson Ek while Victor Rask, a speculative buyout candidate, has two years remaining.  There isn't much help in free agency so if they plan to make an impact addition at that spot, it will have to come via the trade market.
Dumba seems like an ideal candidate to try to use to fill that spot.  While impact centers are hard to acquire, so too are top-four right-shot defenders with multiple years of control at a reasonable rate so there is bound to be some notable pivots made available to try to secure Dumba's services.
It's also worth noting that Dumba is now the only one of Minnesota's core four on their back end without any sort of active trade protection.  He has a 10-team no-trade clause that is set to kick in for 2021-22 but for now, he can be moved anywhere without his approval.
And, of course, there is also Seattle's expansion draft to keep in mind.  The most common protection is seven forwards, three defensemen, and a goalie.  If they followed that scheme, Dumba would unprotected by default as Suter, Spurgeon, and Brodin all have no-move clauses.  While it's possible to protect more than three blueliners by going to eight skaters and a goalie, that would mean they'd risk losing a better forward to the Kraken.  Moving Dumba now would alleviate that future concern.
During his press call today to discuss the Brodin deal, Guerin indicated that they don't have to move a defender and that he's happy with his group as currently constructed.  But even with Dumba coming off of a quieter season by his standards, his trade value should still be quite strong.  With that in mind and today's Brodin deal, it certainly wouldn't be surprising to see Dumba on the move in the coming weeks.
Photo courtesy of USA Today Sports Images.