While the official start date of free agency remains in flux depending on when the playoffs end (the later of October 9th or a week after the completion of the Stanley Cup Final), many teams are already looking ahead to when it opens up.  There will be several prominent players set to hit the open market while many teams have key restricted free agents to re-sign. Arizona has been in constant turmoil for two decades and now face an offseason with incredible challenges.
Key Restricted Free Agents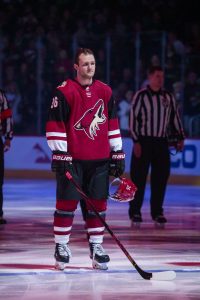 F Christian Fischer – What happened to the promising young power forward that scored 15 goals and 33 points as a rookie? Fischer, a second-round pick from 2015, burst onto the scene with the Coyotes in 2017-18 as a 20-year old wrecking ball, using his 6'2″ frame effectively to punish opponents and create offense. Now 23, Fischer is coming off a nine-point season that saw him averaging less than ten minutes a night in the second half. That offensive drop off coincided with plummeting possession stats, while the playoffs didn't bring much change. In nine postseason games, Fischer recorded just one point. He shouldn't be expensive for the Coyotes to retain after that dreadful year, but a return to form for Fischer would go a long way in helping the Coyotes lengthen out their lineup.
F Vinnie Hinostroza – You can basically cut-and-paste the disappointing year quotes for Hinostroza, who scored just five goals in 2019-20 after tallying 16 in his first year with Arizona. The 26-year-old forward ended with just 22 points in 68 games, a substantial step backward for a player that was an exciting piece of the Marian Hossa deal in 2018. Unlike with Fischer however, Hinostroza is heading into restricted free agency for the final time, is arbitration-eligible and could potentially be a player the Coyotes walk away from if things are getting too expensive. He's coming off a contract that paid him just $1.5MM this season, and it's hard to imagine him providing much excess value for whatever the arbitrator awards.
Other RFAs: D Ilya Lyubushkin, D Jordan Gross, D Dane Birks, D Kyle Capobianco, D Vili Saarijarvi, D Jalen Smereck, G Merrick Madsen, G Adin Hill
Key Unrestricted Free Agents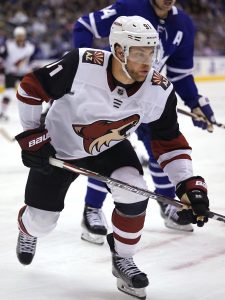 F Taylor Hall – Here's where the real tough decisions come for the Coyotes. Nick Merkley, Nate Schnarr, Kevin Bahl, and two high draft picks is what the Coyotes paid for 44 games of Hall. 12 goals, 33 points, and a first-round exit were the return, not exactly what they were hoping for when they made the deal with New Jersey midway through the season. Now, a team operating without a permanent GM is trying to sell Hall on the perks of remaining a Coyote, but it's hard to imagine him taking any contract before seeing what's available on the open market. The former MVP is still an excellent offensive player and he's only 28. While his market may be significantly depressed by the flat cap, that doesn't mean he's going to come cheap. The Coyotes aren't really in a position to be giving out the biggest contract of the offseason, meaning they may end up without a chair when the music stops on Hall's free agency.
F Carl Soderberg – A veteran forward with a history with the Boston Bruins finished third in goals for the Coyotes in their first season in Arizona. Phil Kessel? No, it's Soderberg, who ended up with 17 goals and 35 points in 70 games (Kessel had 14 and 38) while playing nearly 16 minutes a night. That ridiculous 14-point season in 2016-17 is the obvious outlier now for Soderberg, who has scored at least 12 goals and 35 points in each of his other six NHL seasons. After just one season in Arizona, Soderberg will be 35 next month and could find himself on the way out given the team's cap crunch. You can bet other teams are watching to see if the veteran center will hit the open market as a strong depth option.
Other UFAs: F Brad Richardson, F Markus Hannikainen, F Beau Bennett, D Robbie Russo
Projected Cap Space
That flat cap will have several teams struggling to piece together the offseason puzzle, perhaps in Arizona most of all. Even without Hall, the team has more than $80MM committed for next season thanks to expensive extensions kicking in for Darcy Kuemper and Clayton Keller. Hossa's $5.275MM cap hit will be kept on long-term injured reserve again to give some added flexibility, but even so, the team is going to be cap-strapped in the offseason. That's exactly the reason why captain Oliver Ekman-Larsson's name has already been floated in the trade rumor mill, along with several other of the team's veteran defensemen—Alex Goligoski, Niklas Hjalmarsson, Jason Demers, and Jordan Oesterle are all unrestricted after next season.
If Hall is to come anywhere near a return to Arizona, the team is going to have to move some money out. Does interim GM Steve Sullivan pull that trigger, or will the team wait for their next front-office leader to be hired before issuing sweeping changes to the roster?
Photos courtesy of USA Today Sports Images