Though it doesn't come as much of a surprise at this point, Washington Capitals GM Brian MacLellan confirmed today that he expects Braden Holtby to reach free agency according to Tarik El-Bashir of The Athletic. Holtby is set to become an unrestricted free agent next month and seems to be an unlikely candidate to return to Washington.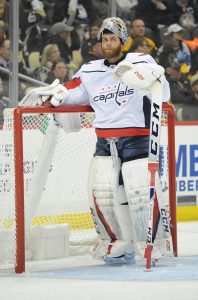 For one thing, the 30-year-old netminder is coming off his worst season as a professional. While he still posted a 25-14-6 record thanks to a strong Capitals team, his individual numbers—.897 save percentage, 3.11 goals-against average with zero shutouts in 48 appearances—were drastically below his career norms.
Partly because of those struggles, the door was opened this season for young phenom Ilya Samsonov to step into the spotlight in Washington and show he's ready for a starter role. In 26 games the rookie goaltender registered a .913 save percentage and looked the part of a future star. One of the best goaltenders in the KHL for the last few seasons, the 2015 first-round pick was always going to challenge for the starting role in Washington eventually.
Interestingly though, Samsonov was unable to join the team in the postseason bubble due to injury giving Holtby one last chance to prove himself before hitting the open market. He actually did perform better than his regular season, but still not nearly well enough to force the Capitals to rethink their future at the goaltending position.
Again, Holtby does have a long history of success to remember. A Vezina Trophy in 2016 as the league's best goaltender was followed by a second-place finish the following year, while 2018 brought the Stanley Cup to Washington for the first time. After Philipp Grubauer actually started the playoffs for the Capitals that year, Holtby quickly took the net back and led the team to the finish line with a .922 save percentage in 23 appearances. That was actually lower than his career .926 postseason number, which is still an impressive total to consider for teams looking to add goaltending this offseason.
The question now is just how expensive will Holtby be on the open market. A year ago Sergei Bobrovsky signed a seven-year $70MM deal with the Florida Panthers and some immediately pointed to it being a possible target for Holtby. After all, while Bobrovsky had won the Vezina twice in his career, his overall regular season numbers were eerily similar and he didn't have nearly the same playoff resume.
Now, after a hugely disappointing year from Holtby, the COVID-19 pandemic squeezing finances and an unusually deep goaltending market, it's hard to imagine the Capitals netminder securing anything close to that $70MM deal. In fact, he may have to settle for a shorter deal in order to rebuild his brand and navigate a unique free agent market.
Photo courtesy of USA Today Sports Images