As they stormed back last night to defeat the Vegas Golden Knights and advance to the Stanley Cup Finals, it's easy to forget that the Dallas Stars are still operating with an interim head coach behind the bench. Rick Bowness took over control of the Stars after just 31 games this season and has now led them to the promised land with an incredible playoff run, but still had that interim tag on his job title.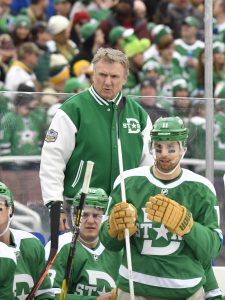 The company line all postseason has been that GM Jim Nill and Bowness would sit down and discuss his future after the team stopped playing, but the front office executive was a little more forthcoming when speaking to the media today. As Sean Shapiro of The Athletic reports, Nill explained that Bowness has "definitely earned the right to come back" as head coach next season.
That's not a new contract, but it does seem as though Bowness can take the reins of the Stars again if he chooses to in 2020-21 (whenever that season happens). His focus is squarely on the challenge that is in front of him and it's not like he would have been out of work anyway. Bowness first became an assistant coach at the NHL level in 1984 and has been employed ever since, spending time with the Winnipeg Jets, Boston Bruins, Ottawa Senators, New York Islanders, Phoenix Coyotes, Vancouver Canucks, and Tampa Bay Lightning before joining the Stars as an assistant in 2018.
One of the other big contributors this postseason and potentially a clubhouse favorite for the Conn Smythe also doesn't have much certainty surrounding his future in Dallas. Anton Khudobin, who has been outstanding in the postseason with a .920 save percentage in 19 appearances, is scheduled for unrestricted free agency in October. Shapiro tweets that Nill hopes to re-sign Khudobin this offseason. The journeyman goaltender is 34 and has played 237 regular season games, split between six different organizations.
Photo courtesy of USA Today Sports Images