As teams are eliminated from the Qualifying Round, it means that the offseason has arrived for several more squads.  Having covered the teams that weren't a part of the NHL's return, we shift our focus to the ones that have been ousted.  Next up is a look at Winnipeg.
This season was expected to be one where the Jets took a bit of a step back.  While they were only a year removed from nearly winning the Central Division, their back end underwent quite the overhaul as several regulars moved on with minimal replacements added for cap reasons while another didn't play for them at all before his contract was terminated in-season.  They used a hot streak down the stretch to have themselves in the battle for a playoff spot before the pandemic hit before being ousted by Calgary in the play-in series.  Now, GM Kevin Cheveldayoff has some flexibility to work with this offseason (but a lot of roster spots to fill).  Here is what he should be looking to accomplish.
Restock The D
No team took as big of a hit on their back end as Winnipeg did between last season and this one.  Ben Chiarot and Tyler Myers moved on via free agency, Jacob Trouba was traded, and Dustin Byfuglien briefly reported to camp, left, and didn't come back.  The only current NHL asset they received for any of those defenders was Neal Pionk.  While the 25-year-old had a career year for the Jets, this was still a significant step backwards.  The team had to turn to the waiver wire to stay afloat and the results were predictable as Connor Hellebuyck faced the most shots of any goaltender in the league this season.
Only three regulars are signed for next season and one of those (Tucker Poolman) played a limited role this year.  Cheveldayoff will need to work to add at least one top-four option to take some pressure off Pionk and Josh Morrissey.  Youngster Ville Heinola showed some promise in an early-season look but while he has the upside to get to that level down the road, that won't come in 2020-21.
If they're unable to afford a blueliner of that quality, then restocking the cupboards with quality depth options is a good way to go.  Dylan DeMelo made an impact in limited action after being acquired at the trade deadline from Ottawa and they'll likely look to retain him although DeMelo is in line for a decent raise on his $900K AAV.  Nathan Beaulieu is another pending unrestricted free agent that could be retained at the right price.  But after them, the depth falls off quickly.  Bringing in a capable veteran or two that can log some minutes would be a useful backup plan; while it wouldn't add to their top pairing, adding players that can log more minutes than a usual third pairing would still help.  Relying on the waiver wire for reinforcements didn't work too well this season and that's not a viable approach to reshaping their defense corps.
Acquire A Second Line Center
Finding a second line center has proven to be a bit of a challenge for Cheveldayoff.  In recent years, they've added Paul Stastny and Kevin Hayes as rentals at the trade deadline but they weren't able to re-sign either one.  That's left Bryan Little reprising that role but his season ended early due to a perforated eardrum.  They had some challenges filling that spot.  Jack Roslovic hasn't developed as hoped and seems to be better on the wing at this stage.  Andrew Copp and Adam Lowry are effective players but they're at their best in more limited roles.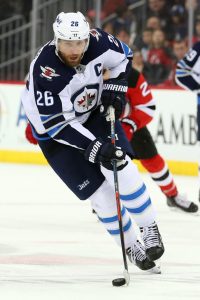 That forced Blake Wheeler into playing down the middle for a large portion of the season.  He's certainly capable of playing in that role but it takes him away from playing on the top line with Mark Scheifele holding down that number one spot.  That's a nice fallback option to have but they shouldn't be relying on that as their primary plan to fill the role next season.
In a perfect world, this is something that could be filled via unrestricted free agency but there's a strong case to be made that there isn't a top-six center available on the open market.  That means they'll have to turn to the trade market to try to add one.  If they can get one over the coming months, it'll stop them from having to part with more draft picks and/or prospects to try to add one as a rental closer to the trade deadline.
Add A Better Backup
Laurent Brossoit's first season in Winnipeg was a strong one and he earned the one-year, $1.225MM extension that he played under this year.  However, 2019-20 wasn't anywhere near as strong.  As a result, Hellebuyck led the league in starts for the second time in three years and while he played well enough to earn a Vezina nomination, asking him to regularly log as many minutes as he has isn't ideal.  With a 3.28 GAA and a .895 SV%, it's likely the end of Brossoit's tenure with the team.
While they were eventually able to get Eric Comrie back (following stints in Arizona and Detroit), he's probably better off as their third option once again.  He has been around long enough that he can serve as their mandatory exposure to Seattle in expansion (as long as he's tendered a qualifying offer next offseason).
That could take Winnipeg out of the market of teams that will be seeking someone on a multi-year contract which will give them a few more options.  Ultimately, who they target will likely be determined by whether or not they're able to improve down the middle and on defense as those are justifiably their top priorities but a better backup for Hellebuyck is something that Cheveldayoff will need to look for as well.  With 2020-21 likely to feature somewhat of a compressed schedule, those second options are going to be even more important so a more proven backup becomes that much more critical.
Photo courtesy of USA Today Sports Images.