As teams are eliminated from the playoffs, it means that the offseason has arrived for several more squads.  Having covered the teams that weren't a part of the NHL's return, we shift our focus to the ones that have been ousted.  Next up is a look at Toronto.
After being ousted by Boston in the playoffs last year, the Maple Leafs made one big trade but largely brought back the same roster for this season.  After scuffling out of the gate, they made a coaching change, bringing in Sheldon Keefe to replace Mike Babcock.  However, they were on the playoff bubble before the pandemic hit and they wound up falling to Columbus in the Qualifying Round.  GM Kyle Dubas has already made one move of note with the Kasperi Kapanen to Pittsburgh trade to free up some cap space but there is still some work to be done.  Here's an overview of what they'll likely be looking to tackle.
Reshape The Back End
Toronto's big four up front are well-known as is their cost as they take up a little more than half of the $81.5MM Upper Limit.  Not surprisingly, to be able to afford them, they've had to cut back at other positions, particularly defense.  As things stand, the discrepancy between spending up front and on the back end is likely to increase with veterans Cody Ceci and Tyson Barrie slated to be unrestricted free agents this offseason and are likely to be replaced with cheaper options.
Fortunately for the Leafs, they have some players on entry-level contracts that can step into a bigger role for next season.  Rasmus Sandin acquitted himself well in his first taste of NHL action while Mikko Lehtonen had a dominant season in the KHL to get him on the NHL radar.  Timothy Liljegren is also in the mix.  However, for a team that has eyes on contending, shuffling them in without adding more proven help would be risky.
An impact top-four option (what Barrie was supposed to be) would be ideal to take some pressure off Morgan Rielly and Jake Muzzin.  In particular, finding a right-shot defender to play alongside Rielly would be particularly beneficial as Justin Holl, not too far removed from being a seventh defenseman, is probably not an ideal long-term fit on that top pairing.
Of course, it's one thing to want to add proven blueliners but it's another to be able to afford it.  Even with the Kapanen trade, they don't project to have much in the way of cap space when they re-signing their pending free agents and fill out the roster.  They may have a bit of room but hardly enough to add the type of player they need.  It may take moving out another mid-tier forward to do so (even if it takes away more depth, something Dubas indicated he was concerned with doing) but it's a price they're going to have to be willing to pay to shore this position up.
Make A Goaltending Decision
Frederik Andersen has been the undisputed starter for Toronto for the past four years since they acquired him in 2016.  Over that time, he has been consistently inconsistent.  There have been moments where he has simply been dominant despite facing a barrage of shots and others where he has struggled considerably.  In the end though, there hasn't been much in the way of variation in his numbers with his GAA ranging from 2.67 to 2.85 while before this season, his save percentage had been .917 or .918 each year.  (This season, it dipped to .908.)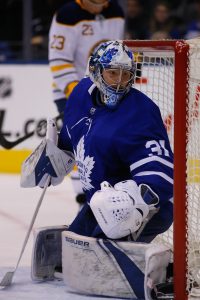 The 30-year-old has been on somewhat of a below-market deal since coming to Toronto as a $5MM AAV is on the low side for a guaranteed starting goalie.  However, that contract is up a year from now which means they'll soon have a decision to make.  He's eligible for an extension although his agent Claude Lemieux told Postmedia's Terry Koshan that there have been no discussions to that end yet.  As things stand, it appears as if the Maple Leafs are kicking the tires on a possible trade but if that doesn't materialize, they'll have to decide if they want to pursue an extension or let him enter his walk year.
Part of the challenge for Toronto, naturally, is their cap situation.  With so much money committed up front, they're not going to be able to contend for a top-end starter on the open market.  They're going to have to go with someone that's a tier below and Andersen, at a similar price to what he's making now, could certainly be in that mix.  If they decide that they want to move on, dealing him before free agency opens up would allow them to get involved there although it's not the deepest of free agent classes.
They will at least have some stability at the backup position with Jack Campbell's new two-year deal set to kick in.  But for the first time in a while, their starting goalie situation doesn't seem as secure.
Add Grit
Dubas hasn't hidden the fact that his plan has been to load Toronto up with as much raw talent as possible in an effort to maximize their scoring opportunities.  Given their lack of playoff success, that plan hasn't quite worked out as intended and he has made a bit of an effort to add some size and grit to their roster with the pickup of Muzzin a year ago and Kyle Clifford as part of the Campbell acquisition.
Clifford's future with the team is uncertain at this point – while he fit in well after being acquired, their cap limitations make it unlikely that they'll be able to retain the pending free agent at his $1.6MM price tag (the Kings retained half of that in the trade).  He's someone they may look to replace if they can't keep him but finding some that adds that element can play higher in the lineup would be more beneficial as would adding another defenseman that can play that way.
Dubas has suggested with some recent comments that he has a better understanding of the usefulness of having some grit on the roster, joking at his conference call recently that he'd like to add another player like Muzzin.  That may not be possible but finding other players who can bring an edge to the table would still make a difference.
Photo courtesy of USA Today Sports Images.