As teams are eliminated from the Qualifying Round, it means that the offseason has arrived for several more squads.  Having covered the teams that weren't a part of the NHL's return, we shift our focus to the ones that have been ousted.  Next up is a look at the Rangers.
It was a year of mixed expectations for New York.  Even with the additions of Artemi Panarin and Jacob Trouba over the summer, the belief was that they still weren't quite ready to contend yet.  Most of the regular season played out like that but the recall of Igor Shesterkin got them rolling to the point where they were a popular pick to make some noise in the playoffs.  However, it didn't play out like that as they were swept handily by Carolina.  At the end of the day, the result was close to their preseason expectations but their year certainly ended on a sour note.  Here is what GM Jeff Gorton will be looking to accomplish over the next few months.
Add An Impact Left Defenseman
The Rangers are fortunate to have considerable depth on the right side of their back end which is usually the tougher of the two sides to try to fill.  Unfortunately for them, their depth on the left side isn't as sharp.  Over their series against Carolina, their left side defenders were Marc Staal, Ryan Lindgren, and Brendan Smith.  Staal has been a speculative buyout candidate for a couple of years now, Lindgren is a rookie, and Smith is another frequent buyout option that happened to be playing on his off-side.  Of those, Lindgren is the only one that is part of the long-term future.
There are some prospects on the horizon.  2018 first-round pick K'Andre Miller has turned pro while Libor Hajek got into 28 games this season, albeit in a limited role.  But neither of them are ready to jump into a big minute role just yet and in a perfect world, none of the ones they used against the Hurricanes would be getting heavy minutes as well.
Their salary cap situation (more than $68MM in commitments already with a few notable RFAs of note) is going to make adding anyone of significance particularly challenging this offseason but this is an area that Gorton is going to want to address.  They can hope all they want that their youngsters can eventually play into those roles but it may be a few years before they develop enough to be ready to play heavy minutes in the NHL.  They need someone to bridge that gap between now and then, especially if they intend to get back into playoff contention for next season so even though it will be tough to accomplish, this is a hole that needs to be filled.
Solve The Goalie Logjam
There's nothing wrong with having goalie depth but carrying three goaltenders on an NHL roster is a tricky field to navigate for any extended period of time.  Once Shesterkin was recalled, that's the situation they were in which meant one of Henrik Lundqvist or Alexandar Georgiev had to be a healthy scratch.  Shesterkin and Lundqvist are signed for next season already while Georgiev is a restricted free agent.  Keeping all three of them would be great from a depth perspective but it may be a luxury that they simply cannot afford.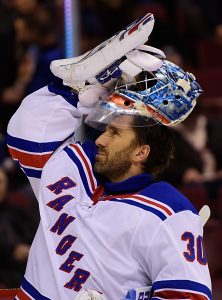 So, which one moves on?  It's safe to say that Shesterkin is staying put so that leaves Lundqvist and Georgiev.  Lundqvist has been a fixture in New York for the last decade and a half and is their franchise leader in games played, wins, and saves.  He also has a cap hit of $8.5MM which is on the high side for a starter, let alone a backup.  The 38-year-old has declined a chance to be traded in the past and has said he wants to wrap up his career with the Rangers.  However, with their cap situation, can they justify keeping him?  A buyout wouldn't save a ton of cap space next season (he'd still carry a $5.5MM cap charge for 2020-21 and a $1.5MM hit for 2021-22) but $3MM would give them a bit of wiggle room at a time where financial flexibility is a premium.  But is that how they want to part ways with a franchise icon?
The other option is trading Georgiev.  His entry-level deal is coming to an end and he'll be looking for a sizable raise on his current sub-$800K AAV with 77 NHL games under his belt already.  There are teams that will be looking for a young goaltender with some upside and there won't be many of them available on the trade market so Gorton could get a reasonable return for him.  On the other hand, if they move Georgiev now, then they'll be looking for a new backup in 2021 once Lundqvist's deal expires.  If New York is content with a Shesterkin-Georgiev tandem for the long-term future though, this wouldn't the most desirable of routes to take.
On the surface, it certainly appears as if Lundqvist's time with New York is coming to an end as carrying three goalies for all of next season doesn't appear to be something that they'll be able to justify doing.
Determine Core RFA Plans
A pair of Rangers had career years at ideal times as they head into restricted free agency with a chance at getting a big raise, even in the current salary cap landscape.  However, there are questions surrounding both of them as well.
Ryan Strome found some early chemistry with Panarin and rode it to a stellar year, one that saw him collect 59 points and log an impressive 19:35 per night of ice time.  At 27, he's a year away from UFA eligibility which complicates things somewhat.  Is this a sign of this to come or a mirage?  Is it worth signing him long-term if they believe Filip Chytil is ready to move up into the second center role behind Mika Zibanejad?  If they have hesitations about his long-term future with the team, a trade may make more sense as a short-term contract that allows him to get to unrestricted free agency in the next year or two that sees him walk for nothing isn't ideal.  Having said that, his history of up and down production may limit the number of potential suitors.
Then there's Anthony DeAngelo.  Last offseason, the Rangers held the hammer when it came to signing him as the defenseman didn't have arbitration rights and a limited track record.  That yielded a one-year, $925K contract.  This season, he put up an eye-popping 53 points while logging over 19 minutes per game.  That alone is worth a huge raise and now, he can file for arbitration.  All of a sudden, he holds the hammer.  How much will his new deal cost?  And with Trouba signed long-term and Adam Fox (both right-shot defenders) under team control through 2024-25, do they want to make that commitment or would they be better off moving him to fill a hole on their roster (such as their LD vacancy)?
If they do wind up re-signing both of them, their cap space will largely be eliminated which will all but guarantee that they will have to make some deletions from their roster.  Both Strome and DeAngelo were core players for New York this season but when it comes to them, there is still plenty of uncertainty which makes their cases worth keeping an eye on as the decisions that are made will ultimately shape their offseason plans.
Photo courtesy of USA Today Sports Images.