The offseason has arrived for at least seven teams that were not invited to take part in the Qualifying Round that has now started.  With that in mind, our Offseason Keys series is underway for the teams that are on the outside looking in.  Next up is a look at Anaheim.
This season was supposed to be somewhat of a transition year for the Ducks.  More roster spots were earmarked for younger players while Dallas Eakins, their AHL coach, was brought in behind the bench.  In that sense, the end result (a sixth place finish in the Pacific Division) wasn't too surprising.  GM Bob Murray has some work to do to reshape this roster but there are some challenges that lie ahead.  Here is a look at what they'll be looking to accomplish this offseason.
Add Scoring Help
Let's dive right into their biggest problem in recent years.  Anaheim simply has a hard time getting pucks in the net.  While there's some hope that youngsters like Troy Terry, Sam Steel, Max Jones, and Max Comtois will be able to be reliable producers, they combined for 23 goals in 200 games this season.  They have hopes for the recently-extended Sonny Milano and in-season pickup Danton Heinen but both of them have been hit or miss offensively over their young careers as well.  There is some upside out of this group but none of them are really going to be able to shoulder the load; they're more complementary players.
The problem for the Ducks is that their veterans can also be placed in that category.  Adam Henrique, Rickard Rakell, Ryan Getzlaf, and Jakob Silfverberg were their top four scorers this season but the highest point total out of that group was 43.  Granted, the early shutdown makes that number look a little worse than it otherwise would have been but Henrique didn't crack the top 100 in points league-wide.  It's hard to have success when your top players are producing at a second line rate at best.
Murray needs to be on the lookout for scoring help and could stand to add multiple upgrades to his top six.  Unfortunately, accomplishing that feat is going to be quite tricky.  Anaheim already has nearly $79MM in commitments to 18 players for next season with Corey Perry's buyout costing them a whopping $6.625MM on the books.  With a flat $81.5MM salary cap, that doesn't give them much room to work with.  Yes, Ryan Kesler's $6.875MM will be heading for LTIR which gives them some wiggle room but they'll be dipping into that simply to fill out their roster let alone add any upgrades.  They're not in as dire straits as some teams are when it comes to the cap but finding a way to add an impact threat is going to be a challenge but it's one that needs to be met.
Getzlaf Extension Talks
Teams are now allowed to work on extensions for players whose deals are expiring in 2021 and Anaheim has a prominent one of those in Getzlaf.  His agent Gerry Johansson acknowledged last month that his focus at this point is working on extensions over deals for players on expiring contracts.  With Getzlaf stating before the trade deadline that he had no desire to chase a Stanley Cup elsewhere, this would seem like a perfect opportunity to try to get a new contract done.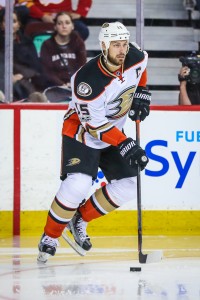 The question will be what the right deal will be.  In his prime, Getzlaf was living up to his $8.25MM cap hit but his numbers have dipped the past two years.  His days of being an ideal number one center are over so a notable dip in pay is forthcoming, one that is exacerbated with the Upper Limit of the salary not expected to move up much over the next few years.
Considering Getzlaf will be 36 when his new deal begins, term will also be a big factor.  It's reasonable to think that he'll want this to be his last contract so he'll be looking for a multi-year pact.  35-plus deals carry some extra risk (unless they're structured equally in terms of salary each year, a new CBA wrinkle) so that's something that Anaheim will be keeping in the back of their mind as well.
Getting a deal with their captain done sooner than later would also give them some more certainty when it comes to their future spending and remove any possible distraction around Getzlaf getting asked about the possibility of moving on.  It certainly appears as if there's going to be mutual interest in getting something done so with there being another three months before they'll have a shot at game action again, this seems like a good time to try to hammer out a deal.
Find A Backup Goalie
Regardless of what they try to do to upgrade up front, Murray will have to leave some money set aside for a backup goalie as veteran Ryan Miller is slated to become an unrestricted free agent in October.  At the age of 40, it's far from a guarantee that he'll want to return and with the year he had (his .907 SV% was the lowest of his career over a full season), the Ducks may want to turn their focus elsewhere.  Internally, Anthony Stolarz is an option but he is probably best served as a third-string option at this stage of his career.
There's also the Seattle expansion consideration.  Right now, the only goalie under contract that's eligible for exposure is John Gibson and it's safe to say that they're going to want to protect him.
Accordingly, they may be among the teams that look to sign a goalie to a two-year (or longer) deal in order to satisfy the mandatory exposure requirement which likely takes Miller out of consideration.  That's not a great market to be in, however, as quite a few teams are in that situation and it stands to reason that Anaheim won't want to spend much money on a number two option given that Gibson is their surefire starter and that their cap space is limited.  After having Gibson and Miller as a tandem for the last three years, a change to that is probably on the horizon.
Photo courtesy of USA Today Sports Images.