The Chicago Blackhawks were the first team eliminated from the 2020 playoffs (obviously not counting the qualification-round losers) when they were defeated by the Vegas Golden Knights last night. An Alex Tuch third period goal proved to be the difference in game five, but the Blackhawks were surprised to even be in that situation in the first place. The expanded return to play format allowed them an opportunity to play postseason hockey despite selling off several expiring contracts at the deadline—including Robin Lehner, the winning goaltender for the Golden Knights.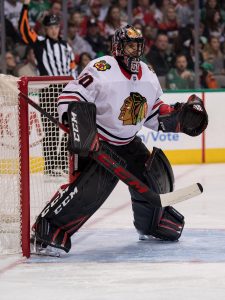 Those deadline moves aren't the only tough decisions that need to be made by the Blackhawks before the start of next season.
All of it, as it does so often, comes down to goaltending. As John Dietz of the Daily Herald tweets, the future of Corey Crawford will determine so much of the future of the Blackhawks. The 35-year-old goaltender has dealt with concussion symptoms and inconsistency but still managed to put up a .917 save percentage in 2019-20. He was the obvious choice for the Blackhawks in the qualification and first round of the playoffs, but he's also set to become an unrestricted free agent when his six-year $36MM deal expires this fall.
Does Crawford come back to the Blackhawks—the only team he's ever known—on a short-term deal to finish his career? What about Collin Delia, the 26-year old netminder who signed a three-year deal with the Blackhawks in 2019 only to spend this entire season in the minor leagues? Will Malcolm Subban be re-signed to serve as the NHL backup?
All of these questions are where the offseason starts for Chicago, but it won't stop there. The team also has some extremely important restricted free agents to sign, including Calder Trophy finalist Dominik Kubalik. Unlike many other first-year players, Kubalik turns 25 in just two days and will likely be commanding a long-term deal unless the Blackhawks want to walk him into unrestricted free agency at a relatively young age. He's already arbitration-eligible, meaning his rookie-leading 30 goals can be used as leverage against the Chicago front office.
There is also Dylan Strome, the third-overall pick from 2015 who reignited his career in Chicago. Though he certainly wasn't as explosive as 2018-19, he still had 38 points in 58 games and will be looking for a raise of his own.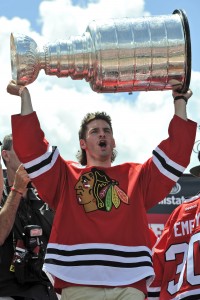 For those raises, the Blackhawks don't have a lot of space. If Brent Seabrook comes back from injury and is ready to play, the team has over $74MM committed in salaries for next season. That doesn't include Kubalik, Strome, or Crawford, three names that would likely eat up the remaining space under a flat $81.5MM ceiling. If that's the situation they're in, there may be some trades coming to free up salary.
The name that always seems to come up in those trade talks is Brandon Saad, but this summer could prove to bring about even more chatter. That's because Saad is heading into the final year of his six-year $36MM deal and a partial no-trade clause will soon kick in. Saad was effective in the playoffs for Chicago, but with the team moving towards a new younger wave of talent is he going to be too expensive to retain?
On defense, the team has already seen what young names like Nicolas Beaudin, Adam Boqvist, and Lucas Carlsson can do. They have Ian Mitchell expected to challenge for a roster spot in training camp after signing his entry-level deal this summer, and other prospects like Dennis Gilbert and Chad Krys pushing for a chance. That means more changes could come on the blueline, which currently has five players earning at least $3.85MM (including Seabrook).
Making it through the qualification round was fun and gave the hockey world another chance to witness what Jonathan Toews and Patrick Kane can do in postseason play. But make no mistake this Chicago team is changing.
Photo courtesy of USA Today Sports Images