It's hard to perform much better than Robin Lehner has the last five seasons. Since the start of the 2015-16 campaign, the firey goaltender has posted a .920 save percentage over 215 games played, including 13 shutouts. That performance has climbed him up the all-time ranks, as Lehner now sits 11th with a career .918. Despite that, he's been moved around to four different organizations and has been forced to sign three consecutive one-year contracts.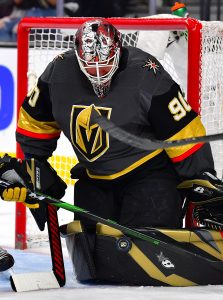 It's time to change that.
The Vegas Golden Knights goaltender is still alive in these playoffs and there are more than just fans watching him play. As Pierre LeBrun of The Athletic examines, Lehner will be front and center among goaltenders—along with Jakob Markstrom—when free agency rolls around later this fall. LeBrun notes that Lehner's "desire to find stability in his next contract" hasn't changed, meaning a multi-year deal will be the ask.
It is easy to forget that Lehner is still only 29, given how long he's been in the league. A second-round pick by the Ottawa Senators in 2009, he made his NHL debut less than three months after his 19th birthday, an age when goaltenders are almost never at that level. In fact, only 18 goaltenders in NHL history have recorded a win at a younger age (including Lehner's partner in Vegas, Marc-Andre Fleury). Goalies like that usually become franchise cornerstones, not journeymen who could join a sixth organization before their 30th birthday (seventh, if you include the trade deadline salary-retention stop with the Toronto Maple Leafs).
There's no doubt Lehner is a different animal than most goaltenders though. An outspoken advocate for mental health and addiction support after his own struggles—which included diagnoses of bipolar disorder, ADHD and post-traumatic stress disorder—he took home the Bill Masterton Memorial Trophy last year. Working through those struggles in recent years seems to have only improved his on-ice performance though, leading to this important offseason.
When compared to the other goaltenders—or even the other players in general—that will be available this fall, Lehner appears to be one of the very top choices. LeBrun suggests that Carolina or Edmonton could be potential landing spots, though each would likely have to clear some cap space to pull it off. That's the trouble for any unrestricted free agent this year as the league deals with a flat salary cap ceiling and slashed revenue streams, but perhaps even more so for goaltenders. An expensive deal like Sergei Bobrovsky landed last year ($10MM per season) is unlikely for anyone. But for Lehner, length is obviously important.