As teams are eliminated from the playoffs, it means that the offseason has arrived for several more squads.  Having covered the teams that weren't a part of the NHL's return and the ones ousted in the Qualifying Round, we shift our focus to the ones that were eliminated in the official first round.  Next up is a look at Chicago.
The regular season wasn't kind to the Blackhawks as when the pandemic hit, they were well out of playoff contention and had already traded their starting goalie to Vegas.  However, they were among the teams invited back in the NHL's Return to Play and they made their presence felt as they eliminated Edmonton before falling to the Golden Knights with Robin Lehner between the pipes.  While Chicago now has some momentum off what was shaping up to be a tough year, GM Stan Bowman has some work to do this offseason.
Free Up Cap Space
Over the last couple of years, Chicago was able to get out from under their perpetual salary cap concerns.  The flattening of next year's Upper Limit will put them right back into that familiar refrain of cap difficulty, especially since they won't have the LTIR of Brent Seabrook and Andrew Shaw to rely on as both plan to be ready to return next season.
With those two on the roster, the Blackhawks have more than $74MM in commitments for next season and a lingering bonus overage penalty of more than $877K which can either be taken in full in 2020-21 or split evenly over the next two years.  Out of that remaining cap space, they have three regular forwards in need of new deals including a Calder candidate while neither of the goalies they had to finish the year is under contract.  (More on those two situations shortly.)  Clearly, something has to give.
One of the speculated options would be to use a buyout or two.  Forward Zack Smith, a healthy scratch at times during the year, seems like a logical candidate with a $3.25MM price tag but a back issue at the end of the season could complicate things if he isn't cleared by the offseason.
On the trade front, defenseman Olli Maatta had a quiet year (though he did better in the playoffs) and isn't quite living up to his $4.083MM AAV.  Calvin de Haan ($4.55MM) is also pricey and is coming off an injury-plagued year which won't help his trade value.  Connor Murphy ($3.85MM) is less likely to be moved but may have a bit more value.  With Seabrook and Duncan Keith ($5.538MM) on the books and not being moved, trimming from their veteran rearguards to save some cap space is a logical place to look but other options will have to be considered as well.
One way or another, the Blackhawks are back in familiar territory where they will have to trim from their roster to keep the rest of it intact.  Until that happens, they'll be limited with what they can do this offseason.
Re-Sign Or Replace Crawford
When Chicago traded Lehner to Vegas, it opened up the starting role to once again be filled by Corey Crawford and he held his own down the stretch and in the playoffs.  However, the 35-year-old is set to become an unrestricted free agent in October and while he indicated last week that he's leaning towards staying in Chicago, having the starting role will ultimately play a role in that decision.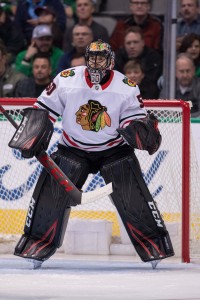 What's the right price tag to keep Crawford around?  His expiring deal carries a $6MM AAV which may be a bit on the high side but not by too much.  Platoon goalies have been exceeding $3MM over the last few years and Crawford, if he re-signs, is at least going to at least be lined up for playing time equivalent to someone on the strong side of a platoon.  With minimal cap space to bring in a quality backup, perhaps he'd be up for even more game action which would only bolster his negotiating leverage.  As a result, it's out of the realm of possibility that Crawford's next contract winds up close to the $5MM in salary he received this season.  If that happens, most of their cap space will be wiped out in the process.
It's also worth that Malcolm Subban, acquired as part of the Lehner trade, is a restricted free agent.  It's possible that he could return while Collin Delia and Kevin Lankinen could be in the mix as well.  If Crawford stays, they'll have to go with a cheaper backup option which means one of those three would likely be his backup.
But if Crawford decides to go elsewhere, Bowman may have to change plans quickly.  There aren't many proven starters available in free agency and the ones that are will likely command more than Crawford.  In that case, Chicago may have to pivot back to their strategy from this season with a platoon.  Out of their backup options, none are qualified for that role so the Blackhawks may then have to shop for a new tandem altogether despite not having much to spend.  If Crawford stays, things are pretty simple but if not, things get a lot more complicated quickly.
Kubalik Deal
Of the three regular forwards that are set to become restricted free agents, winger Dominik Kubalik is the most intriguing one.  Contract negotiations are based on comparable players and situations but when it comes to Kubalik, there are no real comparable circumstances.  There have been plenty of 30-goal scorers that hit restricted free agency but as a 24-year-old in his first season in North America?  That's a new one.  Add in arbitration eligibility due to his age and you have the makings for a case to keep an eye on.
Given his limited NHL track record and their salary cap situation, a short-term contract is all but a certainty.  After making $925K in base salary plus signing bonuses this season (he also hit half of his 'A' bonuses for $425K), he's looking at a sizable raise and could conceivably surpass $3MM, even on a one-year deal.  Kubalik finished in the top-20 in goals this season with that low price tag.  Of the others in that group, the next cheapest player was Florida's Mike Hoffman at just under $5.2MM.  The majority of the players in that group can't be used as comparables in an arbitration filing as they were UFA-aged deals but it just goes to show how impressive his rookie performance was.
The futures of their other two forward RFAs (Dylan Strome and Drake Caggiula) are in question.  The former has been in trade speculation dating back to the regular season while the latter could be a non-tender candidate to save some money.  There is no such question with Kubalik.  Instead, it's just a matter of when he signs and for how much.
Photo courtesy of USA Today Sports Images.