As things stand, the NHL is planning to have games resume at some point over the coming weeks.  Assuming the regular season continues, there will be plenty of things to watch for over the stretch run.  Over the coming weeks, PHR will examine the top stretch run storylines for each team.  We continue our look at the Atlantic Division with Toronto.
It has been an interesting season for the Maple Leafs.  An early coaching change yielded some early returns but before long, they were back to being consistently inconsistent.  At their best, they've shown they can contend with the top teams in the league but when they're not on, they've been highly beatable.  A return to form for some of their top players would go a long way towards helping them secure a playoff spot if games resume and those underachievers are highlighted in the storylines to watch for.
Goaltending
Frederik Andersen has had some hot and cold moments throughout his tenure with the Maple Leafs and before this stoppage came, he was in the middle of one of those cold streaks, posting a save percentage of .879 over a three and a half week stretch in February.  That's a below average mark for any NHL goaltender, particularly a starter on a team that has eyes on a long playoff run this season.
To his credit, Andersen was a lot better over his final three starts before this stoppage and that's the level of play they'll need from him if they want to contend.  Can he stay at that level?
GM Kyle Dubas decided to bring in some insurance just before the trade deadline with the acquisition of Jack Campbell who started off strong enough that he'd have pushed for a bigger role had Andersen's struggles continued.  There's something to watch for on his end as well – if he wins six games in the regular season, the conditional 2021 third-round pick would upgrade to a second-round selection.  Campbell is halfway there; if the season is played out in full, he'll have a shot at getting there.  If not, it will be interesting to see if any proration occurs by the league to determine if the condition was met.
Playing For A Contract
Tyson Barrie's first season in Toronto hasn't gone as well as anyone would have hoped.  As a high-skilled offensive blueliner, going to a team with a lot of top-end firepower seemed like a good fit for him to have a big season in his UFA walk year.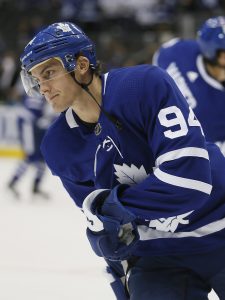 But that hasn't happened.  Instead, he has dropped to just five goals on the season, his lowest full-season total of his career.  It's not due to a lack of playing time either as he's averaging slightly more ice time than he was last season with Colorado when he had a career high in points.
Not surprisingly, his name was in trade speculation leading into the trade deadline although clearly, nothing came of it.  With the Maple Leafs hoping to contend and them only carrying half of his contract with the Avs paying the rest, it was going to be hard to find a right fit that would have brought them another top-four defender back.
Not only would Barrie rebounding be a big boost for Toronto but it would also be a boon to his free agent stock which has taken a bit of a hit this season before even factoring in the looming questions regarding the Upper Limit of the salary cap.  There's certainly a lot riding on how the rest of the year goes for him.
Matthews' Quest
Auston Matthews was having quite the season offensively before the rinks went quiet.  He sits just three goals shy of the 50-goal mark and if he can get there, he'd become just the fourth player in franchise history (joining Dave Andreychuk, Gary Leeman, and Rick Vaive) to reach that mark.  If games resume with close to a full schedule, he'll have a good shot at getting there.
That takes us to the second half of his quest.  Vaive holds the franchise record at 54 with Matthews sitting at 47 in 70 games, a goal per game mark of 0.67.  Toronto had 12 games left in the season.  At that rate, Matthews would project to get eight more which would have got him the record.  He'd likely need the league to play out the full 82 games to have a shot at setting the new record but if that happens, this will certainly be something to watch for.
Photo courtesy of USA Today Sports Images.