Topics in this edition of the PHR Mailbag include Mika Zibanejad, the AHL affiliation shuffle, David Pastrnak's chances of leading the league in goals, Carolina's potential Stadium Series opponent, Montreal's offseason activity, and Joe Thornton.  If your question doesn't appear here, watch for it in next week's mailbag.
MoneyBallJustWorks: I know it could be recency bias but is Mika Zibanejad one of the most underrated players in the NHL?
A five-goal game will certainly change his underrated status in a hurry.  I don't think I'd go as far as calling him one of the most underrated in the league but he has certainly flown under the radar for a while.  (At least until this past Thursday.)
Part of the season is that up until recently, Zibanejad has been someone that hasn't necessarily lived up to his draft billing on the offensive side of things.  He was a sixth overall pick of Ottawa but he has only reached the 50-point mark three times in his career (and one of those saw him get 51).  That lack of offensive progression was part of the reason the Senators sold him fairly low with Derick Brassard being the focal point of the return.
That deal looks quite serendipitous now for the Rangers but he even had a slow start there over his first couple of seasons.  Yes, his production jumped last year but in those circumstances, the question is always if that was just a fluke or a sign of things to come?  It's looking like the latter and as such, his days of being underrated are likely coming to an end.
He's still signed for two more years after this one at a $5.35MM AAV which is suddenly looking like quite the bargain for New York.  Given the continued demand for top centers, he's going to be well-positioned to get a huge raise if he makes it to the open market in 2022 at the age of 29.
lennyleonardseye: What are St Louis' options when it comes to finding a new AHL affiliate? Can they get it done soon or will they have to share a team again like they did in 17-18? What happens to the 5-year contract they had? Why does Vegas keep snatching up the Blues' AHL teams?
The Blues decided to answer this one for me as they announced on Friday that they've signed a five-year affiliation agreement with Springfield which continues the seemingly annual game of affiliation musical chairs.  According to AHL reporter Mark Divver, Carolina (Charlotte) may join in on the fun as well.
With about a dozen teams still being independently owned (the rest are owned by NHL teams directly), there is the potential for this type of movement with some regularity.  The opportunity to get a team that's closer to the parent franchise is always tempting while other times, the NHL team will want more of a say when it comes to stocking the roster with non-NHL-affiliated players.  (That one likely had a role in Vegas taking over in Chicago, a move that also made some sense given that they didn't have a full complement of players to start.)  Vegas bought San Antonio's franchise which supersedes the agreement they had with St. Louis.
If the Blues want some longer-term security, purchasing a team directly would be the way to go.  If they don't want to do that, then they run the risk of this happening.  If nothing else, a five-year deal is a decent consolation prize at the very least.  (Unless another NHL team comes in and buys them, of course.)
mydadleftme: Do you think Pastrnak loses his lead in goals?? He's held on for what seems like the whole season. Also, do you see him keeping this 50 goal a season thing up for a while and maybe touches 60 one season?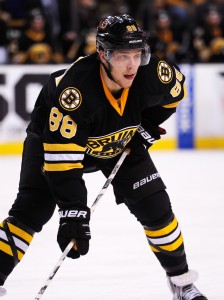 It's going to be a tight race, that's for sure.  Heading into today's action, Pastrnak is tied with Alex Ovechkin for the lead with 47 with Auston Matthews just behind at 46.  (Leon Draisaitl is in the mix as well with 43.)  So it's certainly quite possible (if not likely) he loses the lead at some point.  Having said that, I think he can get the title as long as Boston doesn't start resting players down the stretch and with the lead they have in the Atlantic Division, that's certainly a possibility.
While scoring is up a bit compared to a few years ago, it's extremely tough to do so with any kind of long-term regularity.  Ovechkin, easily the best goal scorer of this generation, has only managed to hit the 50-goal mark in three consecutive seasons before dipping under that mark.  Boston's top line is dominant, no doubt, so a repeat performance next year is certainly a possibility (assuming he stays healthy and gets there this season, of course).  But no, I'm not going to predict a lengthy run of 50-goal campaigns for him or anyone, really.  We've seen one 60-goal guy over the last decade (Steven Stamkos) and even Ovechkin has only gotten there once.  A lot has to break right to get there and I'm not prepared to put Pastrnak at that threshold just yet.
acarneglia: Who do you think Carolina will play in their Stadium Series game next season?
If I was picking the opponent for an outdoor game, I'd focus on the three Rs.
Rivalry: This one would normally come into play but I don't think it does here as the Hurricanes don't have any true rivals.  They're still a relatively young franchise in terms of their time in Carolina and with minimal playoff appearances lately, they haven't developed many that way either.  This one gets a lower priority than it would for most as a result.
Relevance: There's a reason you seldom see out of conference matchups in these events.  While outdoor games can be a spectacle in themselves, the league is still going to want this to be a meaningful game.  A random Western opponent doesn't have the same relevance in terms of the standings as an in-division or in-conference game would.  So I'd lean towards an Eastern opponent.
Ratings: Carolina has certainly been one of the more interesting teams in the league over the last couple of years.  But is that enough for them to be the focal point to draw ratings for this game?  Probably not.  Instead, the rights holder (NBC) will probably want a larger market team to be involved to help up the ratings.  Yes, that means Pittsburgh and Washington jump to the top of the list and perhaps New York (the Rangers, not the Islanders) as well.
If Carolina makes the playoffs this season, it wouldn't shock me if they wind up getting Washington in the first round.  If that happens, I'd lean towards them getting the nod in a postseason rematch (the rivalry factor).  If not, I'd classify any one of those three Metropolitan teams as early favorites.
goosr: What is the Canadiens' biggest move in the offseason?
I've been flip-flopping on this for a bit now.  With how disappointing a season that Montreal has had, it's certainly reasonable to think that GM Marc Bergevin would be willing to take a big swing on his roster.  They're hosting the draft which presents an opportunity to make a splash as well.
And yet, I can just as easily see a scenario where they basically do next to nothing this summer.  They're expected to sign Alexander Romanov and Bergevin has all but said he'll be on the NHL roster next season.  They'll probably sign a new backup goalie.  But based on the confidence that Bergevin seems to have in this roster, he might think that those moves would be enough, coupled with some better luck on the injury front and the continued development of some of their young players.  (Jesperi Kotkaniemi taking a big step would certainly help in this regard.)
While I wouldn't be shocked if they make a substantial trade, at this point, I think their biggest move this offseason may come from internal extensions.  Jeff Petry, Brendan Gallagher, and Tomas Tatar (even Phillip Danault potentially) are all looking at big contracts and they're eligible for extensions in July.  Their biggest splash could very well be simply getting one or more of them signed to a big money, long-term extension.
The way that Montreal's roster is structured, I think they're a year away from really changing the core.  In the 2021 summer, they have three NHL forwards under contract in Jonathan Drouin, Paul Byron, and Nick Suzuki.  A couple (Kotkaniemi and Artturi Lehkonen) will be restricted free agents.  That number should increase when Max Domi (who would be my darkhorse candidate for a trade given Montreal's young center depth) re-signs this summer and if some of the UFAs sign early but still, that's a lot of roster spots up for grabs and they're not all going to be filled internally.
If the opportunity comes to strike around the draft, maybe they do something of consequence but Bergevin's faith in their roster and the way their contracts are staggered suggests to me the bigger changes may still be another season away.
ironcity341: If the Sharks would buy out Thornton, would he be eligible for the playoffs if he signed with a new team?
A quick point of clarification to start, buyouts happen in the offseason, not in-season.  The only way a player gets out of his contract once the calendar turns to September is via a contract termination.  Although Thornton conveyed his disappointment about not being dealt to a Stanley Cup contender, that's not going to happen.
Even if it did, Thornton wouldn't be eligible to play in the playoffs anyway.  For a player to be postseason eligible, they have to be on the Reserve List for that time when the trade deadline hits.  It's not like the NBA where players can be bought out after the trade deadline and free agents can be playoff eligible as long as they sign by the end of the regular season (and weren't waived or bought out after March 1st).  Whatever team they're on when the clock strikes 2 PM CST on trade deadline is the only one they can play in the playoffs for.  It's San Jose or bust for Thornton and given that they're not making the playoffs this season, he'll have to play for another year to get another crack at the postseason.
Photo courtesy of USA Today Sports Images.