With the trade deadline now less than two weeks away, we will be taking a closer look at the situation for each team over the coming weeks.  Where do they stand, what do they need to do, and what assets do they have to fill those needs?  Next up is a look at the New York Rangers.
After landing the biggest fish in free agency and adding the second-overall pick, the New York Rangers were a team to watch this season. While things have gone relatively well, the murderer's row that is the Metropolitan Division has the team well back of a playoff spot. Even with a winning record and positive goal differential the Rangers sit in seventh place in the packed Metro, meaning selling off expiring assets is the likely goal at the upcoming deadline.
Record
30-24-4, seventh in the Metropolitan Division
Deadline Status
Seller
Deadline Cap Space
$13.68MM in a full-season cap hit, 1/3 used salary cap retention slots, 46/50 contracts per CapFriendly
Upcoming Draft Picks
2020: NYR 1st, NYR 3rd, DAL 3rd, NYR 4th, NYR 5th, NYR 6th, NYR 7th, NSH 7th, VAN 7th
2021: NYR 1st, NYR 2nd, NYR 3rd, BUF 3rd, NYR 4th, OTT 4th, NYR 5th, NYR 6th, NYR 7th
Trade Chips
The name you have to mention first when discussing the Rangers is Chris Kreider, the top rental available this season and the subject of endless speculation. The speedy winger is having another excellent season with 23 goals and 42 points in 57 games while in the final year of his current contract. An unrestricted free agent at season's end, Kreider still could potentially re-sign with the Rangers to act as a veteran option while the young kids develop, but is easily their best trade chip.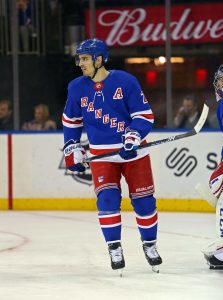 There are a few other interesting forwards on the team however, including heart-and-soul winger Jesper Fast. The 28-year old is also an unrestricted free agent at the end of the season but comes with a more reasonable cap hit of just $1.85MM and would likely draw a much lower price in trade. Fast has just eight goals and 24 points in 57 games, but is still versatile enough that he could be a nice addition to a contender down the stretch.
Pavel Buchnevich and Ryan Strome also may be available for the right price, even if they're not headed toward UFA status. The former is signed for another season at a $3.25MM cap hit, while the latter will be a restricted free agent with arbitration rights.
The defensive group also holds some interest. The team would likely love to get rid of Marc Staal and Brendan Smith's contracts, but both would be difficult to move even if they didn't have trade protection. Anthony DeAngelo could be a different story.
The 24-year old DeAngelo is having an outstanding offensive season with 13 goals and 43 points in 56 games, but had a tough negotiation last summer as an RFA that ended in him agreeing to a one-year contract in late September and will have arbitration rights this year. If the Rangers don't believe they can sign him to a reasonable long-term deal, perhaps it is best to move on given the presence of Jacob Trouba and Adam Fox on the right side. With such a low cap hit $925K and huge upside, DeAngelo could be expensive in trade.
It would be wrong not to mention the team's goaltending situation, which still consists of three netminders for the time being. Alexandar Georgiev has been in trade rumors all season long, but it appears as though the Rangers may be content to keep them all through the end of the season and deal with it after the fact.
Five Players To Watch For: F Chris Kreider, F Jesper Fast, F Ryan Strome, D Brady Skjei, D Anthony DeAngelo
Team Needs
1) Close-To-NHL Forwards: The Rangers are past the point of collecting a million draft picks and restocking their system. In fact, some of those young prospects could actually be traded out of the organization in the coming months and years to secure more big league talent. That's likely what the team is looking for now as they enter a window of playoff contention, spearheaded by the signing of Artemi Panarin last summer. If names like Kreider, Fast and Strome are all moved out, the team will need some more legitimate NHL talent to replace them–though it will have to be young enough to grow with the group.
2) Long-term Cap Space: As referenced above, getting out from under Staal or Smith would be ideal but extremely difficult. That's why a move of someone like Brady Skjei could instead be the option, freeing up room for some younger prospects and some cap space for the organization. The Rangers are okay right now, but will quickly be looking at a cap crunch as players age out of their entry-level deals. Panarin and Trouba combining for nearly $20MM per season will always put pressure on the front office to avoid bad contracts and find value in the margins.
Photo courtesy of USA Today Sports Images.