With the trade deadline quickly approaching, we continue to profile players that have a good chance to be dealt by February 24th.
It was only a few years ago that it looked like Conor Sheary could be another homegrown key player in Pittsburgh's program.  However, salary cap issues necessitated a trade to Buffalo back in the 2018 offseason.  While he hasn't been able to come close to the 53-point campaign he had back in 2016-17, Sheary could still be an intriguing under the radar acquisition for a team looking to boost their depth on the wing.  Two Stanley Cup titles with the Penguins will only make him more interesting to prospective buyers.
Contract
Sheary is in the final season of a three-year, $9MM contract signed back in 2017 while still with Pittsburgh, paying $3MM in salary each year.  The contract does not contain any form of trade protection and he will be eligible for unrestricted free agency in July.
2019-20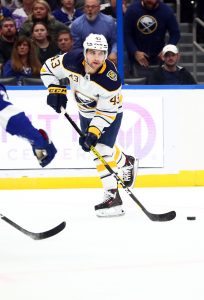 This season has not gone well for most of Buffalo's players and Sheary is no exception.  He has managed to stay healthy for the most part (only missing four games to a minor upper-body issue) but he's averaging his lowest point per game average over any of his four full NHL seasons.  Secondary scoring has been an issue for the Sabres all season long and he is part of the reason.
Nonetheless, he can still play both wings and isn't reliant on power play time to pad his stats as only three of his points this season have come with the man advantage.  That follows the trend for his career as even when he was at his best with Pittsburgh, those points were few and far between.  That should appeal to teams that are looking to add to their third line but don't want to disrupt their power play units.
Season Stats
53 GP, 9 goals, 10 assists, 19 points, -3 rating, 8 PIMS, 86 shots, 12:58 TOI, 49.0 CF%
Potential Suitors
No one is going to be looking at Sheary as one of their top targets as they'll be setting their sights higher at this stage.  But as the more impact players come off the board (or no-trade clauses come into play), teams will eventually be pivoting to other plans and that is the tier that he fits in.
In the East, the Penguins could be a fit.  GM Jim Rutherford recently indicated his interest in adding another forward for depth and the fact that he knows the system and has played with several of their key players in the past would certainly be beneficial.  They'd need Buffalo to retain part of his deal though.  The Islanders are in need of offensive upgrades throughout their lineup and while Sheary would be a lower-end one, he'd still represent an improvement nonetheless.  The Blue Jackets may be shopping in the lower end of the market this year with an eye on an incremental upgrade and Sheary would fit in that price range.  Losing Oliver Bjorkstrand for the rest of the year creates a vacancy on the wing that they'll likely want to fill.
Out West, Arizona is still having issues scoring and with what they paid for Taylor Hall and Phil Kessel, they're missing some of the assets they'd need to go after a top player.  A depth upgrade is likely more up their alley.  Nashville has worked their way from a likely seller to be right in the mix.  However, GM David Poile may still want to shy away from the top of the market given that they're still on the outside looking in at a playoff spot.  An addition like Sheary could give them a small boost without moving a pick or prospect of too much significance.
Likelihood Of A Trade
This is a situation that will likely run right to the deadline.  Teams that strike out on their top acquisitions could turn to Buffalo late in the day and offer up a mid-to-late round pick to try to salvage the day.  If that's enough for GM Jason Botterill, there's a good chance that Sheary will be on the move.
Photo courtesy of USA Today Sports Images.