With the trade deadline now less than a month away, we will be taking a closer look at the situation for each team over the coming weeks.  Where do they stand, what do they need to do, and what assets do they have to fill those needs?  Next up is a look at the Vegas Golden Knights.
The Golden Knights have already made one of the biggest decisions they could have, firing Gerard Gallant and bringing in Pete DeBoer to coach the team. They're 3-1-1 since making the move, but still not a perfect hockey team. Perhaps the deadline will bring more fireworks just as it has in each of first two years of the franchise.
Record
27-20-7, 3rd in the Pacific Division.
Deadline Status
Buyer
Deadline Cap Space
$753K in a full-season cap hit, 1/3 used salary cap retention slots, 46/50 contracts per CapFriendly
Upcoming Draft Picks
2020: VGK 1st, VGK 2nd, PIT 2nd, VGK 3rd, NJD 3rd, VGK 5th, VGK 6th, VGK 7th
2021: VGK 1st, VGK 2nd, NJD 2nd, STL 2nd, VGK 4th, VGK 6th, VGK 7th
Trade Chips
George McPhee and Kelly McCrimmon haven't been shy in making big trades at the deadline over the early part of the Golden Knights' history, acquiring Tomas Tatar in 2018 and Mark Stone last year. Those top forwards cost a lot of future assets, and yet Vegas still has some more bullets to fire.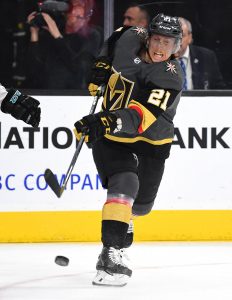 With five second-round picks over the next two drafts there will be opportunities for the Golden Knights to improve without removing much from their roster; the question will be whether or not they can fit any upgrades in financially.
After moving out Nick Suzuki and Erik Brannstrom it might be harder to swallow a trade that involves a top prospect, but there are some second-tier players in the system that could be had.
There are also a handful of expiring contracts that could be swapped out, depending on what was coming back. Cody Eakin, Ryan Reaves and Nick Holden were all listed in Jesse Granger's "Most likely to be dealt" category for The Athletic (subscription required), but Tomas Nosek and Jon Merrill will also become unrestricted free agents in the summer.
Five Players To Watch For: F Cody Eakin, D Nick Holden, D Jimmy Schuldt, F Ryan Reaves, D Jon Merrill, F Lucas Elvenes
Team Needs
1) Puck-Moving Defenseman: Granger wrote weeks ago that the Golden Knights were looking for a defenseman that could move the puck, but how they're going to fit one in is still a mystery. The team already has too many bodies on the back end and would need to move at least one out to fit in any sort of money. That said, Nate Schmidt and Shea Theodore are being asked to do too much right now as the only two players who can effectively get the puck up the ice.
2) Goaltending Help: No one wants to admit it, but Marc-Andre Fleury might be nearing the end. The veteran goaltender has just a .908 save percentage this season, his worst performance in a decade. Malcolm Subban hasn't shown enough to rely on him as a better option, meaning the Golden Knights simply have to consider an upgrade at the position–even if it is only through the end of the season. Any goaltender with term is a tough ask given Fleury's contract (which has two years remaining on it at a $7MM cap hit), but he at least has a history of success while sharing the net during the playoffs.
Photo courtesy of USA Today Sports Images.