The Edmonton Oilers have finally built some stability in the organization and consistency on the ice, and they're not willing to give it up anytime soon. The team extended heart-and-soul winger Zack Kassian recently, and now Bob McKenzie of TSN reports that they are working towards a new deal for Darnell Nurse. McKenzie explained the situation on Insider Trading:
Talks have been progressing. Over the last seven to ten days after the Kassian deal was done, the Oilers and Darnell Nurse have had some considerable discussion that seems to be headed in the right direction. Now it's not by any stretch a done deal but they are making progress.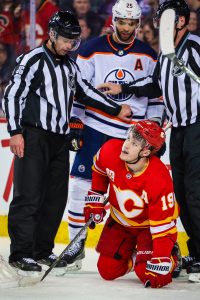 While McKenzie explains that both sides would want a long-term deal if possible, they might have to settle for a two-year contract somewhere under $6MM per season instead. That's because of the tight cap situation in Edmonton, where players like Kris Russell and James Neal are still earning big money next season and there are several buyouts on the books. That shouldn't worry Oilers fans apparently, as McKenzie explains that Nurse "wants to be an Oiler long-term."
The physical two-way defenseman turns 25 today and has become something of a pillar in Edmonton over the last few seasons. Originally selected seventh overall in 2013 it took a few years for Nurse to really grow into his 6'4″ frame, but now that he has there may not be a more important defenseman on the team. After setting a career-high in points last season with 41, he is in the midst of another good year with 22 in his first 52 games. That comes with 118 hits–only trailing Kassian for the team lead–and nearly 23 minutes of hard working ice time every night.
Anything approaching $6MM may be a reasonable amount to pay for Nurse, but it also will complicate things for the Oilers. The team already has more than $63MM committed to just 13 players for next season, not leaving them a lot of wiggle room to fit in support pieces. Both Matt Benning and Ethan Bear also need new contracts as restricted free agents, while there needs to be an upgrade on the wing up front.
Still, the fact that Nurse wants to stick around bodes well for an organization that has had trouble convincing players to do just that in the past. A long playoff run would only do more to solidify the reputations of Holland and head coach Dave Tippett after so much dysfunction over the last decade-plus.
Photo courtesy of USA Today Sports Images