The Florida Panthers dressed seven defensemen against the Toronto Maple Leafs last night—though the hat-tricking Mark Pysyk should probably start thinking of changing to the wing full-time after that performance—but that doesn't mean they aren't still looking to add on the back end. Dale Tallon spoke to Mike Zeisberger of NHL.com and explained he's looking for another defenseman for a very specific role:
I'd like to acquire a veteran D if I could to play with [Aaron] Ekblad and settle things down a bit back there. We need to be more consistent on the blue line.
Ekblad skated beside Mike Matheson for most of last night, who has become something of an enigma since signing his eight-year, $39MM contract in 2017. Once seen as a core piece that would eventually become a leader on the team, Matheson's minutes have been drastically reduced this season. In fact, over his last five games the 25-year old has averaged just over 15 minutes a night, a far cry from the 22:19 he averaged last season.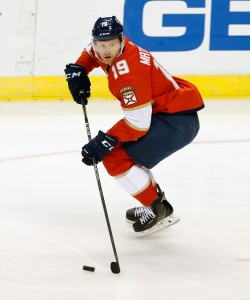 If Matheson isn't the answer next to Ekblad, it's hard to imagine exactly who would be. Tallon's search for a defenseman will be limited by the salary cap, given the team is already using long-term injured reserve space provided by Chris Driedger's injury. Moving money out might be the only way to really upgrade on the back end, which certainly raises more questions.
The Panthers have three players on relatively expensive contracts that will become unrestricted free agents this summer in Pysyk ($2.73MM cap hit), Mike Hoffman ($5.19MM) and Evgenii Dadonov ($4.0MM), but each come with various levels of value to the club. The fact that Tallon suggested a "steadying influence" at forward might also be on the wish list only complicates things.
It would be hard to blame the Panthers for making a big splash though now that they find themselves in a playoff position. The franchise has almost no success since they entered the league in 1993, making the playoffs only five times in 25 seasons. They haven't won a playoff round since their Cinderella run to the Stanley Cup Final in 1996, making this current opportunity seem like a dominant performance.
The Panthers are tied for third in the Atlantic Division with the Maple Leafs, but have two games in hand and an extra regulation win.
Photo courtesy of USA Today Sports Images