If there's one line repeated ad nauseam this trade deadline, it will be that the Edmonton Oilers need help on the wing. Now that Connor McDavid and Leon Draisaitl have been split up for the most part and are driving two different lines, the prevailing thought is that they will add a body or two to give them a little more depth. You wouldn't blame GM Ken Holland for looking around for a familiar face then. Elliotte Friedman of Sportsnet writes in his latest 31 Thoughts column that the Oilers have "looked into" Montreal Canadiens forward Tomas Tatar, who of course has a long history with Holland from their time in Detroit.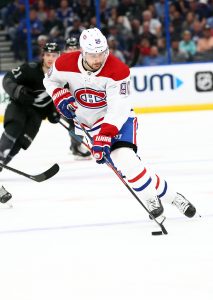 Tatar, who is also drawing interest from the Pittsburgh Penguins according to Friedman, has resurrected his career in Montreal after an ill-fated stopover with the Vegas Golden Knights. After setting career-highs with 25 goals and 58 points last season, Tatar is ready to blow past those numbers in 2019-20. He currently sits with 20 goals and 50 points in 55 games, leading the Canadiens in both categories by a fairly wide margin.
Why would Montreal want to trade Tatar then? Well, this season hasn't gone according to plan for the Canadiens who even with their recent strong play still sit seven points out of an Atlantic Division playoff spot. The final wild card position is actually even further away, and Montreal would have to jump over several teams to land either one.
There's also the fact that Tatar is only signed for one more year and just turned 29. While he has obviously been a great fit for the team, trading him now could provide a pretty significant return given he would represent two playoff runs for any acquiring team.
In 2018 when the Golden Knights acquired Tatar from the Red Wings, he had three additional seasons on his deal at a $5.3MM cap hit. He also only had 16 goals and 28 points through 62 games, but Vegas still decided to give up a first, a second and a third-round pick for him. After the Golden Knights retained salary in the subsequent move, he now costs just $4.8MM against the cap and is having and much more successful season. That's why Friedman writes that any team would have to "move the needle" to really interest Montreal GM Marc Bergevin, but also why he could be one of the biggest names on the market if made available.
Photo courtesy of USA Today Sports Images