With the trade deadline just a little more than a month away, we will be taking a closer look at the situation for each team over the coming weeks.  Where do they stand, what do they need to do, and what assets do they have to fill those needs?  We begin with a look at the Anaheim Ducks.
After struggling considerably in the second half of last season, Anaheim changed their coach this summer but their place in the standings hasn't really changed as they enter their bye week sitting 14 points out of a playoff spot.  While they have integrated some younger players into their lineup this season, it seems likely that they'll soon be bringing more youngsters into the fold down the stretch after GM Bob Murray trims his veteran base over the next few weeks.
Record
19-24-5, seventh in the Pacific Division
Deadline Status
Seller
Deadline Cap Space
$16.753MM in a full-season cap hit, 0/3 used salary cap retention slots, 47/50 contracts per CapFriendly
Upcoming Draft Picks
2020: ANA 1st, ANA 2nd, ANA 3rd, ANA 5th, ANA 6th
2021: ANA 1st, ANA 2nd, ANA 3rd, ANA 4th, ANA 5th, ANA 6th
Trade Chips
Every now and then, we've seen teams use cap space as a trade chip and Murray has already made that known to cap-strapped teams.  There are two ways this can be done and both have been used in recent years.  They can take on a bad contract in exchange for picks and prospects or alternatively, they could act as a third-party team to acquire a player and then immediately flip him with retention as Vegas did with Derick Brassard in the past.  With the cap space they have, Anaheim has the ability to really be a trade facilitator over the next month.
While the Ducks have half a dozen pending unrestricted free agents, none of them profile as impact players.  Ryan Miller could draw some interest from teams looking for a veteran backup but he has pretty strong trade protection and can block a trade to 24 teams which could complicate things.  Derek Grant has ten goals in 36 games which isn't bad but the fact that he has only really produced with Anaheim (he has just two goals in 111 games away from the Ducks) could limit his market somewhat.  They will likely want to move one of their rental blueliners (Michael Del Zotto and Korbinian Holzer) but their markets will be very limited.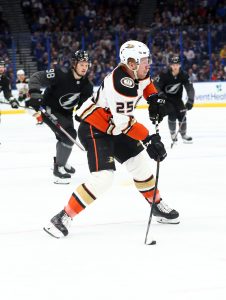 One non-rental player that may be in play is winger Ondrej Kase.  The 24-year-old is having a very quiet season with just five goals in 42 games despite being a fixture in their top six most nights.  His name had come in trade speculation leading into the season as part of discussions for then-Carolina blueliner Justin Faulk and as he's only two seasons removed from a 20-goal campaign, there will be teams that will inquire in a buy low scenario.  With some of the other veterans that they might be open to moving being on longer-term contracts, Kase and his $2.6MM price tag through 2020-21 is a more affordable piece for teams that are looking to add depth on the wing.
Five Players To Watch For: D Michael Del Zotto, F Derek Grant, F Ondrej Kase, G Ryan Miller, F Daniel Sprong
Team Needs
1) Scoring Help – Anaheim struggled to score with a more veteran-laden group last season.  They've struggled to score this season with several younger players getting a chance.  While there is obviously the potential for internal growth from players like Troy Terry, Sam Steel, Max Jones, and Isac Lundestrom, that's not going to happen too quickly.  If Murray decides to move some of his more prominent veterans, adding some young, near NHL-ready forwards should be at the top of his wish list.
2) Long-Term Backup Goalie: At 39, Miller is clearly not part of the long-term plans in Anaheim.  It wouldn't be surprising if this is it for the veteran after this season.  While the Ducks have five other goalies on an NHL contract right now, none are really at a point where they could be realistically be considered for the backup spot behind John Gibson.  Anthony Stolarz is on a one-way deal but he's better served as a third-string option.  They could turn to free agency to fill this but this is the time of year where teams may be willing to move their own third-string goalie to add some NHL depth.  It would be a good time for Anaheim to add one of those to see if they can fill Miller's eventually vacancy with someone on a below-market deal rather than paying up in July.
Photo courtesy of USA Today Sports Images.