The 2019-20 season is quickly looking like it will be looked back as the year of the coaching change as yet another head coach was replaced which is among the top stories of the week.
Martinez Available: Last season, the Kings traded Jake Muzzin, one of their key defensemen, to Toronto.  This season, it appears that blueliner Alex Martinez could have the same fate as he has been made available around the league.  He recently returned to the lineup after missing more than a month after his wrist was cut by a skate blade so it's likely that he'll need to play for a little while yet to show teams that he has fully recovered.  Similar to Muzzin a year ago, the 32-year-old has another year left on his contract with a $4MM cap hit that should be of interest to several contending teams as it's a deal that's a little bit below market value.
Hamilton Out Indefinitely: Hurricanes defenseman Dougie Hamilton appeared to be well on his way towards a career year offensively after picking up 14 goals and 26 assists through the first 47 games of the season.  However, that momentum was quickly derailed after he suffered a fractured fibula that he has already undergone surgery for.  He's listed as out indefinitely but similar injuries have carried a timeframe for recovery of around three months which would basically put him out for the rest of the regular season.  Carolina had been making some defensemen available but now, they may have to pull back on that with Hamilton out of the lineup.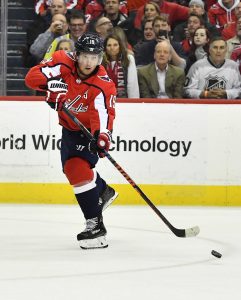 Backstrom Extension: Going into the season, the Capitals had a pair of prominent veterans that were slated to become unrestricted free agents in July.  They have trimmed that down to one after agreeing to a five-year, $46MM extension with center Nicklas Backstrom.  The deal, which was negotiated with Backstrom directly and not an agent, also contains a full no-move clause in the first three years of the deal plus a 15-team no-trade clause in the final two seasons.  The contract gives the 32-year-old a significant raise on his current $6.7MM AAV.  Backstrom, a first-round pick (fourth overall) back in 2006 has played the entirety of his 13-year NHL career with Washington where he is the all-time franchise leader in assists and sits second in points behind Alex Ovechkin.  He'll be holding onto those marks for a long time now with this deal.
Another Coaching Change: Some of the coaching changes around the league haven't come as much of a surprise.  The latest, one that saw Vegas fire Gerard Gallant and hire Peter DeBoer as his replacement, certainly doesn't qualify as one of those.  While the Golden Knights have struggled in recent weeks, they were still in a playoff spot in the ultra-tight Pacific Division and reports have since surfaced that there were some discussions about a contract extension not that long ago.  Despite that, GM Kelly McCrimmon acted quickly with a capable veteran coach in DeBoer who has some familiarity with Vegas having previously coached one of their bigger rivals in San Jose.  He'll now be tasked with making some tweaks to help them down the stretch.
Rielly Out For A While: Toronto's back end isn't the deepest and was already without Jake Muzzin.  They suffered another significant injury as Morgan Rielly will miss the next two months due to a broken foot.  The injury was sustained last weekend against Florida and they've had difficulty keeping the puck out of the net since then; including that game, they've allowed 20 goals in their last four contests.  As Rielly is expected to be back before the end of the regular season, the Maple Leafs won't be able to trade for a replacement using LTIR as they'd need to get back into cap compliance before they could activate Rielly in that circumstance.  Since their coaching change, Toronto has been one of the top-scoring teams and they'll need to keep that up in Rielly's absence.
Photo courtesy of USA Today Sports Images.