Last season, Mikael Granlund being traded at the deadline was one of the bigger surprises around the league.  One year later, it seems like he's going to be on the move again and this time, it won't be as much of a surprise.  Bruce Garrioch of the Ottawa Sun reports that the Predators are looking to move the pending unrestricted free agent.
When Nashville acquired him last season, the 27-year-old looked like he was on his way to his third straight 60-point season which was going to set him up well for contract extension talks with the Predators.  Instead, he had just a single goal in 16 regular season games with the team while adding only one in the playoffs in their first round loss to Dallas.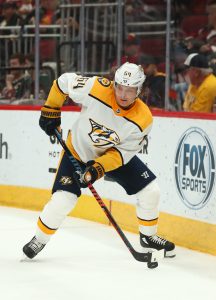 Instead of Granlund being the extra punch to their attack like they hoped, they had to trade P.K. Subban to New Jersey to free up the cap room to add Matt Duchene in free agency.  Still, with a full training camp under his belt, the hope was that he'd rebound and become the impact player that he was with Minnesota.  With eight goals and eight assists in 41 games, he has been a little better than the stretch run a year ago but nowhere near the level that he has played at before.
Not surprisingly, it seems as if Nashville has no interest in engaging in any extension talks which is probably the best for both sides.  With the Predators on the outside looking in, moving him now makes sense while Granlund will be banking on a change of scenery helping him rediscover his form and aiding his free agency case.  As things stand, it seems unlikely that he'll be beating his current $5.75MM AAV on the open market.
Unfortunately for the Predators, given Granlund's struggles, it's doubtful that they'll be able to land a return comparable to what they gave up to get him in the first place in winger Kevin Fiala who actually has out-produced Granlund so far this season.  A year ago, this looked like a great pickup for Nashville and one that could be a longer-term piece.  But it hasn't come close to working out and over the next month, it's almost certain that he'll be dealt once again.
Photo courtesy of USA Today Sports Images.