The Washington Capitals weren't going to let one of their franchise icons go anywhere. Nicklas Backstrom has agreed to a five-year contract extension that will delay his unrestricted free agency until the summer of 2025. Backstrom negotiated the deal himself, and will get a hefty raise. The contract is worth a total of $46MM, meaning the veteran center will carry a $9.2MM cap hit starting next season. The full breakdown is as follows:
2020-21: $6.0MM salary + $6.0MM signing bonus
2021-22: $5.0MM salary + $5.0MM signing bonus
2022-23: $3.0MM salary + $3.0MM signing bonus
2023-24: $5.0MM salary + $5.0MM signing bonus
2024-25: $2.0MM salary + $6.0MM signing bonus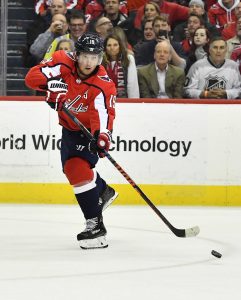 According to Pierre LeBrun of The Athletic, the deal also includes a full no-movement clause in the first three years and a 15-team no-trade clause in the final two. Backstrom currently carries a $6.7MM cap hit, though that deal was signed back in 2010 and was actually worth the same cap percentage at the time as his new one.
There was little doubt that the two sides would eventually get something done, as Backstrom is not only a franchise icon but still one of their most productive players. The 32-year old center has had six consecutive seasons of at least 70 points and is well on his way to that mark again with 35 points in his first 39 games. The dynamic playmaker may never match his career-highs of 33 goals and 101 points set back in 2009-10, but he is still a force on the powerplay and can carry a top-six line.
Still, signing any 32-year old to a five year extension carries a fair amount of risk. The fact that it makes him the 17th highest-paid forward in the league next season only exacerbates that risk, meaning the Capitals have to make sure they are still surrounding their aging duo of Backstrom and Alex Ovechkin with enough young talent to compete. Luckily, the team has been hesitant to trade their first round picks in recent years meaning they have prospects like Connor McMichael and Alex Alexeyev on the way.
The focus in Washington now turns to Braden Holtby, another piece of their core that is scheduled for unrestricted free agency. Holtby's situation is quite different than Backstrom's however, given the play of Ilya Samsonov this season. The young goaltender has quite clearly outplayed Holtby and looks ready to take on a starting role in the NHL. Even in a bad year, the veteran Capitals goaltender will command a huge contract on the open market thanks to his long history of success and playoff triumphs.
For now though it is a day to celebrate Backstrom's new deal, which will almost certainly allow him to become the second player in Capitals history to score 1,000 points with the franchise. He is already the all-time franchise leader in assists with 668, and is likely on his way to the Hall of Fame one day.
Photo courtesy of USA Today Sports Images