The Ottawa Senators have put their money where their mouth is, signing Thomas Chabot to an eight-year extension. Starting in 2020-21, Chabot's new contract will carry an average annual value of $8MM and keep him in a Senators uniform until 2028. GM Pierre Dorion explained just how important it was to sign Chabot:
Thomas is an exceptional talent and an outstanding teammate, who is impactful both on and off the ice. He is the type of player that can develop into a core member of a championship-level team in the National Hockey League. He is an NHL all-star; an elite skater and puck-mover who plays with pace and determination. We are convinced Thomas will have a significant impact on the Ottawa Senators as we develop and grow into a highly competitive team over the coming seasons and we are extremely proud that Thomas will continue to be a key part of our team's future success moving forward. Today is a great day for the Ottawa Senators franchise.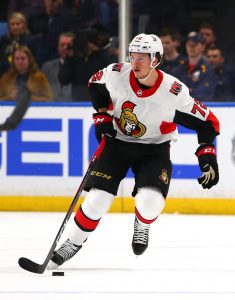 Chabot's $64MM contract extension immediately becomes the biggest contract Dorion has signed in his time as Senators' GM, dwarfing the previous $28.5MM given to Colin White last month. The deal will break down as follows:
2020-21: $7.0MM
2021-22: $7.0MM
2022-23: $4.0MM
2023-24: $8.0MM
2024-25: $10.0MM + 10-team NTC
2025-26: $10.0MM + 10-team NTC
2026-27: $10.0MM + 10-team NTC
2027-28: $8.0MM + 10-team NTC
The fact that Chabot is the player the Senators have broken the bank for comes as little surprise after the outstanding start to his young career. The 22-year old defenseman has 80 points through his first 134 NHL games, including a 55-point campaign last season that earned him an All-Star game appearance and Norris Trophy votes. Selected 18th overall in 2015, he has quickly become one of the best young defensemen in the entire league and will be the linchpin in any Ottawa turnaround. Getting him under contract before a third season and RFA standoff that could have put his cap hit into the stratosphere will only help down the line, though there will still be some who look at the contract with a dose of skepticism.
Given the Senators' recent history of not paying their stars, the fact that this contract is heavily back-loaded will raise some eyebrows. The Senators will pay out just $18MM of the $64MM total by the end of 2022-23, leaving a huge chunk of the deal on the table over the last five seasons. That's not how most long-term deals have been structured in recent years, with players wanting a good portion of the money up front, or at least in signing bonuses. While the 2022-23 salary can be explained away as protection against a potential lockout, Chabot won't see the biggest financial terms until his actual unrestricted free agent years kick in down the line.
Even with that slight hesitation, the Senators and their fans should be ecstatic to have Chabot under contract for almost a decade. The deal will put him right alongside Jacob Trouba, Brent Burns and John Carlson for the fifth highest-paid defensemen in the league, a ranking he has shown capable of to this point. With still so much development in front of him there's a real chance that Chabot could be bringing home some individual awards in the future, and hopefully leading the extremely young Senators team back to the postseason at some point.
Photo courtesy of USA Today Sports Images