Navigating the salary cap is one of the more important tasks for any GM. Teams that can avert total cap chaos by walking the tightrope of inking players to deals that match their value (or compensate for future value without breaking the bank) remain successful. Those that don't see struggles and front office changes.
PHR will look at every NHL team and give a thorough look at their cap situation heading into the 2019-20 season. This will focus more on those players who are integral parts of the roster versus those who may find themselves shuttling between the AHL and NHL. All cap figures are courtesy of CapFriendly.
Minnesota Wild
Current Cap Hit: $73,541,089 (under the $81.5MM Upper Limit)
Entry-Level Contracts
F Luke Kunin (one year, $925K)
F Jordan Greenway (one year, $917K)
F Nico Sturm (one year, $874K)
Potential Bonuses
Kunin: $600K
Greenway: $500K
Kunin and Greenway will both have to earn their way onto the team this year, but both have legitimate shots at making the team as a potential third line forward. Kunin showed some promise last season, playing in 49 games and scoring six goals and 11 points, although he will have to take his game up a notch to stay there. Greenway, on the other hand, scored 12 goals over 81 games, picking up 24 points, but the former Boston University star, has the potential for a breakout season for the Wild.
Sturm was the team's big signing this offseason as he was considered to be one of the top unrestricted free-agent college forwards this year and choose to ink a deal with Minnesota. He scored 36 goals over three seasons at Clarkson University, and while he could make the team out of training camp, he might need a year of seasoning in the AHL as well.
One Year Remaining, Non-Entry-Level
F Mikko Koivu ($5.5MM, UFA)
D Jared Spurgeon ($5.18MM, UFA)
F J.T. Brown ($688K, UFA)
At 36 years of age, this could be his final year with Minnesota, although much of that decision will depend on how his final season will turn out. The captain was having a solid season with eight goals and 29 points in 48 games, but his season was cut short in February when he went down with a torn ACL and torn meniscus in his right knee. The team can only hope that Koivu bounces back from his injury and is ready to go as the season opens.
Spurgeon, on the other hand, is coming off another impressive season with the Wild and while there had been rumors of Minnesota looking to move their 29-year-old defensive star, the team also hasn't gotten very far in locking him up this summer as he is eligible to sign an extension. With so much money tied into veteran players, the real question is whether there will be money left to sign Spurgeon to a new deal or whether he wants to stay. If no deal can be made, Spurgeon could be a valuable trade chip at the trade deadline.
Two Years Remaining
G Devan Dubnyk ($4.33MM, UFA)
D Jonas Brodin ($4.17MM, UFA)
F Eric Staal ($3.25MM, UFA)
F Marcus Foligno ($2.88MM, UFA)
D Greg Pateryn ($2.25MM, UFA)
F Ryan Hartman ($1.9MM, RFA)
F Ryan Donato ($1.9MM, RFA)
F Joel Eriksson Ek ($1.49MM, RFA)
D Nick Seeler ($725K, UFA)
D Brad Hunt ($700, UFA)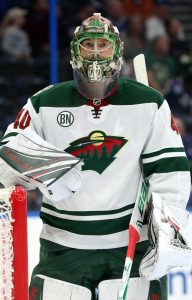 A lot of the Wild contracts are set with two years remaining, which could make for an interesting offseason in two years, considering that a number of their young players and key pieces will come up at the same time. The team must decide over the next two years is Dubnyk will continue to be the goaltender of the future down the road. He'll be 35 at that point and he will have to prove he's still a top-line goaltender. Dubnyk has had two solid seasons over the past two years. He finished the 2018-19 season with a 2.54 GAA and a .913 save percentage in 67 games.
Brodin is another candidate, whose status could be determined by what happens with Spurgeon. The 26-year-old has been a solid defensive presence and a top-four performer, but will have to prove that he is in the team's long-term plans. If the team signs Spurgeon, it might have to move on from Brodin to save some of its cap room, but the team still has two years to sort it out. After two impressive seasons with Minnesota, Staal's play dropped a little last year as he managed just 22 goals after tallying 70 in his first two years with the Wild. However, at 36, the team hopes he can still provide enough offense to lead the team and eventually take more of a middle-six role in the future.
The team also has a number of youngsters who will still be restricted free agents, but a breakout year from Hartman, Eriksson Ek or Donato could make any of them an expensive contract in two years. Hartman was brought in to provide a combination of scoring and grit to the team's bottom-six, while both Eriksson Ek and Donato are both young pieces that the team hopes can move into their top-six within the next two years. Eriksson Ek has struggled since reaching the NHL, scoring just seven goals last season in 57 games, while Donato had stalled in Boston before breaking out after the Wild picked him up at the trade deadline. Donato picked up 16 points in 22 regular season games with Minnesota.
Three Years Remaining
F Victor Rask ($4MM, UFA)
G Alex Stalock ($785K, UFA)
Unfortunately, one trade that brought out the wrath of fans was the trade in which now former GM Paul Fenton sent underachieving Nino Neiderreiter to Carolina for Rask. While taking Rask back was part of the deal to match salaries to a certain extent, Neiderreiter established himself as a top-six player in Carolina, while Rask struggled even more. The 26-year-old Rask finished the season with just three goals, two while in Minnesota and there remain questions about what role Rask will play this season. While many have him penciled in as the team's fourth-line center, there is a legitimate possibility that he could lose find himself buried in the AHL if he can't rebound and put together a better season. That shouldn't be too hard. He did score 51 goals over the previous three seasons, so there is potential. As for Stalock, the team has a reliable backup at a very friendly price, but could easily cut him loose if the team can find a better option in net over the next three years.
Four Or More Years Remaining
F Zach Parise ($7.54MM through 2024-25)
D Ryan Suter ($7.54MM through 2024-25)
F Mats Zuccarello ($6MM through 2023-24)
D Mathew Dumba ($6MM through 2023-24)
F Jason Zucker ($5.5MM through 2022-23)
The matching contracts of Parise and Suter are starting to be felt in Minnesota. While both players are still providing solid play, the fact that Parise is 35 and Suter will be 35 in January, could start to be worrisome to fans as they each have six mores seasons left and their play could start declining soon. Parise has dealt with injuries for the past few years although he only missed eight games last season. However, before being fired, Fenton did look into the possibility of trading off Parise, but the pair were brought to Minnesota in 2012 to win a championship and with many people not picking them to even reach the playoffs this year, their usefulness might be at an end unless Minnesota can reshape its roster into a winner sooner than many have been expected.
With what many people thought was a rebuilding phase coming, many people were thrown off when the team signed the 32-year-old Zuccarello to a five-year deal, giving them another high-priced veteran on the team. However, Zuccarello is a solid playmaker who should make a big impact on the Wild's top-six. He was impressive in the playoffs for the Dallas Stars, scoring four goals and 11 assists in 13 games last year. Zucker has been another player rumored to be on the move after a 33-goal move in 2017-18 and a decline to 21 goals last year. However, the team can only hope that Zucker can return to his 30-goal ways. Regardless, even with a new GM in Minnesota, the team might also have a great trade chip if the team wants to move out a contract.
With the exception of a fight that cost him a good chunk of the season, Dumba has established himself as a first-line defenseman, scoring 12 goals and 22 points in just 32 games after a 50-point season the previous year. Finally healthy, Dumba should step up and be one of the team's top players on the blueline and could be a bargain over the next few years if he continues to develop his game.
Buyouts
F Tyler Ennis ($1.22MM in 2019-20)
Retained Salary Transactions
None
Still To Sign
The key to Fenton's tenure will be how Fiala fares. The team unloaded Mikael Granlund in an attempt to bring Fiala in, a young and talented winger. The 23-year-old posted 23 goals and 48 points in 2017-18, but struggled out of the gate in Nashville, posting just 10 goals and 32 points before the trade. In Minnesota, he scored three goals and seven points in 19 games and will have to prove that he was worth the trade. Of course, the Wild must find a way to sign him and might be forced to use a bridge deal to bring him in.
Best Value: Dumba
Worst Value: Parise
Looking Ahead
The Wild are not necessarily expected to make a big impact on the Central Division considering the division is loaded with top teams and might be the most challenging one in the league. However, the team has a number of young players who could take that next step this year and the team will need that if they want to compete in the Central. Of course, the Wild must also avoid injuries, which have ravaged the franchise for the last few years. Their high-priced veterans must stay healthy and continue to contribute at a high level for the next few years or Minnesota will be in even bigger trouble.
Photo courtesy of USA Today Sports Images.