Navigating the salary cap is one of the more important tasks for any GM. Teams that can avert total cap chaos by walking the tightrope of inking players to deals that match their value (or compensate for future value without breaking the bank) remain successful. Those that don't see struggles and front office changes.
PHR will look at every NHL team and give a thorough look at their cap situation heading into the 2019-20 season. This will focus more on those players who are integral parts of the roster versus those who may find themselves shuttling between the AHL and NHL. All cap figures are courtesy of CapFriendly.
Dallas Stars
Current Cap Hit: $80,529,999 (under the $81.5MM Upper Limit)
Entry-Level Contracts
D Miro Heiskanen (two years, $894K)
F Roope Hintz (one year, $812K)
Potential Bonuses
Heiskanen: $2.5MM
Hintz was a regular for Dallas in the second half of last season before really turning it on in the playoffs.  He tied for the team lead in goals in the postseason and in doing so, he should be a safe bet to be a regular this season.  However, with the limited track record, he shouldn't be a candidate for a long-term contract just yet.
Heiskanen had a tremendous rookie season and quickly established himself as a fixture on the top pairing.  At 20, there's still plenty of room for improvement as well.  Keep a close eye at what the top of the post-ELC RFA market winds up being for the defensemen that are still unsigned.  That figure will probably wind up as a starting point for extension talks in July.
One Year Remaining, Non-Entry-Level
F Radek Faksa ($2.2MM, RFA)
F Martin Hanzal ($4.75MM, UFA)
F Mattias Janmark ($2.3MM, UFA)
G Anton Khudobin ($2.5MM, UFA)
F Corey Perry ($1.5MM, UFA)
D Roman Polak ($1.75MM, UFA)
D Andrej Sekera ($1.75MM, UFA)
Potential Bonuses
Perry: $1.75MM
Sekera: $500K
Hanzal was supposed to come in and stabilize their center situation.  Instead, he has been injured – a lot.  He's not expected to play this coming season which makes him an LTIR candidate and gives Dallas the potential for some in-season cap flexibility.  That's not a good return value-wise on a player that was supposed to be a core piece but it's something at least.  Janmark had a year to forget as his goal total dropped from 19 to just six.  As a result, he got his qualifying offer and nothing more but a repeat performance could see his AAV cut in half a year from now.  Faksa was the one player outside of their big three up front that put up a double-digit goal total (even if his output also dipped).  This is the final year of his bridge contract but it's hard to imagine that the Stars will want to commit to a long-term deal.  Instead, something that buys out a year or two of UFA eligibility with AAV a little over $3MM may be the likelier outcome.  Perry had a tough injury-plagued season with Anaheim and was bought out in June.  Expectations will be a lot lower with the Stars but the pressure will still be high as a rebound year would go a long way towards getting him a raise and a multi-year contract.
Polak brought some experience to the back end last season and impressed enough to sign before free agency got underway with a nice raise.  At this stage of his career though, he's probably going year-to-year and with a very limited offensive game, he's going to stay in this price range for any future deals.  Sekera has dealt with knee trouble the last couple of seasons which eventually got him bought out by Edmonton to free up some cap space.  If he can show that he has recovered and can lock down a top-four role, he could garner a lot of interest and a good raise next summer.
Khudobin is coming off a very strong season that saw him post a new career best in games played to go along with a .923 SV%, a mark that was well above average for all goaltenders let alone backups.  A similar performance could elevate him to a status where a team might be willing to make him the 1A part of a platoon which would carry an extra million or so on his contract.
Two Years Remaining
F Andrew Cogliano ($3.25MM, UFA)
F Blake Comeau ($2.4MM, UFA)
F Jason Dickinson ($1.5MM, RFA)
D Taylor Fedun ($738K, UFA)
D Stephen Johns ($2.35MM, UFA)
D Jamie Oleksiak ($2.138MM, UFA)
Cogliano was brought in to shake up their forward group in a midseason trade but he wound up producing at lesser rate than he did with Anaheim.  He's coming off a career-low in points (17) and ATOI (12:35).  At this point, he looks like a potential buyout candidate next summer if he doesn't turn things around.  Comeau saw as much ice time last season as he did the year before with Colorado but barely wound up with half the production.  Their additions are likely to push him down the depth chart which may not help either.  It's hard to see him getting a raise two years from now.  Dickinson is coming off his first season that saw him play somewhat regularly plus a good showing in the playoffs.  That earned him a bridge contract but he'll need to progress off of the fourth line over the next couple of years or risk being surpassed by a cheaper fit for that unit.
Johns missed all of last season with a concussion and while the team is optimistic he'll be able to return this year, it's still far too early to assess what his next contract could look like.  Oleksiak has had a weird journey the last couple of years.  He was deemed expendable by Dallas and was traded to Pittsburgh only to be traded back last season for the same price the Penguins originally paid.  However, despite the reacquisition, his role with the Stars was even more limited than it was the first time around.  He's someone that they will likely look to trade again and could also be a buyout candidate next summer.  Fedun was acquired last year to serve as AHL depth but when injuries arose, he made the most of it and basically became a regular in the second half.  That earned him a bit of job security with a two-year deal and if Dallas tries to push him through waivers, his performance last year could get him a look elsewhere.
Three Years Remaining
D John Klingberg ($4.25MM, UFA)
F Joe Pavelski ($7MM, UFA)
F Alexander Radulov ($6.25MM, UFA)
Pavelski's departure from San Jose comes as a bit of a surprise but the fact he was able to get a three-year at the age of 35 isn't.  He'll provide the Stars with another legitimate scoring threat beyond their top line while playing a strong all-around game.  The final season could be a bit iffy in terms of value but it was still a worthwhile move for them.  Radulov has fit in quite well in his first two seasons with the Stars and has been an important part of that top trio.  Like Pavelski, the final year could be a little worrisome but he has already given them a strong return with two straight 72-point seasons.  Neither player will likely come close to this amount on their next contract if there is one.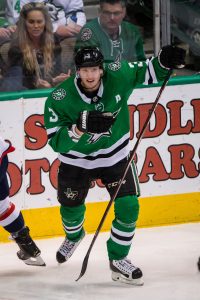 The decision to bypass a bridge deal for Klingberg back in 2015 looks like a brilliant decision now.  He's on one of the best bargain contracts in the league as a legitimate number one defenseman making the rate of a number four option.  At an absolute minimum, he should be able to double his current AAV on his next deal.  Chances are that he'll be able to do even better, especially with the rates for top blueliners going up now.  An AAV around the $10MM range is certainly obtainable and with the two forwards having expiring deals, the Stars should be able to afford to keep him around at that rate if they so desire.
Four Or More Years Remaining
F Jamie Benn ($9.5MM through 2024-25)
G Ben Bishop ($4.917MM through 2022-23)
D Esa Lindell ($5.8MM through 2024-25)
F Tyler Seguin ($9.85MM through 2026-27)
Seguin voiced his frustration with his contract situation last summer but they were able to agree on this deal just before training camp.  The performance that followed was rather underwhelming in the first half although he turned it on down the stretch.  This is a bit of a high price tag but he's in the prime of his career and a safe bet to be around a point per game so it's not a massive overpayment.  Benn is coming off a tough season that saw his output drop from 79 to 53 points which isn't the type of return they need from one of the top-paid wingers in the league.
Lindell has largely flown under the radar but has emerged as a quality top pairing defender.  His offensive game will limit his overall earning upside but this should still prove to be a good contract for Dallas for a long time.
Bishop is coming off his best season at the age of 32 and is signed at a well below market rate as far as starters go.  However, injuries have limited him to less playing time than most starters in the last few years.  As he gets older, the deal will carry a bit more risk but right now, it's a strong value contract.
Buyouts
F Valeri Nichushkin ($700K in 2019-20, $450K in 2020-21)
Retained Salary Transactions
None
Still To Sign
Honka's stock has plummeted over the past year and a bit.  He has gone from a young defender with some upside to one that can't crack the lineup and needs a change of scenery.  They've been open to moving Honka for a little while now and it's possible that some other team will be the one signing him to his next deal.
Best Value: Klingberg
Worst Value: Benn
Looking Ahead
As a result of their offseason spending, the Stars would have been tight to the Upper Limit for this season had it not been for Hanzal's injury.  Now, their ability to place him on LTIR will give them some in-season flexibility which will certainly come in handy.
There aren't any big expiring deals to worry about for next season so the Heiskanen extension will be the next big task for GM Jim Nill.  While they have some big tickets on the books, they have enough bargain deals that they should be in reasonable shape cap wise for the next few years.
Photo courtesy of USA Today Sports Images.