Navigating the salary cap is one of the more important tasks for any GM. Teams that can avert total cap chaos by walking the tightrope of inking players to deals that match their value (or compensate for future value without breaking the bank) remain successful. Those that don't see struggles and front office changes.
PHR will look at every NHL team and give a thorough look at their cap situation heading into the 2019-20 season. This will focus more on those players who are integral parts of the roster versus those who may find themselves shuttling between the AHL and NHL. All cap figures are courtesy of CapFriendly.
Colorado Avalanche
Current Cap Hit: $65,884,761 (under the $81.5MM Upper Limit)
Entry-Level Contracts
D Samuel Girard (one year, $728K)
F Tyson Jost (one year, $886K)
D Cale Makar (two years, $881K)
Potential Bonuses
Girard: $182.5K
Jost: $850K
Makar: $2.5MM
Jost hasn't quite been able to light it up like Colorado was hoping for when they made him a top-ten pick back in 2016.  He has been decent in a bottom-six role but hasn't been able to move up much on the depth chart just yet.  Given their offseason moves, that's likely to continue to be the case this season which makes him a strong candidate for a short-term second contract.
Makar made an immediate impact for the Avs in the postseason after signing at the end of his college campaign.  He's projected to be a key part of their team this season and with the offensive upside he has, it's reasonable to expect that he'll be able to command a contract that could be comparable to some of the top ones that other post-ELC defenders will get in the coming weeks when they eventually sign.  He's also a safe bet to reach some of his 'A' bonuses.  Girard's quite the bargain considering he averaged nearly 20 minutes a night last season.  That will soon change with his extension (covered later) kicking in next season.
One Year Remaining, Non-Entry-Level
D Mark Barberio ($1.45MM, UFA)
F Andre Burakovsky ($3.25MM, RFA)
D Kevin Connauton ($1.375MM, UFA)
G Pavel Francouz ($950K, UFA)
F Vladislav Kamenev ($750K, RFA)
F Valeri Nichushkin ($850K, RFA)
F Colin Wilson ($2.6MM, UFA)
D Nikita Zadorov ($3.2MM, RFA)
Burakovsky's qualifying offer was too rich for what Washington could afford so they flipped the underachieving winger to Colorado for a pair of draft picks.  He has shown flashes of being a capable top-six piece but also spent a lot of time on the fourth line last season.  The change of scenery could do him some good if he rediscovers his scoring touch but if not, he has to be considered a non-tender candidate in June.  Wilson hasn't lived up to his draft billing but he has carved out a role for himself as a capable third liner.  He opted to take a pay cut to stick around and his current AAV is about what he should expect if he actually tests the open market next summer.  Nichushkin had a disastrous year in Dallas which led to a buyout.  The Avalanche scooped him up on a cheap deal that has to be considered his last chance.  If things don't go well here, he's probably back in the KHL in 2020-21.  Kamenev has dealt with significant injury issues in his two years with the organization.  Accordingly, unless he has a breakout offensive campaign, a one-year deal in the $1MM range is likely to happen a year from now.
Zadorov has been a player that has been in trade speculation for a while.  There isn't quite the demand for players his size like there once was but he's still a serviceable third pairing option at a minimum.  However, that price point for someone in that role isn't ideal either.  He's eligible for arbitration again next summer but another year like 2018-19 could have him in the non-tender discussion.  Connauton was the NHL piece that came back from Arizona for Carl Soderberg.  He's more of a depth player than a top-four option so his next deal shouldn't cost much more than his current price tag.  Barberio battled a couple of injuries last season while also spending a lot of time as a healthy scratch.  He's still likely viewed as a reserve piece on their current depth chart so it's unlikely he'll play enough to command any sort of raise a year from now.
Francouz spent most of last season in the minors but with Semyon Varlamov now gone, the netminder will get his first crack at being a backup in the NHL at the age of 29.  His size will scare away a lot of teams no matter how he performs which will ultimately limit his market.  Still, given the backup goalie market, a strong showing could have him set to double his deal a year from now.
Two Years Remaining
F Pierre-Edouard Bellemare ($1.8MM, UFA)
F Matt Calvert ($2.85MM, UFA)
D Ian Cole ($4.25MM, UFA)
G Philipp Grubauer ($3.33MM, UFA)
F Gabriel Landeskog ($5.571MM, UFA)
Landeskog has seen his value rebound considerably the last couple of years after a very rough 2016-17 campaign.  He surpassed the point per game mark for the first time in his career last season and was a very effective part of their top line.  While it feels like he has been around for a really long time already, he'll only be 28 when his contract expires.  A max-term contract with a big raise is in his future if he can stay around the 70-point mark.  Calvert is coming off a career-best 26 points and is a capable defensive forward.  Even so, the deal seemed a little expensive a year ago and with the extra depth they have now, his role could actually be lessened which would make it hard for him to match this contract two years from now.  Bellemare was brought in to bolster the fourth line and should be able to do that.  Having said that, he'll also be 36 when his contract is up and players that age with that type of role rarely get raises.
Cole landed a significant contract for someone that's more of a stay-at-home player but he certainly had a good season.  It's hard to imagine him getting another deal at this price tag as a 32-year-old but another multi-year deal is likely.
Grubauer was hit or miss last season and was the backup for most of the year although he got the nod in the playoffs when it counted the most (and did quite well).  Still, he has yet to play in 40 regular season games in a single season.  If he can do well with a starters' workload, he could double his AAV two years from now.  However, it's way too early to project whether he'll be able to do that.
Three Years Remaining
F Nazem Kadri ($4.5MM, UFA)
Kadri was the key player coming back in the trade that saw Tyson Barrie (a pending UFA) and Alexander Kerfoot go to Toronto.  His tenure with the Maple Leafs ended poorly with another postseason suspension while he's coming off a down year offensively.  However, he scored 32 goals in each of the last two seasons where he was a fixture in the top six, something that he'll be with the Avs.  If he can get back to that form and restore some value, he'll be a nice bargain contract for Colorado while setting himself up for a big raise down the road.
Four Or More Years Remaining
F J.T. Compher ($3.5MM through 2022-23)
F Joonas Donskoi ($3.9MM through 2022-23)
D Samuel Girard ($5MM from 2020-21 through 2026-27)
D Erik Johnson ($6MM through 2022-23)
F Nathan MacKinnon ($6.3MM through 2022-23)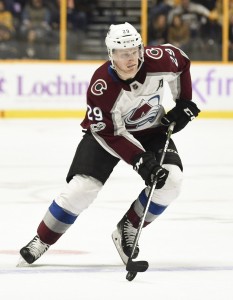 While it seems unfathomable now, there was a time when MacKinnon's contract was believed to carry some risk.  Committing that type of term to someone whose production was somewhat volatile on his entry-level deal was far from an automatic call.  However, the signing has worked out fantastic as all of a sudden, the 24-year-old has to be considered one of the top bargains in the league with his second straight season of at least 97 points.  Colorado is getting top line production at a price tag of a second liner.  Lots can change in the next four years but if he stays at this type of scoring pace, he'll easily crack the $10MM mark on his next deal.
Donskoi is coming off a strange year.  He was productive in the first half of the season but managed just a single goal in his final 46 games (regular season plus playoffs).  Despite that, GM Joe Sakic wasted little time giving him this contract, a clear sign that the team believes he can become a top-six forward.  Given how he finished though, there's some risk here.  Compher's development has been slow but steady but he settled in on the second line last season.  That's a good price tag for someone in that role but it took them buying no UFA years on his deal to get that AAV.  Assuming his development continues, he could be in the $5MM to $6MM range on his next contract.
Johnson, when healthy, has been a capable player in a top pairing role, one that's not exactly his best fit.  However, he has dealt with significant injuries in three of the last five seasons which has limited his value somewhat.  He'll be 35 at the end of his deal and by then, he'll be seeing less playing time so it's unlikely he'll get a higher AAV next time around.  Girard signed his extension earlier this summer and while the term is certainly an eye-opener for a team that didn't have anyone signed beyond four years from now, they're banking on him being a fixture in their top four for the foreseeable future.
Buyouts
D Brooks Orpik ($1.5MM in 2019-20)
Retained Salary Transactions
D Tyson Barrie ($2.75MM in 2019-20)
Still To Sign
Rantanen set new career highs in goals (31), assists (56), and points (87) last season despite missing eight games due to an undisclosed injury.  He was a central element on their top line and at 22, he's entering the prime of his career.  He's widely considered to be the number two remaining restricted free agent and the expectation is that he'll be getting a contract around the $9MM range which could vary a little bit depending on the term of the deal.
Best Value: MacKinnon
Worst Value: Johnson (because of the injury history)
Looking Ahead
Few teams have a cleaner cap situation than Colorado.  There really aren't any bad contracts on the roster that could be classified as overpayments (which made picking a worst value pretty difficult).  Even with a big contract coming for Rantanen, they'll have plenty of cap room for the upcoming season.
Looking ahead, two years from now could be a little rough with Makar and Landeskog both up while they'll need to re-sign or replace Grubauer as their starting goalie.  The good news is that they have a lot of middle-tier short-term deals on the books which can be filled by cheaper options and prospects which will help offset the higher cap hits for those players.  That makes them about as well-equipped as possible to handle the crunch in 2021.
Photo courtesy of USA Today Sports Images.