Topics in this edition of the mailbag include RFA winger Jesse Puljujarvi, the Rangers' backup goalie situation, David Backes' big contract, players that could be on the rebound and decline, and how Seattle's 2021 debut could affect activity around the league this season.
acarneglia: Are the Rangers a potential match for Puljujarvi?
met man: How do you think the Ranger goalie situation will play out?  Which Russian will be Lundqvist's' partner?  What happens to the odd man out?
As far as possible fits for Puljujarvi go, the Rangers would be one of the better ones.  With a pretty young group of forwards, they're the type of team where he could potentially fit in on a second or third line and have some success.  Unfortunately for New York, they're not a realistic landing spot.
With minimal cap space to work with and Brendan Lemieux and Anthony DeAngelo needing new contracts, the Rangers simply aren't in a spot where they can realistically afford to add salary.  It's not that Puljujarvi would be commanding a pricey deal but he'll want more than his qualifying offer and that might be too rich for what they can afford on the cap unless they offset some money elsewhere.  Yes, Edmonton wants a top-nine forward for him but the only viable option would be Jesper Fast and that's probably not going to get it done.
I actually think Puljujarvi's trade odds have gone down.  Going back to Finland is a good thing for his development.  He'll be out of the spotlight and can work on some of the elements that are lacking.  A good season there will help his trade value and GM Ken Holland knows it.  They're not going to get much of a return now if they trade him so they might as well wait it out unless someone gets desperate.  The Rangers won't be that team.
As for the backup goalie situation, both Alexandar Georgiev and Igor Shesterkin are waiver-exempt which is actually a good thing here.  I see the pair spending some time at both levels as a result.  That way, they get a bit of time in the NHL but also see a fair bit of action in AHL Hartford.  A young NHL backup is rarely an ideal situation from a development perspective so with two youngsters in the discussion, this is the best compromise they can make.
azcm2511: How does Boston get out from under the Backes contract? Taking into account his movement control, do you think it would be possible for Sweeney to find a buyer who will take on the entire contract if he was to package him with Torey Krug? I don't see how they will manage to fit Krug into the budget if he is projected to be a 7-9 mil a year player after this season. The B's have McAvoy and potentially Gryz to fill the PP void, do you see any potential matches for this scenario?
While I doubt they'd be willing to part with Krug to get out of Backes' deal, I applaud you for thinking outside the box.  I know contract talks haven't really started with the pending UFA defender but there's still plenty of time.  They're a team in win-now mode so parting with a top offensive weapon from the back end is counter-productive even if freeing up the money helps them re-sign Charlie McAvoy and Brandon Carlo.  I agree that his price tag may very well be too high to be a long-term fit but the internal discussion about trading him for that reason would come at the trade deadline and be based on where they are in the standings.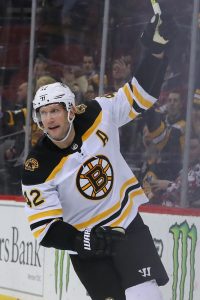 As for what they'll do with Backes, he doesn't have a no-move clause so they'd save a little bit by sending him down.  If they replaced him with a minimum-salaried player, that'd free up an extra $375K in cap room.  That's not a lot but if that money isn't spent over the course of the season, that's worth a small addition at the trade deadline.  I wonder if there's a move to be made with 50% retention and a sweetener; their system is deep enough that it could part with a prospect or pick to do so without it hurting too badly.  And if all else fails, they can try to find a doctor to certify him as injured and try to go the LTIR route.  His style of play has made him susceptible to being injury-prone at this point of his career.  It probably wouldn't be a season-ender like some other players but it'd buy them some time and allow them to get into compliance to start the season and re-sign Carlo and McAvoy.
pawtucket: Which teams will surprise everyone and make or contend for a playoff spot and which teams will disappoint and shock us all?
pitmanrich: Which players do you see having a bounce-back season after a poor 18-19 season and which players are just in decline and will continue to get worse?
I made my picks for surprise teams a couple of mailbags ago and not much has changed since then.  I think New Jersey could make some noise with some of their additions, the return to health from Taylor Hall, and a healthy season from Cory Schneider.  On the flip side, Pittsburgh has taken a small step back on paper and they weren't at their best last season so I could see them slipping out of the playoffs this time around.
In terms of bounce-back candidates, William Nylander in Toronto is a good place to start.  He never looked right after missing the first two months of the year due to a contract holdout.  I suspect this will almost feel like a fresh start for him (even though he didn't change teams) and get back closer to his 60-point form.  Arizona is clearly banking on a bounce back from Clayton Keller with the extension that he just got and playing alongside Phil Kessel should certainly help in that regard.  Assuming Nikolaj Ehlers stays healthy, he should be in line for a big jump offensively as well.
I'm always hesitant to predict players on the downswing but I'm not sold that a coaching and system change in Anaheim will revive Ryan Getzlaf's offense.  He has a lot of heavy minutes under his belt and at some point, he'll have to be scaled back a bit which won't help his point total.  The speed of the NHL concerns me when it comes to Ilya Kovalchuk and I'm not sure a new coach will vastly turn his game around.  I'm also uncertain that Wayne Simmonds will turn things around considerably.  I don't mind his addition on a one-year deal but his rugged style of play screams potential decline.  He should outperform his play with Nashville (three points in 19 games between the end of the season and playoffs) but I don't expect him to get back to the level that he was at a couple of years ago with Philadelphia.
CarmanDyer9: What impact will the upcoming expansion draft have on this season? What potential moves could you see teams making to compensate for the expansion draft?
I feel a little bad for Seattle GM Ron Francis.  Quite a few of the side deals that teams made to protect a certain player worked out quite well for Vegas and not so well for the other team.  That's going to make teams a little less willing to start moving things around and will just bite the bullet when the time comes and they lose a player.
I think we're a year away from the 2021 expansion draft really having an impact on movement around the league.  While teams are certainly planning ahead, it's hard to see some thinking about moving their fourth defenseman now in fear that they'll lose him to Seattle.  Rosters will change considerably between now and then; who knows what the 2020 UFA market will bring?
Once we get to 2020-21 and things start to look a little clearer on the roster side, then we'll start to see some effects.  Teams may hesitate on UFA extension talks and a swap or two could be made with that in mind.  A team that's out of it midseason could try to take advantage of someone's expansion situation in a rental player trade.  But that's still a year away.  For 2019-20, don't expect the expansion draft to really have too much of an impact on player movement around the league.
Photo courtesy of USA Today Sports Images.