Topics in this edition of the mailbag include what's next for the Rangers, David Backes' future in Boston, teams that could surprise, possible trade candidates over the next month, and Ottawa's lack of spending.  If your question isn't covered here, check back with last week's column.
met man: Now that the dust has settled, do the Rangers trade or extend Chris Kreider?  What about Namestnikov?
It's probably the status quo for the time being when it comes to Kreider.  The team has indicated that they expect him in training camp which was a subtle way to say let's stop with the trade speculation.  That probably won't happen though.  They're going to have a hard enough time fitting him under the Upper Limit this season at his current $3.625MMMM rate.  Add a couple million to that on a long-term extension and the big penalty from the Kevin Shattenkirk buyout and it's very difficult to see them being able to fit Kreider in a year from now even if the salary cap goes up a little bit.  That's always going to keep him trade speculation.
I don't expect a quick resolution to his case though.  They'll find a way to get under the cap for 2019-20 without needing to move him and they'll see how things play out.  If they get back into playoff contention, they'll certainly consider holding on to him and try to use that as a case for why he should take a bit less than he could get elsewhere to stick around.  If they're a bubble team or out of the postseason picture though, then a trade near the deadline becomes the likeliest outcome where he'd be one of the more prominent players available.
As for Namestnikov, they've been trying to move him for a while now with no takers.  I happen to think there's still some potential upside with him – he's only 26 and one year removed from a 22-goal, 48-point season.  Sure, it hasn't worked out too well for him in New York but a change of scenery could get him back closer to 15 goals and 35 to 40 points.  Is that great value for $4MM?  Not really but he'd still be a useful player.  If the Rangers are open to retaining some of his contract, they could find a taker for him although the return wouldn't be a strong one.  But that might be enough to get them back in cap compliance for next season so it may be a hit worth taking.
pitmanrich: Considering the moves the Rangers have made this summer and the high draft picks they've used over last two drafts is the rebuild over? And if so, how much pressure will coach Quinn be under to get results this season?
I don't think it's fair to say that the rebuild is entirely over.  This is still a team that's going to be icing a lot of youngsters in prominent roles and with that, there will be inevitable growing pains, even with the additions of Artemi Panarin and Jacob Trouba.  This is a team that should certainly be improved and I don't think I'd be overly shocked if they got into the playoff mix as there isn't going to be a lot of separation between the third-place team in the Metropolitan and one that finds itself on the outside looking in at the postseason picture.  Accordingly, I would say that their rebuild has been accelerated but it's still a year too early to call it over.
With that in mind, expectations shouldn't be too high on David Quinn.  The priority for this season should be getting steady development out of players like Kaapo Kakko, Vitali Kravtsov, Filip Chytil, Lias Andersson, Brett Howden, and Adam Fox.  That's the eventual young nucleus of this team with their high-priced veterans helping to give them enough of a push to get them over the top.  At least that's the plan.  If their youngsters show signs of improvement towards living up to their draft billing, it's a successful season regardless of where they finish in the standings.  Those are the results in which Quinn should be evaluated on.
mcase7187: Could the Bruins package a deal like David B?
It all depends on what the package includes.  Is it possible that Backes could be traded?  Sure.  If Milan Lucic (whose contract is twice as long) can be dealt, then Backes certainly could as well.  The question becomes, what is Boston going to part with to entice a team to take him?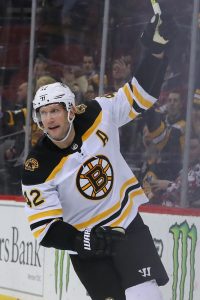 With several teams needing to free up cap room in the coming weeks, it's not a great time to be trying to move Backes.  Boston has a good core of young players to work with but GM Don Sweeney has been hesitant to move them out.  That's certainly understandable but if he's not willing to attach a sizable sweetener, it certainly complicates things.
With Backes now being able to be sent to the minors (his no-move clause converts to a partial no-trade now), it's possible that Boston just opts to send him down and free up $1.075MM in cap room if they don't bring someone up to replace him.  If not, about the only way that I could see him moving is if they are open to taking another bad contract in return.  Unless that contract carries a lesser cap hit, I have a hard time thinking a trade will happen.
Mr. Mark: Your way too early prediction of a team who could be better than most are anticipating and your team who won't be as good as most are anticipating.
I think New Jersey is a team that could turn it around pretty quickly and they haven't received a lot of attention this summer.  They're only a year removed from being a playoff team and a healthy Taylor Hall will be huge.  P.K. Subban represents a big upgrade on the back end.  Jack Hughes should make an impact this season and Wayne Simmonds, though on the downside of his career, should still help as well.  Nico Hischier should continue to improve.  Cory Schneider finished up better down the stretch and fared well at the Worlds, a sign that he's now fully recovered from his hip issues.  Add all of these elements together and you have a team that's quietly poised to make some noise.
On the flip side of it, I could see this being the year that Pittsburgh starts to slide.  They were vulnerable last season and it's fair to suggest that they've taken a step back this summer in terms of talent.  Their core is getting up there in age and I have concerns about Matt Murray being the type of goalie that can carry a team if need be.  I wouldn't be shocked if they finished in a top-three spot in the Metropolitan Division (it's hard to bet against Sidney Crosby) but at the same time, missing the playoffs entirely is something that I could certainly see happening.
jdawglasalle: Who do you believe are the biggest trade candidates that will likely be traded before pre-season starts?
Beyond Namestnikov, Pittsburgh's Nick Bjugstad stands out as a good trade candidate.  The Penguins need to free up some money and he didn't have a big impact after being acquired from Florida.  He's still young enough and only a year removed from a career season.  Although his $4.1MM AAV is on the higher side, I think some team will take a chance on him.
As for an under-the-radar candidate, I'll pick Buffalo's Zemgus Girgensons.  The Sabres could stand to free up a bit of room and he basically has had the same year the last four seasons.  A change of scenery could do him some good and I think Sabres could still get a bit of value for him.
Originally, I had T.J. Brodie pegged as a likely candidate but with Juuso Valimaki out long-term, that's the end of that.  They still need to free up some cap room for a Matthew Tkachuk contract so I'd put the odds of Michael Frolik moving a bit higher now.  He's a useful player, albeit at a fairly high price tag ($4.3MM) and with his limited usage last season, it's hard to imagine him invoking his partial no-trade clause if a trade was to present itself.  I don't know if it'll get done before the start of the exhibition season but if not by then, probably soon after.
melkor77: What happens to all the RFA's waiting for Marner to sign when he holds out the remainder of 2019?
First, I don't see Mitch Marner opting to sit out the entire season.  That would be too much money to leave on the table.  They'd get a one-year deal done before it comes to that.  Having said that, I think it's very possible he's unsigned when the puck drops on regular season action (and he won't be the only one).
It's a waiting game right now but eventually, someone's going to blink.  That will probably come close to the start of training camp when one or two sign.  A couple more will go at some point during the preseason.  That will leave probably three-to-five unsigned into the season.  It's easy to say let's wait for Marner as he'll likely top the market in mid-August.  It's a lot harder to do so once the games are being played.
ThePriceWasRight: I know the talk was that the league would not step in on the Sens ownership situation as long as cheques were not bouncing, but seeing as that it's quite likely the ACTUAL dollars he is paying significantly is less than the floor, when does the PA step in to say that this could limit future player earnings.
I don't think the NHLPA would have a leg to stand on here.  It's not as if Ottawa's low spending is going to negatively affect the salary cap as that's based on total league revenues, not actual cap spending.  I think their decision to keep players like Marian Gaborik and Clarke MacArthur around will actually help future player earnings when it comes to the Senators.  Young players that wouldn't be getting the playing time if they were actually trying to be competitive will get better numbers than they otherwise would have which will yield better second contracts.  (At least it should, in theory.)
Sure, it's possible that other teams could be motivated by Ottawa's thriftiness but it's hard to think they'd be willing to go to quite this extreme.  The PR from doing so is quite negative and while bad press is something that the Senators aren't too worried about, most owners are.  If others did follow suit, then it'd become something that would come up in CBA discussions a year from now, perhaps by shrinking the gap between the floor and the midpoint.
It's not a pretty situation in Ottawa at the moment but as long as they spend the minimum that they're required to, there isn't much the league or the NHLPA can do about it.
Photo courtesy of USA Today Sports Images.