With training camps getting underway, the expectation was that this past week was going to be full of big contracts getting done.  That's exactly what happened.  Here are the top stories from the past seven days.
Bridge Deals: The movement began when Blue Jackets defenseman Zach Werenski agreed to a three-year, $15MM contract.  Worth noting is that the salary is heavily back-loaded with a $7MM payout in 2021-22 that will also represent his qualifying offer that offseason.  It's not the first time that GM Jarmo Kekalainen has gone this route as former Columbus center Ryan Johansen played on a similarly-structured deal before being traded to Nashville.  That structure also helped pave the way for Charlie McAvoy to get a deal done with Boston as he signed for three years and $14.7MM.  His qualifying offer in 2022 will be $7.3MM, well above his $4.9MM AAV.
Provorov Skips The Bridge: The other prominent blueliner that was still unsigned was Flyers defenseman Ivan Provorov.  Instead of doing what the others did, he instead opted for a six-year, $40.5MM contract as we projected earlier this month.  He's coming off a down season offensively but still logged over 25 minutes a night as a core part of Philadelphia's back end.  If he can get back to the 40-point mark as he did in 2017-18, this could be a bargain before too long.  Provorov will be eligible for unrestricted free agency as a 28-year-old in the 2025 offseason.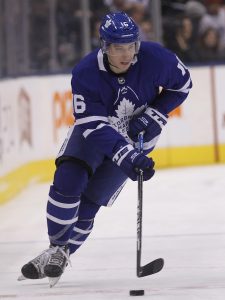 Marner Signs: Mitch Marner's case was the one that many were waiting to see how it played out.  Would he hold out into the season as teammate William Nylander did or would he find a way to get a deal done before the puck dropped on the regular season in October?  The two sides came to terms on a six-year, $65.538MM contract, the largest AAV given to a winger coming out of his entry-level deal in league history.  With the deal, Toronto now has more than $40MM tied up in their top-four forwards for the next five seasons.  That's an unprecedented amount in a top forward group so many will be interested to see how GM Kyle Dubas navigates the salary cap over the years to come.  In the short-term though, they're certainly happy that the deal is done while others around the league will see if this contract helps move the needle on some of the other RFA forwards.
Defense Extensions: A pair of key defensemen opted to sign a year earlier than they needed to.  First, the Jets inked an eight-year, $50MM extension with Josh Morrissey which will nearly double his current AAV when it kicks in next season.  Winnipeg lost three blueliners this offseason so getting Morrissey locked up long-term gives them some much-needed stability on their back end.  Meanwhile, Minnesota handed Jared Spurgeon a seven-year deal that carries a $7.575MM AAV, the largest cap hit in franchise history.  The 29-year-old is coming off a career season and has become a valuable top pairing blueliner in recent years.
Stone Back To Calgary: In the grand scheme of things, Michael Stone signing a contract for the league minimum with Calgary shouldn't typically move the needle.  However, when it comes mere weeks after the Flames bought him out, then it raises some eyebrows.  It's the first move of its kind since buyouts were instituted and now with one happening, it will be interesting to see if other teams consider following suit down the road.  The only type of signing after a buyout that is prohibited in the CBA is from compliance buyouts, the cap-exempt ones that teams could use on up to two players following the signing of the last agreement.
Photo courtesy of USA Today Sports Images.