There will be no training camp holdout for Zach Werenski. The Columbus Blue Jackets defenseman has agreed to a three-year, $15MM contract. Werenski will still be a restricted free agent at the deal's expiry, though will be arbitration eligible. Pierre LeBrun of The Athletic reports the breakdown:
2019-20: $4MM
2020-21: $4MM
2021-22: $7MM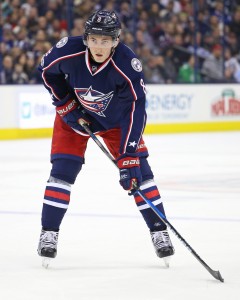 The structure of the deal is an important thing to note, as the increased salary in year three guarantees Werenski will be given a qualifying offer of $7MM. Given that he'll be just one year away from unrestricted free agency in the summer of 2022, it essentially makes the deal a four-year, $22MM deal ($5.5MM) if Werenski wanted. He'll also be eligible for arbitration, where his previous salary will be taken into account.
To be sure, this deal represents a bargain for the Blue Jackets in the short term. Werenski has proven to be one of the most offensively-gifted young defensemen in the league over his three-year career, recording 38 goals and 128 points in 237 games. He has double-digit goals in each season and forms one of the best pairings in the NHL alongside Seth Jones. The fact that he is just 22 means there is room for improvement and likely even more excess value for the Blue Jackets over the next three years.
Unfortunately, that bargain will change dramatically at the end of the deal. Negotiating an extension with Werenski when he has the option of taking a $7MM payday and walking straight into unrestricted free agency will mean the Blue Jackets would have to offer a substantial increase, likely making him one of the highest-paid defensemen in the league. It also means that Werenski and Jones will both be negotiating extensions at the same time, though the latter is scheduled for unrestricted free agency in 2022 and should be getting a huge raise as soon as possible (which is July 1, 2021) if the Blue Jackets want to retain him.
Having both of their young defenders hitting free agency (of one kind or another) at the same time is obviously not ideal, but it also means that the team does have a sort of rebuild deadline if things aren't going well over the next few seasons. The Blue Jackets actually have just three players signed through the 2022-23 season and just one—Cam Atkinson—for longer than that. While other teams are handing out long-term extensions to lock in their core for nearly a decade, Blue Jackets GM Jarmo Kekalainen seems prepared to re-evaluate every few seasons to make sure his club doesn't get too far ahead of themselves.
Obviously for Werenski this is a strong contract, even if he did accept a little less money up front. He controls where he wants to spend his prime years and how he wants to approach negotiations down the line. The fact that it is done a few days before training camp will allow him to enjoy the full preparation for this season.
For the other restricted free agent defensemen, it also may provide a model contract. Charlie McAvoy and Ivan Provorov remain unsigned as camp approaches and are in similar situations. McAvoy is a year further from unrestricted free agency, but for both the idea may be the same; take a shorter-term deal that gets you close to UFA status and go from there.
Kevin Weekes of the NHL Network and Aaron Portzline of The Athletic reported the deal earlier this morning.
Photo courtesy of USA Today Sports Images