Avalanche winger Mikko Rantanen is now the top remaining restricted free agent following the signings of quite a few players around the league over the past few days.  While it's possible that those moves could get the ball rolling on a new deal for him, the likelier scenario at this point is that it doesn't.  Here is a look at Rantanen's situation.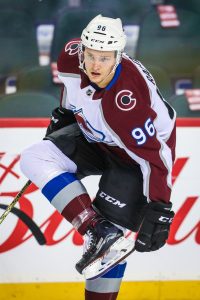 The 22-year-old is coming off his second straight season with over 80 points, a feat that not many players have reached in recent years.  He also played quite well in the postseason where he led the team in scoring with 14 points in a dozen games.  As far as offensive production goes, there aren't many real comparable players out there.
One element that Colorado may try to use against him in talks is how much offensive zone starts he had last season.  Their top line all saw heavy usage in the offensive end but none more than Rantanen.  His career OZ% rate is higher than quite a few of the players that could be considered as comparables.  There was a time where teammate Nathan MacKinnon's $6.3MM AAV was set as the ideal ceiling for the whole team but let's face it, that's not going to happen.  He's a player with two high-end seasons under his belt and is still viewed as having some upside.  He's going to get a substantial contract that is well past MacKinnon's.
Statistics
2018-19: 74 GP, 31-56-87, +13, 54 PIMS, 193 shots, 20:51 ATOI
Career: 230 GP, 80-129-209, -19, 112 PIMS, 513 shots, 18:53 ATOI
Comparables
Leon Draisaitl (Edmonton) – His placement here is basically to establish the floor for this contract.  Like Rantanen, they're both viewed as the second-best offensive threat on their respective teams and while Draisaitl played the premium position (he was mostly a center at the time), Rantanen outscored him by a fair margin in each of their two full NHL seasons.
Platform Year Stats: 82 GP, 29-48-77, +7, 20 PIMS, 172 shots, 18:53 ATOI
Career Stats at ELC Expiration: 191 GP, 50-87-137, -12, 44 PIMS, 354 shots, 17:22 ATOI
Contract: Eight years, $68MM
Cap Hit Percentage: 11.33%
Current Equivalent: Eight years, $73.87MM ($9.23MM AAV)
Jack Eichel (Buffalo) – This is a contract that Rantanen's camp will undoubtedly point to as a benchmark deal.  Eichel hadn't reached the 70-point mark in any of his ELC years, something that Rantanen easily surpassed twice.  Yes, Eichel plays the tougher position and has the better draft pedigree but there is a good case to be made that Rantanen deserves more than this contract.
Platform Year Stats: 67 GP, 25-39-64, -25, 32 PIMS, 246 shots, 20:09 ATOI
Career Stats at ELC Expiration: 209 GP, 73-104-177, -54, 76 PIMS, 743 shots, 19:41 ATOI
Contract: Eight years, $80MM
Cap Hit Percentage: 13.33%
Current Equivalent: Eight years, $86.91MM ($10.86MM AAV)
Steven Stamkos (Tampa Bay) – I'm focusing on his post-ELC deal, not his current one.  (Since Rantanen is coming off his entry-level pact, all of the comparable contracts are also post-ELC ones.)  He went with a shorter deal to get to UFA eligibility quicker.  Stamkos, a number one overall pick, also outscored Rantanen in each season (though Rantanen's point per game pace was a little higher than Stamkos' platform season).  While the RFA market has improved since 2011, this deal (in today's dollars) should be considered the ceiling of a medium-term contract.
Platform Year Stats: 82 GP, 45-46-91, +3, 74 PIMS, 272 shots, 20:12 ATOI
Career Stats at ELC Expiration: 243 GP, 119-113-232, -12, 151 PIMS, 750 shots, 18:36 ATOI
Contract: Five years, $37.5MM
Cap Hit Percentage: 11.66%
Current Equivalent: Five years, $47.51MM ($9.502MM AAV)
Mitch Marner (Toronto) – The obvious one is saved for last.  Many expected Marner's deal to basically be a comparable as soon as it was signed and there's little reason to think it won't be.  Marner is a bit more of a playmaker than Rantanen and they play different styles but they're both very productive wingers so the money is going to be pretty close one way or the other.
Platform Year Stats: 82 GP, 26-68-94, +22, 22 PIMS, 233 shots, 19:49 ATOI
Career Stats at ELC Expiration: 241 GP, 67-157-224, +21, 81 PIMS, 603 shots, 17:41 ATOI
Contract: Six years, $65.358MM
Cap Hit Percentage: 13.37%
Projected Contract
GM Joe Sakic has made it known that his preference would be to get a long-term deal done.  However, the appetite probably won't be there at the rate it would take to get a max-term contract in place.  The Avalanche have the salary cap space to make such a move but with some of their other players that will be needing new deals a couple years from now, a slightly lesser term will give them a bit more flexibility down the road.
With that in mind, a two or three-year bridge deal likely isn't on the table as well.  Those can be justifiable when a team is in a cap crunch but that isn't the case here.  Four years walks him to unrestricted free agency so that's off the table as well.
As a result, five or six years could very well be the happy medium.  If it's five years, it should check in slightly below the $9.502MM current year equivalent for Stamkos' deal.  On a six-year pact and a second UFA year included, the AAV should jump a little past the $10MM mark.  There's a valid argument to have him in Marner's territory but Colorado's cap situation compared to Toronto's gives the Avalanche a bit more leverage than what the Maple Leafs had as they couldn't let Marner's case drag out into the season and make the first year AAV higher than they could afford even with LTIR.  That should be enough to keep Rantanen's price tag a little lower in the end.
Photo courtesy of USA Today Sports Images.