The Boston Bruins have locked up their final unsigned restricted free agent, inking Brandon Carlo to a two-year deal. The contract carries an average annual value of $2.85MM and will keep Carlo a restricted free agent at its expiry. Like most of the other RFAs this summer, the young defenseman will earn more money on the final year of the deal. Carlo will take home $2.2MM in 2019-20 and $3.5MM in 2020-21.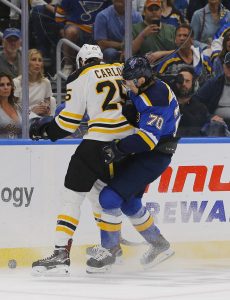 Carlo, 22, was a little overshadowed by Charlie McAvoy this summer as the young duo became restricted free agents at the same time, but he nevertheless was an extremely important piece for GM Don Sweeney to get under contract before the season began. A second-round pick in 2015, Carlo has quickly established himself as a reliable full-time option for the Bruins and played in 230 games over the last three seasons. The 6'5″ defenseman averaged nearly 21 minutes a night last season and recorded ten points, serving as the second most important penalty killer on the team behind only captain Zdeno Chara.
Though they were forced to go the bridge route with both McAvoy and Carlo (and Danton Heinen, who was signed earlier in the offseason), the Bruins have found a way to bring all of their pieces back with cap space to spare for this season. The team currently projects to come in a little more than $1.1MM under the ceiling to begin the year with almost the same lineup that took them to the Stanley Cup Final.
To be sure, there will be raises for both young defensemen in the future if they continue to play how they have during the early parts of their careers. But getting them both for less than $8MM combined will only help the Bruins current competitive window stay wide open.
Photo courtesy of USA Today Sports Images