The Vancouver Canucks have come to a resolution with Brock Boeser, signing him to a three-year contract worth a total of $17.625MM. That means Boeser will carry an average annual value of $5.875MM, a fair amount less than numbers that had been discussed earlier this summer. GM Jim Benning released a short statement on the deal:
We're very pleased to have Brock re-sign. He's a talented player, a key contributor to our offence and an important part of our team's future. We look forward to having Brock join the team in preparation for the upcoming season.
As with several other restricted free agent contracts, Boeser's deal will be back-loaded to force the team into giving him an expensive qualifying offer down the road. The full breakdown of the deal comes from Dan Murphy of Sportsnet:
2019-20: $700K salary + $3.3MM signing bonus
2020-21: $3.125MM salary + $3.0MM signing bonus
2021-22: $7.5MM salary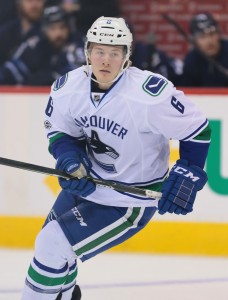 That means that the Canucks will have to offer Boeser at least $7.5MM in 2022, given he will still be a restricted free agent at the end of the deal. As we wrote earlier today when things were picking up between the two sides, the 22-year old Canucks forward was in a different situation than many of the other unsigned RFAs. He and Charlie McAvoy of the Boston Bruins were both ineligible for offer sheets after making their NHL debuts following college seasons in 2017, giving them even less leverage in negotiations. As it turned out, both players have signed three-year deals to get them to their arbitration years.
In Boeser's case, he still landed quite the raise and will immediately become the second highest-paid forward on the Canucks roster (only trailing fourth-line winger Loui Eriksson). For good reason too, given the 59 goals he has scored over his first 140 games in the NHL, a rate that puts him 17th in the entire NHL since the start of the 2016-17 season. That kind of first-line production will make Boeser a bargain right away for the Canucks as long as he can stay healthy, something that has been something of an issue so far in his career.
For the Canucks, there was no way they could afford to start the season without Boeser in the lineup. Vancouver spent up to acquire more talent this offseason by signing Micheal Ferland and Tyler Myers in free agency, while trading a first-round pick for J.T. Miller. After a few years of rebuilding the team wants to start contending for the playoffs once again, with Boeser, Horvat and Elias Pettersson driving the play up front.
The question now becomes who else is on the roster behind them. The team has 15 forwards signed to one-way contracts plus Pettersson and Adam Gaudette who are both still on their entry-level deals. 13 of those one-way deals are for at least $1.25MM, meaning they would still be felt (in part) against the cap even in the minor leagues. Boeser is also the only one of them that is still waiver-exempt, meaning there will be tough choices on who to expose to the rest of the league at the end of training camp if the group is healthy.
Boeser's signing leaves just nine restricted free agents still to sign.