Topics in this edition of the PHR Mailbag include the slow-moving RFA market, future salary cap projections, Washington's key pending unrestricted free agents, Minnesota's top-paid veterans, and Marcus Pettersson's situation in Pittsburgh.  If your question doesn't appear here, watch for it in next week's edition.
random comment guy: Why haven't other teams made offers to the remaining RFAs? I understand there are draft picks connected to them but this standoff looks like it will playing into the season.
Just because no other offer sheets have been signed beyond Montreal's attempt for Sebastian Aho doesn't mean that there haven't been other attempts.  There were reports at the beginning of July that the Canadiens wanted to explore an offer sheet for Tampa Bay's Brayden Point but were rebuffed.  Teams can try to poach an RFA all they want but the player still has to agree to a deal.  Lots of times, the player doesn't want to.
Draft pick compensation certainly has to play a role as well.  At the rate that Montreal's offer sheet for Aho was, teams are going to match on any of the forwards.  They'd probably match at the next tier as well (two first-rounders plus a second and a third) without much hesitancy.  So what's the point of trying?  That was the common response to the Aho offer sheet.  Now we're talking four first-round picks to get the player plus having to sign them to what would be an above-market deal.  That's a lot to give up no matter how talented the player is.
If I'm a team that wants to submit an offer sheet, I'm taking a look at the Rangers right now.  They don't appear to be willing to move off their one-year qualifying offers for Brendan Lemieux and Anthony DeAngelo as that's basically all they can afford.  Both players have some upside still and an offer at the top of the third-round pick range (just over $2.1MM) could give them some pause with their cap situation.  If a team wanted to go into the next tier, there's a good chance they could get the player.
With the current thresholds, the bottom of the market is where the best potential for a realistic offer sheet is.  As for the top players, there's a very good chance that several of these will drag into the season although I expect to see a few deals get done over the next couple of weeks.
M34: Multi-part question:
What is your best guess at the new cap number when the TV deal kicks in, and when is that supposed to happen?
When that happens, what tier of players benefit most; the star players, the middle six type guy's, or do teams start using more money to add better quality depth guy's? Or do you think it's somewhat even across the board?
I don't share the same enthusiasm as some when it comes to a big boost in the cap when the new US TV deal gets done.  There's demand for live content but with a lot of bloated contracts on the books for other sports, it's not going to be a bidding war.  Networks will be a little thriftier.  Could they double the current $200MM per year revenue?  Sure, that's possible.  But that's only roughly a $3MM increase to the cap (half of the increase divided by 32 teams).  I'd have a hard time thinking the league will get a lot more than that though as the ratings just aren't that strong.  The new contract (or contracts if they split it between more than one network) isn't going to be shattering any benchmarks like the deal in Canada did.
Let's say they do slightly better than double it.  That would amount to a $3.5MM to $4MM increase in the cap.  Assuming there's a bit of growth in revenues as well, that could push an increase to $5MM.  At that level, the NHLPA would probably hold off on exercising its inflator to help claw back escrow payments.  A $5MM jump isn't that significant in the grand scheme of things; it's happened several times before already.
As for who benefits, there could be a small boost for the mid-tier players depending on who is still unsigned at that point.  Teams will pay up for whoever's out there and if it's middle-six players, then that group will get a nice bonus for a year.  However, the long-term eventuality is that the top players will be the main benefactors, just as they have been lately.  The second line winger isn't getting much more now than they were a few years ago in free agency but salaries for top liners have gone up quicker.  That trend should continue after the TV deal is signed.
CapsFan34: Do Nicklas Backstrom or Braden Holtby get signed or do they hit the free agent market and what do you think their contracts would look like? Seems to me that the comparable for Backy is the Joe Thornton deal while Holtby is looking at a Bobrovsky style deal.
One thing is for sure – the Capitals can't afford both of them.  They already have over $62MM in commitments for 2020-21 so new deals for them would push them over $80MM with several roster spots to be filled.  I expect that Backstrom will ultimately stick around while Holtby moves on.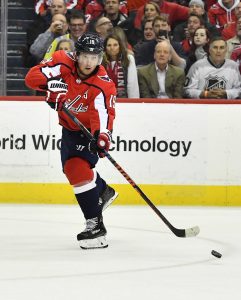 As for what the contracts would look like, let's start with Backstrom.  He's a pretty safe bet to reach the 70-point mark having got there for six straight seasons since the lockout-shortened campaign (where he averaged a point per game).  He's a reliable defensive player and isn't a liability at the faceoff dot.  He'll also be 32 next summer so while a max-term contract is off the table, a five or six-year deal is possible if not probable.  (That takes Thornton off the table as a comparable as has always gone with shorter-term pacts.)  His current AAV is $6.7MM and he should beat that given the relative scarcity of impact centers that are slated to become UFAs.  I wouldn't expect it go higher than $8MM though on a long-term pact as there will inevitably be some front-loading in place with one or two of those years being tacked on to try to lower the AAV.
Holtby's comparable is a little more direct in Sergei Bobrovsky's seven-year, $70MM pact as you suggested.  The two have had numbers that are pretty close and like Bobrovsky, Holtby will be the undisputed top netminder available a year from now.  If the Capitals believe that Ilya Samsonov is their goalie of the future, it wouldn't be wise to even entertain the idea of signing Holtby for that long.  Add or subtract a few hundred thousand to Bobrovsky's $10MM AAV and that's why Holtby's next deal should look like with a new team.
jb10000lakes: With the Wild kind of stuck in no man's land, will Parise (or Suter) agree to be traded to a contender; and if so, how much salary will the Wild need to eat? On a side note, is there any chance Zuccarello hasn't signed that contract yet?
I touched on a similar question a few months ago in a previous mailbag so I won't go into too much detail here.  If new GM Bill Guerin wanted to trade Ryan Suter, he could do so easily without needing to retain salary and get good value back.  Yes, the last couple of years could be rough but he's still a legitimate top-pairing defenseman and those don't come available very often.  The acquiring team would only have to have him for three years before the potential for salary cap recapture was basically mitigated as well and he easily has three years left (and then the really low salary years begin).  As for Parise, his injury history makes him a tougher sell even if he wanted to be moved.  I don't think there's a point where it would be justifiable to move him – they'd either have to retain so much of his contract (and the higher risk for cap recapture given the front-loaded contract) or take so little in return that they'd be better off just keeping him.
When it comes to Mats Zuccarello, I don't quite get the negativity on his contract.  Is it too much term?  Sure, but the same can be said for most UFA deals.  $6MM for a 50-point winger isn't a bargain but it's not a drastic overpayment either.  I know the contract goes against the grain for a team that probably needs to rebuild but they should be able to get out of it via trade (assuming Zuccarello was to waive his no-move clause) without too much concern.
Rayno15: Are you surprised the Pens haven't made a move to make room to get Pettersson back here? How do you see them making it happen?
Teams only have to be cap-compliant at the start of the season which is still more than a month away so no, I'm not surprised a trade hasn't happened.  I expect to see a fair bit of movement over the next few weeks as some of the RFAs start to sign and in doing so, some of the remaining UFAs will as well.  That will give teams more certainty as to what they can or can't do on the trade market and open up the windows for teams like Pittsburgh to make their required cap cuts.
Plan A would be to trade a veteran player like Bryan Rust, Erik Gudbranson, Jack Johnson, or even Nick Bjugstad who didn't fit in all that great after being acquired.  Even if they had to take a player back to offset some of the money, that would free up enough room to re-sign Pettersson and even potentially leave a big of wiggle room for in-season moves.  That will take a bit of time to do depending on the rest of the market.
Plan B may be to just get creative with the waiver wire.  Chad Ruhwedel and Zach Trotman are capable depth options but both should clear waivers (or if they didn't, they wouldn't be big losses).  There's $1.4MM right there.  Johnson would clear waivers because of his contract which would free up another $1.075MM in cap room.  It might take waiting until the season to start with this approach but they'd have enough space to re-sign Pettersson at that point and then they could shuffle the veterans back and forth between the minors to bank a bit of cap space in the early going of the season and take full advantage of having their AHL team nearby.  It'd be a tough pill to swallow for Johnson but it might just work.
Photo courtesy of USA Today Sports Images.