Topics in this edition of the PHR Mailbag include Kevin Shattenkirk's deal in Tampa Bay, Samuel Girard's long-term extension, Colorado's plans for Mikko Rantanen, predictions for some of the other top restricted free agents, and when Boston may finish their offseason signings.  If your question doesn't appear here, watch for it in next week's edition.
CoachWall: Shattenkirk was "pissed off" about the way it ended in New York. Based on his performance over the past 2 seasons, does he anything left in the tank to help the Bolts?
I really liked Tampa Bay's pickup of Shattenkirk.  Is he the type of player that can log 22+ minutes a night like the Rangers were hoping (and paying him to do)?  No.  But the Lightning aren't paying him to be that player, nor do they really need him to fill that big of a role.
Shattenkirk gives them some much-needed right-side depth as the strength of their back end lies on the left, even if Mikhail Sergachev shifts over.  That will probably result in him getting a bit of time in their top four and anytime you can get someone that can do that for $1.75MM, it's a good contract.
I expect Shattenkirk will see some regular power play time on the second unit as well and with the firepower that Tampa has, he could put up some points.  If he can average 16-18 minutes a night and pick up 20-25 points (expectations that are relatively realistic), he'll certainly be able to help them.
M34: What has Girard done or shown that got him 7×5?! Is Sakic going to regret it a few years when Mack and Rantanen are on the books for big money and Makar needs a new deal?
I was caught off guard by the price tag when the signing initially came down but I've come around to it a little bit having had some more time to think about it.
Is Girard a $5MM defenseman right now?  Not yet.  However, as is often the case with these type of early extensions, GM Joe Sakic is paying for potential and projecting that Girard will be worth more than that down the road where the deal will eventually become a bargain.  I'm inclined to agree with that in this case.
Girard is already a top-four defender.  While his offensive numbers don't stand out, that should change with Tyson Barrie no longer in the fold.  (Even with Cale Makar joining on a full-time basis, some more offensive minutes should fall Girard's way.)  Assuming that happens, that would have given him some higher leverage next summer to the point where it would cost a lot more than $5MM to do a long-term deal.
The hope is obviously that Girard will be outperforming that deal as some of their younger core needs new deals down the road and that surplus value would come in handy at that time.  But Sakic will need to spend carefully, that's for sure.  Speaking of which…
coachdit: Thoughts on Sakic giving Rantanen 12 mil AAV and sticking it to the cap-strapped teams that have stud unsigned RFAs? The Bolts played their hand with Shatty, now they can only afford a bridge deal for Point. I think my idea causes these bridge deals to be too pricy.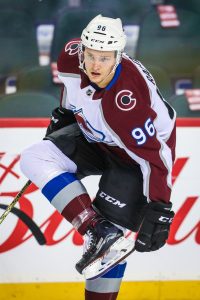 Just because Colorado has the cap space to give Rantanen that type of deal doesn't mean they should or would even want to.  They have their own budget to work within and as a young team with a lot of players currently on cheap entry-level deals, they will need to fit those players in down the road.  Giving Rantanen an extra two or three million just for the sake of it could ultimately come back to bite them.
From a league-wide standpoint, the Avs wouldn't necessarily benefit from this.  Let's surmise that this deal ultimately does push up the barometer for everyone else (something I'm not even sure would necessarily be the case as one rogue contract doesn't always automatically result in a changing of market value).  Teams now have to clear out some players to make room.  Those players certainly aren't going to Colorado as they won't want to 'reward' Sakic for messing up their plans.  I suppose there's a small benefit in potentially messing up Winnipeg's plans with their two RFAs as that's a division rival but that's a tough sell to ownership.  Let's give out an extra $15MM or more (over the life of the contract) to mess up a few teams including one division rival.  That's not great bang for the buck.
As for Point and Tampa, I'll hold off on that one until we get to another question later on.
acarneglia: Are the Coyotes a playoff team as is?
I think they are.  Mind you, I said this a year ago as well and look at how that turned out.  There are a few reasons to be optimistic though.
First, they can't possibly be hit harder by the injury bug than they were last year.  That's not necessarily the most objective of thoughts but it stands to reason that if fewer core players go down with long-term injuries, they should be able to pick up more wins along the way.
Second, I still think their back end is largely underrated.  I believe they played a big role in Darcy Kuemper having a career year in 2018-19 and even if he takes a step back, Antti Raanta should be able to pick up the slack.
Third, their offense will be improved.  Phil Kessel may not be able to reach the point-per-game mark but he'll certainly outperform Alex Galchenyuk's numbers from last season.  A full season from Nick Schmaltz will give them a boost.  The same can be said for Christian Dvorak who should give their bottom six a bit of an improvement as well.  Carl Soderberg should at least be able to replace Richard Panik's production.
Arizona won't be at the top of the scoring chart next season but they've definitely improved in that regard.  That coupled with their strong defense should net them a few more wins and get them back in a Wild Card spot at the very least.
pawtucket: Tell me the contracts for the following. Maybe what they deserve (in your opinion) and what they will get.
Point
Rantanen
Tkachuk
Marner
Boeser
McAvoy
Connor
Laine
This is something I imagine we'll dig deeper into as the offseason progresses where we start to get into cap percentages, comparables, etc.  Each player is worth probably its own article so instead of getting into too many specifics (including some notes on what they're worth at various lengths), I'll toss out some very quick thoughts on each.  I haven't looked at any comparables for the purpose of answering this question though so keep that in mind when going through my projections.
Brayden Point – It's hard to see Tampa going higher than $9.5MM (Nikita Kucherov and Andrei Vasilevskiy's new deal are worth that) so locking in long-term may not be the best move for him.  The Lightning don't have the cap space to do it either.  A three-year bridge deal in the $7MM range (the market has really changed since Kucherov was bridged a few years back) would fit in their cap structure and give Point a chance at a better payday later.
Mikko Rantanen – While he'll probably want to be in that five-year range to get to UFA status early, I could see the Avs upping the ante a little bit to lock him in longer.  If it's five years, I'd peg him around $9MM but seven years at closer to $10MM per would be my quick guess.
Mitch Marner – I wouldn't even bother discussing a long-term deal here.  He wants money closer to that of Auston Matthews and Toronto doesn't want to do that unless it's for a max term or close to it which is something he doesn't want to do.  So instead of playing the waiting game on that, move on and focus on a bridge.  Three years has been thrown around and if that happens, I'd put him in the $9MM range (since they're all RFA seasons).  If I were Marner though, I'd push for a one-year pact instead (even though that'd be closer to $8MM) and get to arbitration eligibility which would up his leverage a bit and give him a chance to go year-to-year if getting to UFA status as soon as possible is a priority.
Brock Boeser – I know he doesn't have the full track record that some of the others do but I don't find his $7MM asking price all that outlandish.  With Vancouver believed to have offered six years at $6MM per, they should be able to find some middle ground around $6.5MM.
Charlie McAvoy – Could he be a $7.5MM defender down the road?  Sure.  But I don't think he is now.  He only has two real seasons under his belt and he missed considerable time in both of them.  I like a two-year deal here with an AAV around the $4.5MM range.  It gets him arbitration eligible on his next contract where he could get that big deal while in the short-term, Boston may be able to get him and Brandon Carlo signed without having to move anyone of note for cap reasons.
Kyle Connor – He has a similar profile as Boeser in my opinion even though he has flown a bit more under the radar.  Accordingly, I think he's in that six-year range at $6.5MM to $7MM per year.
Patrik Laine – There really aren't many valid comparables in terms of pure goal scorers which will probably complicate things.  Laine's struggles this season aside from one high-end month also makes things difficult.  I think Winnipeg would like to get a long-term deal done but if I'm Laine, I'd want a short-term deal unless they're willing to get into the $9MM+ range.  I can't see the Jets doing that.
I know that bridge deals for impact players have largely gone the way of the dodo bird but with the escalating salary demands and the increased salary cap pressures, some teams may be forced to go in that direction.
@thegrump13: What do you think Carlo and McAvoy sign for and when?
I covered McAvoy above but let's look at Brandon Carlo.  He's an important piece of Boston's back end but a lack of offensive upside limits his earnings ceiling.  Accordingly, it'd make a lot more sense for him to go short-term and if he improves a bit in that regard, then something like Josh Manson's deal in Anaheim ($4.1MM for four years) could be doable.  He won't get that now.  I'd say two years around $3MM per which would squeeze him and McAvoy (on a bridge) into what they can afford.
As for when they sign, I think Carlo will get something done around the start of training camp.  McAvoy's could take a little longer, especially if his camp is waiting for something to happen with Ivan Provorov or Zach Werenski first.  I wouldn't be shocked if that one carried early into the season which is something I think we'll see with several players from the previous question.
Photo courtesy of USA Today Sports Images.