As the calendar creeps closer to September, activity around the league has slowly started to pick up.  Here are the top stories from the past seven days.
Marner Contacts Swiss Team: Maple Leafs winger Mitch Marner appears to be the one holding up the top of the RFA market with other players wanting to see what he ultimately gets before signing a deal of their own.  While the two sides continue to work towards a contract, Marner's camp is trying to get a backup plan in place as they've contacted Zurich of the Swiss NLA to see if the 22-year-old could practice with them should the impasse drag on into training camp.  It's worth noting that the request is only for practicing, not for game action with the Lions.  This has been a common tactic in recent years and there's a good chance we'll see it from another RFA or two in the coming weeks.
Kuznetsov Suspension: It will be a while before Capitals center Evgeny Kuznetsov will be able to participate in an IIHF-sanctioned event as he has been handed a four-year suspension for testing positive for cocaine.  However, this is not suspendable in the NHL and as things stand, he will attend training camp with Washington.  That situation could still change as Kuznetsov is slated to meet with league commissioner Gary Bettman in advance of camp.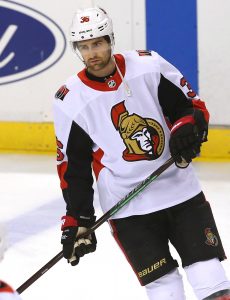 Six Years For White: While Senators center Colin White wasn't quite at the top of the current RFA class, he was coming off of a pretty good season with 41 points in 71 games and is considered to be a big part of Ottawa's future.  Despite 2018-19 being his only full NHL season, the team decided to bypass a bridge deal, instead signing the 22-year-old to a six-year contract with a cap hit of $4.75MM.  The total value of the pact at $28.5MM is the richest contract that GM Pierre Dorion has handed out over his three years at the helm of the team although that will likely change when defenseman Thomas Chabot gets his next deal.  The Sens are now more than $10MM above the salary cap ceiling.
Minor UFA Deals: While there are still a handful of notable unrestricted free agents still looking for deals, there was some movement for some of the depth forwards still available.  The Islanders signed center Derick Brassard to a one-year, $1.2MM deal, well below the $5MM AAV he had on his last contract.  The Avalanche picked up winger Valeri Nichushkin for one year at $850K, a deal that gives them an extra couple of years of team control as well if he rebounds with his new team after failing to score a single goal last season.  Meanwhile, the Lightning landed veteran winger Pat Maroon on a one-year contract worth $900K.  He'll give Tampa Bay some grit on the fourth line as he looks to go for a second straight Stanley Cup title.
Guerin To Minnesota: Although Wild owner Craig Leipold had suggested that his preference to replace former general manager Paul Fenton was someone with GM experience at the NHL, he opted for another first-time hire as the team named Bill Guerin as their new GM.  While this will be his first time in charge, he isn't without front office experience as he spent the last five seasons as an assistant in Pittsburgh while also running their farm team in Wilkes-Barre/Scranton for the past two years.  Guerin will now be tasked with turning around a Minnesota franchise that has spun its wheels in recent years as they've missed the postseason but haven't shown an inclination to try to rebuild either.
Photo courtesy of USA Today Sports Images.