The search is over for the next Minnesota Wild GM. Michael Russo of The Athletic (subscription required) reports that the team has hired Bill Guerin, taking him away from the Pittsburgh Penguins where he served as assistant GM. The Wild fired Paul Fenton from the position in July after just 14 months on the job.
This will mark the second assistant GM that the Penguins have seen take over their own team in the last two years, after Jason Botterill was hired by the Buffalo Sabres in 2017. When Botterill departed, Guerin was given even more responsibility in the Penguins organization, most notably taking over as GM of the Wilkes-Barre/Scranton Penguins of the AHL.
Though he will not come with any experience as a GM of an NHL franchise, there was little doubt that Guerin was on the path towards running his own front office somewhere around the league. The 48-year old had a long and productive playing career that ended with the Penguins in 2010 and quickly transitioned into a front office role with the team, first as a development coach. His ascension up the ranks in Pittsburgh showed just how capable he was in his new career.
In Minnesota however, Guerin will be given a very different task than in Pittsburgh. He must try to rescue a ship that has taken on water over the last two years and start sailing it back in the right direction. The team still has some good young players and veteran talent but have seemed to waver between rebuilding and contending without accomplishing either. Fenton for instance was allowed to sign Mats Zuccarello to a five-year, $30MM deal just before being relieved of his duties, a deal that comes with quite a bit of risk for a club that found itself out of the playoff race last season.
The fact that the new GM is coming in just a few weeks from training camp makes it an even more difficult task, and one that is rarely seen around the NHL. What this means for head coach Bruce Boudreau and the rest of the front office is unclear, though Russo notes that Tom Kurvers who had been working as the interim GM is expected to stay on in some capacity.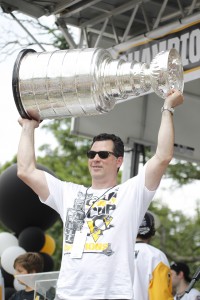 Photo courtesy of USA Today Sports Images